Schools of thought sprout at farm protest sites
Lecture series, publications and libraries mark the intellectual resistance against the new farm laws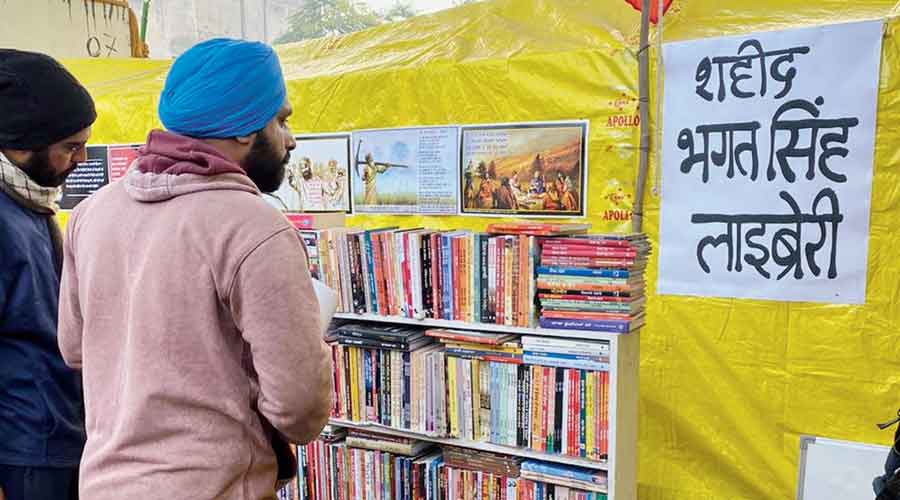 Visitors to the Shahid Bhagat Singh Library
Telegraph picture
---
New Delhi
|
Published 13.01.21, 01:57 AM
|
---
The serpentine blockade of NH44 by farmers at Dakha Singhu on Delhi's border with Haryana has been the cynosure of the movement against the new farm laws.
However, the blockade of NH9 at Tikri Kalan — further southwest on the border — has spurred an intellectual resistance to the new laws with the first library and newspaper of the movement emerging from here.
Organisers have now started a lecture series too, and they have inspired several such publications and libraries across protest sites of farmers.
Himanshu Dua, an environmentalist from Ladakh, has been at home in Bahadurgarh, a northwestern suburb of Delhi in Haryana, since the pandemic started last year. On November 27, as farmers clashed with police to enter Delhi, Dua was initiated into what he calls "the revolution" by his mother, who went with him to serve tea, and later lunch, to as many beleaguered peasants as she could.
Soon, delivering milk packets and medicines to protesters for free became Dua's daily routine. After the Shahid Bhagat Singh Library was set up by activists of the CPIML-Liberation's All India Students Association on December 10, Dua became their main supplier of books and his home turned into the delivery address for contributors.
The library now has a collection of almost 3,500 books, and it has become an address in itself at Metro Pillar 783 under Pandit Shree Ram Sharma Metro station.
Dua explained: "First they gave my address for deliveries, and then I began delivering the books to them. I later began to put on Instagram lists of books people ask for and I would send them to people who organise book-donation drives. After two other libraries came up, I would distribute the books equally between the three and give additional copies of books that one library received to the others."Dua said there were now at least six libraries at Tikri alone, and the Bhagat Singh library had opened branches at the protest sites in Singhu, Ghazipur and Rajasthan's Shahjahanpur.
The books are mostly in Punjabi and Hindi, and those most in demand are writings and biographies of freedom fighters Bhagat Singh, Uddham Singh and Kartar Singh Sarabha, besides fiction of Munshi Premchand.
Mukesh Kulriya, a student of the University of California, Los Angeles, one of the librarians, said the biggest challenge had been the rain and the inventory of books had deliberately been reduced to save them from water at the makeshift library. "People want to know what Bhagat Singh or his uncle Ajit Singh (who led the Pagri Sambhal Jatta movement in 1907) did to oppose colonial laws, including agrarian laws. We have around 70 people borrowing books everyday, which they keep for four to five days," he told The Telegraph.
After the library, Kulriya got involved with a bilingual biweekly that is published from the protest site. The Trolley Times, with reports and columns in Hindi and Punjabi in Gurmukhi script, was started on December 18 to counter what Kulriya calls "media and government propaganda against the farmers" and also to remind farmers that their stand was right and they had to remain resolute.
The paper was the brainchild of film screenwriter and actor Surmeet Maavi, musician Gurdeep Dhaliwal and physiotherapist Ajay Pal Natt — a member of the CPIML-Liberation-backed Punjab Kisan Union. They now have a team of 10 across the five protest sites around the capital, where they circulate the newspaper.
Kulriya said: "Most of the protesters are elderly and are not on social media. A newspaper in languages they understand is the best form of communication within the movement. Many of them do not leave their tractor trolleys to go to the stage. This paper informs them of what is going on and what protests are happening across the country.
"(For the articles) we focus on those who are not very prominent at the protests — women, non-Sikhs, young people, labourers and so on. Such is the popularity now that we have allowed others to use our content without altering it, even if they don't give us credit."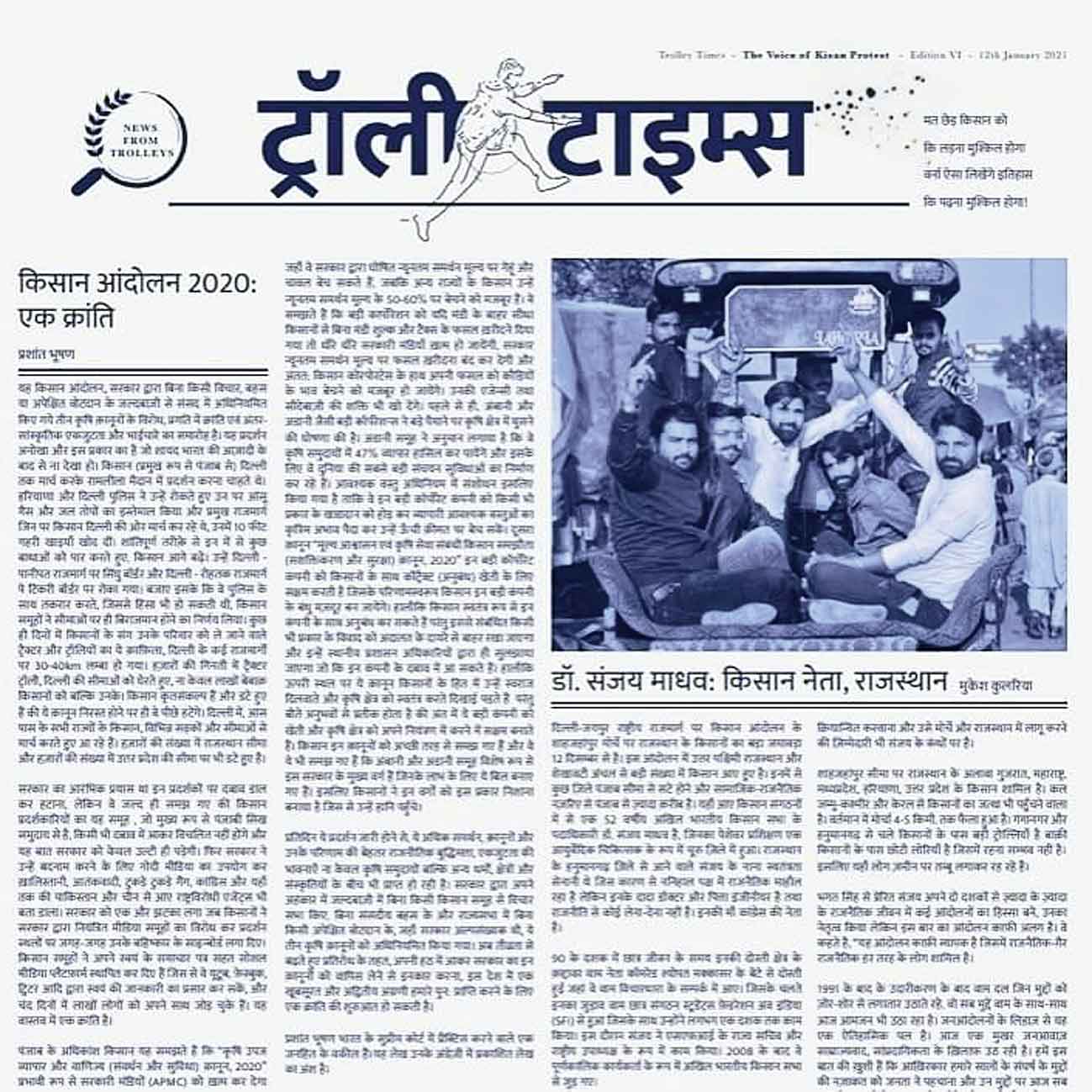 Translated versions in Marathi, Kannada and even French have been circulated in Maharashtra, Bangalore and Canada. English versions are available online, and have been circulated in print in Australia, New Zealand and Canada. At least two other papers from protest sites have started since.
The Trolley Times faced an initial controversy after it published an article by Sukhpreet Singh Udhoke, considered by some as a Khalistani ideologue, in its inaugural edition, to dispel the notion that it was solely a communist paper.
Since then, it has had people of all political persuasions contribute, also from Madhya Pradesh and Maharashtra where similar farmers' protests have started.
Besides the serious stuff, it offers slice-of-life articles such as testimonies of men who never entered a kitchen before but have now learnt to make perfect rotis.
"We file, edit and produce the paper entirely on our mobile phones. We may not be technically sound, but we thrive on spontaneity," Kulriya said.
On January 7, the young activists began the "Trolley Talks" lecture series, with Jawaharlal Nehru University professor Atul Sood speaking on the farm laws and democracy, in Punjabi and Hindi.
"Social scientists have a lot to learn from them (farmers). Their unions translated the laws in Punjabi and began the agitation in August, and they know more about the laws than we do. In the last six months, they have peeled off the layers of the policy framework of agriculture and it is a lesson in democracy that they have made the connections between changes in labour laws and agricultural laws," he told this newspaper.