Balasore district collector Dattatraya Bhausaheb Shinde had on Thursday billed it as a science versus ghosts contest. On Friday, the ghosts won — backed by official resolution and aided by videoconference.
The Odisha government has decided to pull down seven classrooms at the Government Nodal High School in Bahanaga, where bodies of the June 2 train accident victims had been kept for a day.
Parents had refused to send their children to the school unless it was demolished and rebuilt, because they believe it is haunted by the spirits of the dead.
After the school committee backed the parents' demand, collector Shinde had on Thursday asked the public to introspect whether schoolchildren should be injected with "superstition" about ghosts instead of being encouraged to develop a "scientific temper".
A day later, the state government bowed to public pressure, with the teachers also siding with the parents.
Chief secretary P.K. Jena, secretary to the chief minister (transformational initiative) V.K. Pandian, and school and mass education secretary S. Aswathy spoke to the parents and schoolteachers over videoconferencing on Friday to learn their opinions.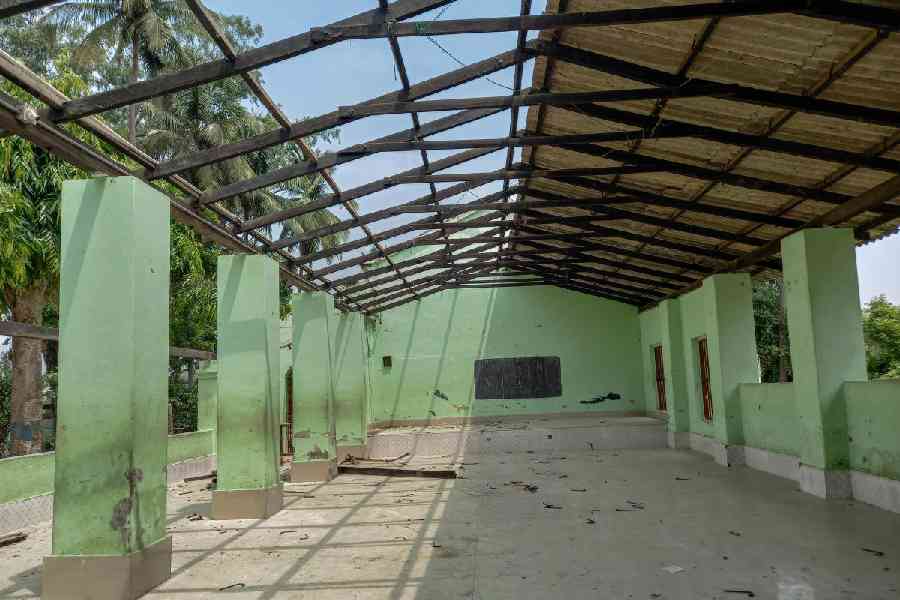 A portion of the 67-year-old school building. PTI
Sources said the parents described to the senior bureaucrats how fear had gripped them after the bodies from the accident — which killed 288 people — were kept in the school for a day before being sent to morgues in Bhubaneswar and Balasore.
Some of the teachers too said they felt "weird" during their daily inspections of the school, due to reopen on June 19 after the summer vacation. They told the government that students might not turn up after the reopening if the parents' demand wasn't accepted.
Pandian later spoke to Class VIII student Priyanka Behera and Class VI student Suman Sahu, sources said. It could not be ascertained what the children told him.
The government hasn't yet fully accepted the parents' demand for demolition of all the 16 rooms at the school. For now, the plan is to pull down and rebuild only the seven rooms where the bodies had been kept.
Whether the remaining nine rooms will be demolished and rebuilt too, or whether they would merely be renovated, would depend on the remodelling plan that Shinde has been asked to submit in 15 days.
Classes I to VII were taught in the seven rooms to be demolished. The school has 565 students from Classes I to X.
The demolition process began on Friday with labourers taking off the 67-year-old school's asbestos roof.
Rajaram Mohapatra, a member of the school committee who had earlier told The Telegraph that the school authorities did not believe in ghosts, on Friday said: "The government listened to our arguments and agreed to demolish the building. The new building would come up in three months."
Headmistress Pramila Swain said: "The parents are relieved now. We will manage the classes with temporary arrangements."
The chief minister's office said in a media release: "It has been decided to initiate steps for the development of the school. The classrooms, playground and boundary walls will also be developed. The district collector has been asked to send a detailed report to the state administration in 15 days."