SC issues notices to Centre on cancelled ration cards
A mother alleged that her 11-year-old daughter and many others had died of starvation because of the cancellation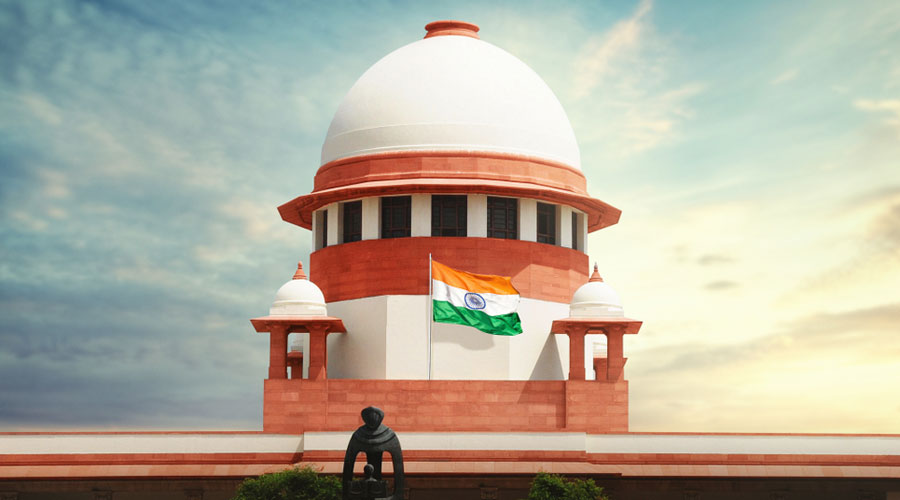 Supreme Court of India
File picture
---
Published 18.03.21, 03:28 AM
|
---
The Supreme Court on Wednesday issued notices to the Centre on a mother's allegation that her 11-year-old daughter and many others had died of starvation after the government cancelled four crore ration cards, mostly of tribals, for apparent non-linkage to Aadhaar.
"The matter is too serious. We have to hear it. We expect you not to treat it as adversarial," Chief Justice S.A. Bobde told the Centre and gave it four weeks to file its response to Koili Devi's petition.
Additional solicitor-general Aman Lekhi pleaded that beneficiaries of the National Food Security Act are allowed to furnish alternative identity proof if they have no Aadhaar cards, but the court brushed the contention aside.
"It's our order," said the bench, which included Justices A.S. Bopanna and V. Ramasubramanian.
Devi's petition says her daughter Santhoshi Kumari died on September 28, 2017, after the family's ration card was cancelled on the ground of not being linked to Aadhaar.
The petition cites seven other alleged starvation deaths.
It says what prevented the Aadhaar linkage was not always the absence of Aadhaar cards but problems with "the technological system based on iris identification, thumb prints... functioning of the Internet in rural and remote areas". It says ration cards were cancelled "without notice to the famil(ies)".
Devi's counsel Colin Gonzalves said the Centre was continuing to insist on Aadhaar linkage despite the apex court having laid down, in K.S. Puttaswamy vs Union of India 2019, that Aadhaar can be made mandatory for welfare schemes but not statutory entitlements.
"Insistence on Aadhaar and biometric authentication had led to the cancellation of nearly 4 crore ration cards in the country, according to the Union of India. The Union of India casually gives an explanation that these cancelled cards were bogus," Devi's petition says.
"As usual, government officials come up with excuses like illness, diarrhoea and malaria — in fact anything but lack of food. This cruel exercise deprived millions of Indians living below the poverty line of food and led to starvation deaths in Jharkhand, UP, Odisha, Karnataka, MP, Maharashtra, Bihar, Chhattisgarh, West Bengal, Andhra Pradesh and other states."
The petition complains that several states have failed to implement the Food Security Act's mandate of establishing district and state-level grievance redress mechanisms that are to feature call centres, helplines and nodal officers.
Initially, the court had expressed reservations about issuing notices, Justice Bobde saying: "You are asking for an omnibus kind of relief. You should have it investigated by the jurisdictional high court."
He had added: "This kind of thing (petition) will not help us or anybody. If you make an allegation about the entire country, this court cannot go into that."
But Gonzalves said the top court needed to deal with the matter as the Union government and not the states had cancelled the ration cards.