Sanitation worry at farmers protests
A survey of five sites has found the administration woefully absent, with makeshift facilities stretched beyond their capacity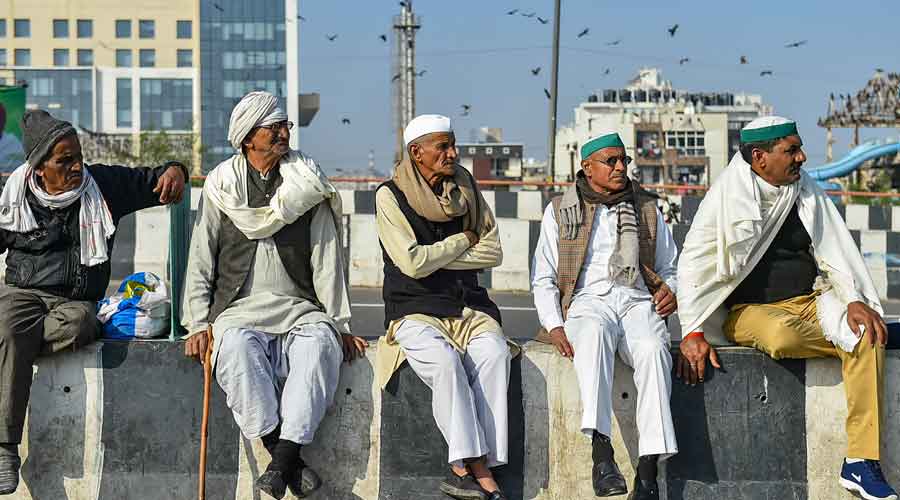 ---
---
Choked toilets, heaps of garbage, stagnant water and bitter cold are posing a tough challenge to the health of the farmers protesting near Delhi's borders, a report says.
A survey of five protest sites has found the administration woefully absent, with makeshift facilities stretched beyond their capacity leaving the farmers prey to diseases like cholera and dysentery amid the Covid-19 pandemic.
Some "57.5 per cent, almost three in every five respondents, have to rely on open sites for defecation. In Singhu, where the highest number of protesters have gathered, open defecation is also high due to unmet needs of sanitation facilities — seven in every ten respondents," says the report, released on Monday by health rights group Jan Swasthya Abhiyan.
"Only one in ten (among the) respondents (is) able to use mobile toilets arranged by various local and state governments.... Half of them observed that water was not available, 48 per cent said that there is always a long queue in those toilets and 47 per cent said they are located in far-off places, creating difficulties in accessing those. Their responses clearly point out that there is scarcity of these toilets and the available ones are not being maintained properly."
The report, "Findings from rapid assessment of basic amenities at protest sites", adds: "Around 40 per cent respondents observed that there is water stagnation around the protest sites. It was most severe at Ghazipur where more than nine out of every ten found water stagnation; the situation was also poor in Singhu — as 62.7 per cent respondents reported stagnation....
"Lack of government effort in disposing of solid waste is clearly visible. When asked if respondents found solid waste getting accumulated, only 23.6 per cent said it is getting disposed of regularly. In Shahjahanpur, the situation seems to be better as 56.5 per cent respondents said they have found waste getting disposed of regularly. In Singhu and Tikri, the two biggest protest sites, littering is a common sight, so are heaps of accumulated waste."
The report covered 201 respondents from the protest sites at Singhu and Tikri on the Delhi-Haryana border, Ghazipur on the Delhi-Uttar Pradesh border, Shahjahanpur on the Haryana-Rajasthan border and Palwal in Haryana.
The respondents were from 40 districts in five states and the Union territory of Delhi. Of them, 56 per cent were from Punjab, 30 per cent from Haryana and the rest from Rajasthan, Uttar Pradesh and Madhya Pradesh.
Women (11 per cent of the respondents) said they rarely got sanitary napkins at the health camps, and there was no proper facility to dispose of them.
The report says the multitude of police barricades is a hindrance to garbage removal.
"Approximately, one in every four respondents (24 per cent) said they have faced the problem of mosquitoes in the protest sites," it says.
"The problem is more pronounced in Ghazipur and Palwal as 62.5 per cent of respondents there reported mosquito problem. A bigger menace, however, is the problem of flies which may spread infections through food."
Doctors at the JSA's health camps at Singhu and Tikri said that most of the illnesses reported had to do with non-communicable diseases like diabetes and hypertension. The report is silent on Covid-19, although the JSA says it did not need to refer any of the 14,000-odd people who came to its health camps for Covid testing.