Samajwadi Party tweets video of officer admitting to 'lapse' in EVM row
Following this, the Varanasi officer was suspended on Wednesday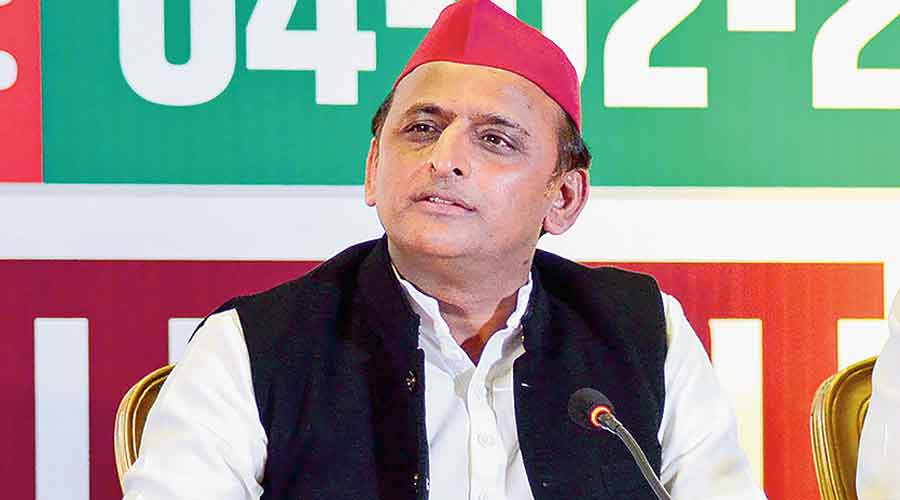 Akhilesh Yadav
File picture
---
Published 09.03.22, 01:28 PM
|
---
A day after Akhilesh Yadav's sensational charge that Electronic Voting Machines (EVMs) were moved illegally in Uttar Pradesh's Varanasi just 48 hours before the counting of votes in state elections, his party tweeted the on-camera statement of an official conceding there were "lapses", ndtv.com reported.
Now following this, the Varanasi officer was suspended on Wednesday, ndtv.com added. 
Speaking to reporters last evening, Varanasi's Commissioner Deepak Agarwal appeared to accept that there was a lapse in protocol in the movement of EVMs. However, he insisted that the vote machines in question were only for training purposes. 
"If you talk about the protocol for the movement of EVMs, there was a lapse in the protocol, I accept that. But I can guarantee you, it is impossible to take away machines used in voting," Mr Agarwal said, explaining that there were CCTV cameras, security guards and political party representatives at counting centres. 
"Political party workers can even sit outside the centres to keep an eye," added the Commissioner.  
The Samajwadi Party shared the comment on Twitter and said it was an admission that protocol was not followed. 
"There is information of violations in EVMs from various districts. On whose order is this happening? Are officials under pressure from the Chief Minister's (Yogi Adityanath) Office? The Election Commission must clarify," the Samajwadi Party wrote, tagging the poll body.
EVM मूवमेंट में चुनाव आयोग के प्रोटोकॉल का पालन नहीं किया गया- कमिश्नर वाराणसी

कई जिलों में ईवीएम में हेरा-फेरी की जानकारी प्राप्त हो रही है। ये किसके इशारे पर हो रहा है? क्या अधिकारियों पर सीएम ऑफिस से दबाव बनाया जा रहा है?

चुनाव आयोग कृपया स्पष्ट करे @ECISVEEP @ceoup pic.twitter.com/D71xr8h8Tu

— Samajwadi Party (@samajwadiparty) March 9, 2022
Akhilesh Yadav on Tuesday had alleged that EVMs not used in the just-concluded Uttar Pradesh Assembly elections were being smuggled into strongrooms where machines deployed in the polls have been kept for counting and claimed a role of the Uttar Pradesh chief minister's office. 
"SP workers caught two trucks carrying EVMs from Pahadia Mandi in Varanasi South on Monday night. The driver of a third truck managed to escape, abandoning the EVMs in it. I have come to know that it was happening on the directions of an officer posted in the chief minister's office. There were similar reports from Bareilly and Sonbhadra," Akhilesh told reporters in Lucknow on Tuesday evening.
"I have also come to know that the chief minister's office has asked district-level officers to slow down counting and stretch the process late into the night (on Thursday) in those Assembly constituencies where the BJP fears it will lose. I call on all SP workers, honest journalists and government officials to keep a close watch in the areas where the EVMs used in the polls have been kept," the former chief minister said.
Akhilesh alleged that the instructions were particularly with regard to 47 seats that the BJP had won with margins of less than 5,000 votes in 2017.