Samajwadi Party MP Azam Khan says sorry, not once but twice for alleged sexist remarks
'Din' makes veteran repeat apology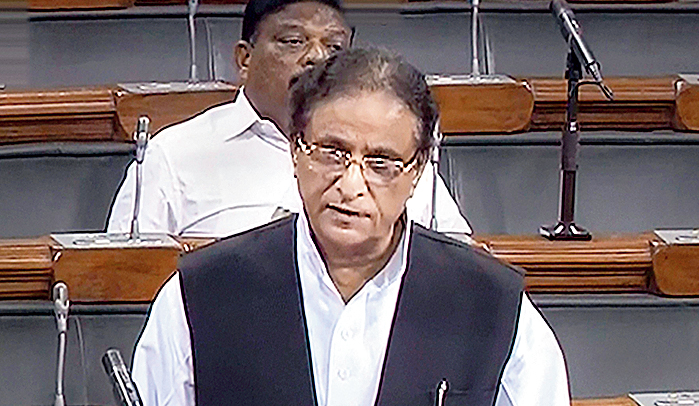 ---
---
Samajwadi Party MP Azam Khan on Monday apologised in the Lok Sabha for his alleged sexist remarks against BJP member Rama Devi who called him a habitual offender.
The seasoned politician from Uttar Pradesh had to repeat his apology after Rama Devi and parliamentary affairs minister Pralhad Joshi claimed he was not clearly audible in the din.
Azam's party colleague Akhilesh Yadav was trying to raise Sunday's collision that left the Unnao rape survivor seriously injured when the veteran tendered his apology the first time.
Akhilesh, a former Uttar Pradesh chief minister, urged the House to also discuss the Unnao rape case since it involved a "beti" (daughter) and the accused was a BJP MLA. Speaker Om Birla didn't entertain the request.
Azam's remarks against Rama Devi had come during a discussion on the triple talaq bill last Thursday. "I have been an MLA for nine times, a minister several times, a Rajya Sabha member too. I was a parliamentary affairs minister too. I know legislative procedures," Azam said. "However, if my words hurt anyone, I hereby apologise."
Rama Devi was in the Chair when Khan had made the remarks that have been slammed as a blot on all legislators and expunged.
The Speaker took up the issue immediately after the House assembled on Monday morning.
After Azam had tendered his apology, the Speaker called Rama Devi as she wanted to speak. "I couldn't hear anything," she said.
Akhilesh, who was seated beside Azam, said his party MP had said whatever he had to say. Parliamentary affairs minister Joshi stood up and said since Azam's remarks were derogatory and against women in general, he should apologise properly and end the matter. The Speaker then asked Azam to repeat his apology.
Azam stood up and apologised again despite protests from Akhilesh. "Rama Devi is like my sister. It's not possible for me to disrespect the Chair. However, if my words hurt anyone, I apologise," he said.
Rama Devi, who spoke after Azam had apologised a second time, called him a habitual offender.
Azam, she said, has the habit of using derogatory words against women. "Outside the House he has done this on many occasions," she added. Akhilesh kept intervening, trying to bring up Sunday's accident.