Saffron flowers debut on Sikkim soil as varsity project
Trial run to cultivate world's most expensive spice a success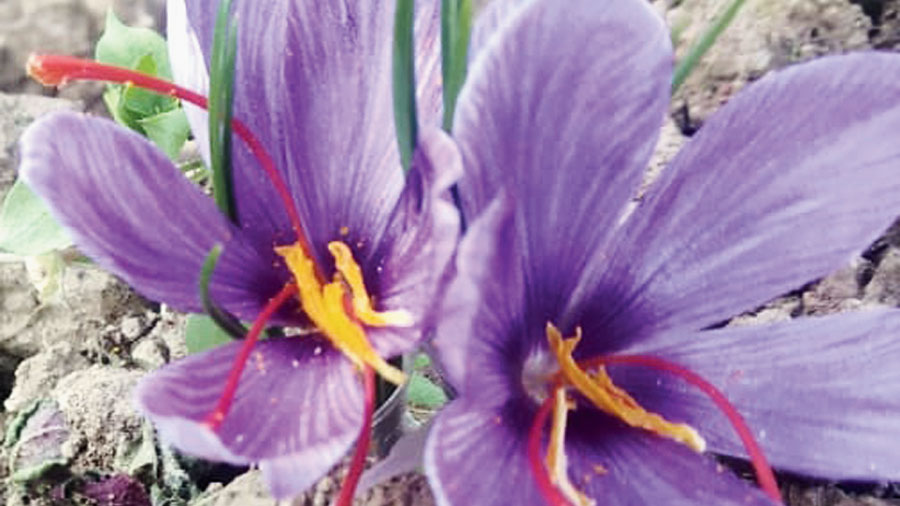 Saffron flowers bloom on the campus of Sikkim University at Yangang in south Sikkim
Telegraph picture
---
Siliguri
|
Published 14.11.20, 04:02 AM
|
---
Sikkim University, in collaboration with the North East Centre for Technology Application and Reach (NECTAR) and an NGO in Ranchi, Jharkhand, Swami Satyananda Ashram, has successfully cultivated saffron (kesar) in Sikkim for the first time.
Saffron, the world's costliest spice by weight, costs between Rs 2.5 lakh and Rs 3 lakh a kilogram. Derived from the flower of Crocus sativus, it is used mainly as seasoning, flavouring and colouring agent in food. It is also used in skincare.
In India, saffron crop is currently grown in pockets of Kashmir.
In Sikkim, as part of the pilot project, 100 kilograms of saffron bulbs were brought from Kashmir and planted in the horticulture garden of the varsity's under-construction permanent campus at Yangang, south Sikkim, in early October.
"Fortunately, the bulbs sprouted and flowered on time. So far we are satisfied that the cultivation has been successful," said Shanti S. Sharma, a professor of botany, who headed the team of staff from the varsity's botany and horticulture departments.
Sharma added that further work and detailed scientific evaluation of diverse parameters for commercial and societal applications and outreach were needed before Sikkim could be declared a place suitable for saffron cultivation.
"The next step should be to try cultivating in multiple locations of the state because (climatic and soil) conditions are not uniform throughout the state," said Sharma.
Pradip Singh, a farmer from Kashmir hired to monitor the day-to-day progress of the cultivation, said initially he had doubts about the success of the project because of the high volume of rain the area receives.
"We could not sow the seeds as originally planned from September 15 because of the rain. We sowed the seeds on October 1. We saw regular progress in growth. Finally, when they began flowering, we knew it was a success," he said.
Singh, whose family is into saffron cultivation, said saffron grows best in cold and dry climate.
In the Sikkim trial project, he said the climate matched Kashmir and 25 to 30 flowers were blooming every day in a scattered manner on the earmarked area.
"We want more flowers to bloom next year," Singh said.
If Sikkim can grow saffron commercially, it can yield handsome results for farmers.
According to the Council of Scientific and Industrial Research's Institute of Himalayan Bioresource Technology, the yearly demand of saffron in India is 100 tonnes, but average production a year only 6-7 tonnes. To meet the huge shortfall, India imports saffron mainly from Iran and Afghanistan.