Sadhu from Gujarat begins fast for permission to pray at Gyanvapi
Swami Avimukteshwaranand says he had got his lawyer to file a petition with Varanasi court seeking rights for 'any Brahmin to pray before Shivalinga'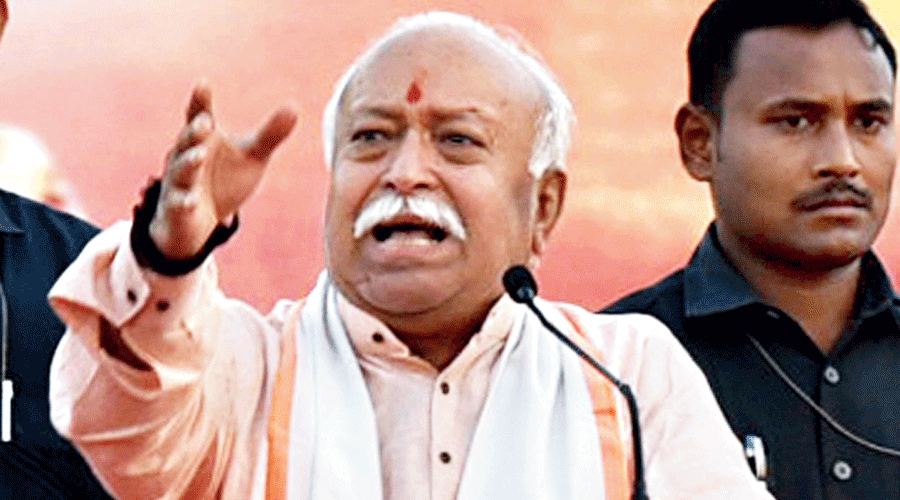 Mohan Bhagwat.
File picture
---
Lucknow
|
Published 05.06.22, 01:47 AM
|
---
A sadhu from Gujarat who is visiting Varanasi began an indefinite fast on Saturday morning after police prevented him from going to the Gyanvapi mosque and carrying out his declared objective of worshipping the purported Shivalinga discovered on the premises.
Swami Avimukteshwaranand — chief disciple of Swaroopanand Saraswati, Shankaracharya of Sharda Peeth in Dwarka — later said he had got his lawyer to file a petition with the Varanasi district court seeking rights for "any Brahmin to pray before the Shivalinga". The court will decide on Monday whether to admit it.
On Thursday, RSS chief Mohan Bhagwat had firmly supported the claim of Hindus over the Gyanvapi mosque in Varanasi but added that the Sangh was not in favour of launching any other "andolan" (movement) for a temple after the Ram Janmabhoomi. The RSS chief, however, did not decry the Gyanvapi mosque dispute being resurrected by Hindutva elements.
Some observers confessed themselves surprised at Avimukteshwaranand's actions, saying Swaroopanand is considered a Congress supporter.
Varanasi deputy commissioner of police R.S. Gautam said: "The area where the sadhu wants to offer prayers was sealed on May 16 by a court order. Nobody is allowed there. Besides, the case is pending in the district court. The sadhu is under house arrest."
The monk's actions are likely to boost a Hindutva campaign — within and outside courtrooms — for the handover of the Gyanvapi premises on the ground that the mosque was built after demolishing parts of the original Kashi Vishwanath Temple.
 "Since there's a Shivalinga on the Gyanvapi premises, it's our responsibility to offer prayers and provide food and water to the god. We can't leave the god hungry and thirsty," Avimukteshwaranand told reporters at the Sri Vidya Math, where he is on hunger strike inside a hall.
"I can consider ending my fast if the administration organises a puja (before the purported Shivalinga) and informs me about it."
Some Hindus claim that a survey of the Gyanvapi premises, ordered by a magistrate's court, revealed a Shivalinga in a tank last month. The mosque management says the object is part of a defunct fountain and has demanded status quo on the premises. The Supreme Court has transferred the matter to the district court.
Avimukteshwaranand had arrived in Varanasi on Thursday and sought police permission to pray before the purported Shivalinga. The request was rejected since the matter is sub judice but the monk announced he would go ahead anyway on Saturday.
He was stopped in the morning from leaving the Sri Vidya Math, an ashram along the Kedar Ghat where he has been staying. The ashram comes under the Jyotirmath of Badrinath, Uttarakhand, which too has Swaroopanand as its Shankaracharya.