Defence ministry's survival guidelines for stranded Indians
They have been advised to learn a few sentences in Russian so they can tell the invading troops they are Indians and should not be harmed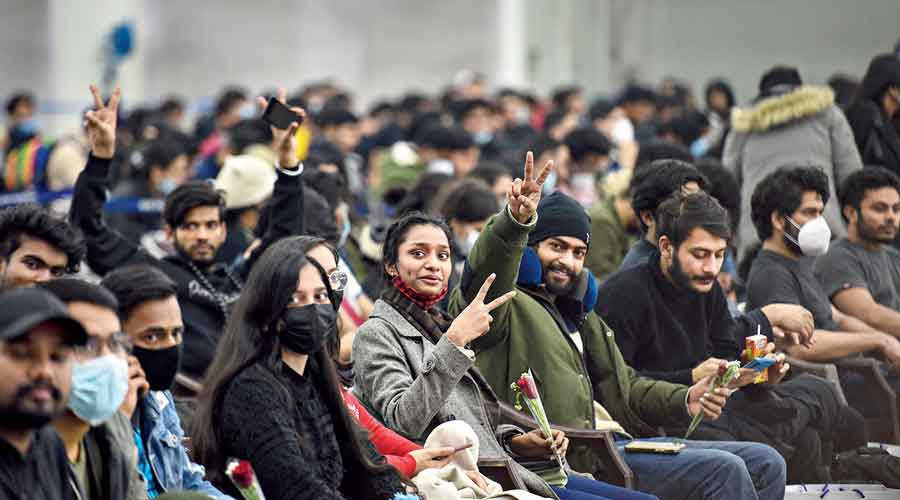 Indians at the Hindon Air Force Station in Ghaziabad on Thursday after being evacuated from Ukraine.
PTI Photo
---
New Delhi
|
Published 04.03.22, 01:01 AM
|
---
The defence ministry came out with survival guidelines for Indians stranded in Ukraine on Thursday night, by when 18,000 among the estimated 22,000 Indians had made it out of the war-ravaged country.
Indians in Ukraine have been told not to step out of bunkers or basement shelters; to conserve and share food and water; and to create WhatsApp groups to coordinate among themselves and with control rooms in the embassy or in Delhi.
They have been advised also to learn a few sentences in Russian so they can tell the invading troops they are Indians and should not be harmed.
The Manohar Parrikar Institute for Defence Studies and Analyses has prepared the advisory.
The guidelines ask Indians not to join local protesters or militias, refrain from commenting on social media, avoid picking up weapons or unexploded ammunition or shells, and not try to film live combat situations.
Some of the tips:
⚫ Keep ready a small kit of essential items on your person or at hand round the clock. It should contain your passport, I-card, essential and life-saving medication, a torch, a matchbox, a lighter, candles, cash, energy bars, power banks, water and a first-aid kit.
⚫ Avoid full meals, eat smaller portions to extend the rations. Stay hydrated. If you find yourself in an open area or field, melt snow to make water.
⚫ If injured or ill, inform control room or helpline over WhatsApp and seek advice.
⚫ Each group or squad must have a white flag or piece of white cloth for waving.
⚫ Learn two or three sentences in Russian (to convey statements such as "We are students and not combatants" and "Please do not harm us; we are from India").
⚫ Be prepared to move under instructions at short notice. Shun large bags to avoid slowing down, fatigue and crowding.
⚫ If stopped by the military, police or militias, cooperate and obey. Raise your hands with open palms facing forward above your shoulders. Remain polite, provide the necessary information. Contact the control room or helpline when possible without confrontation.