Russian ambassador: Narendra Modi's no-war line 'nothing new'
Denis Alipov points out that PM had made a loud and clear reiteration that the country will maintain close relations with Russia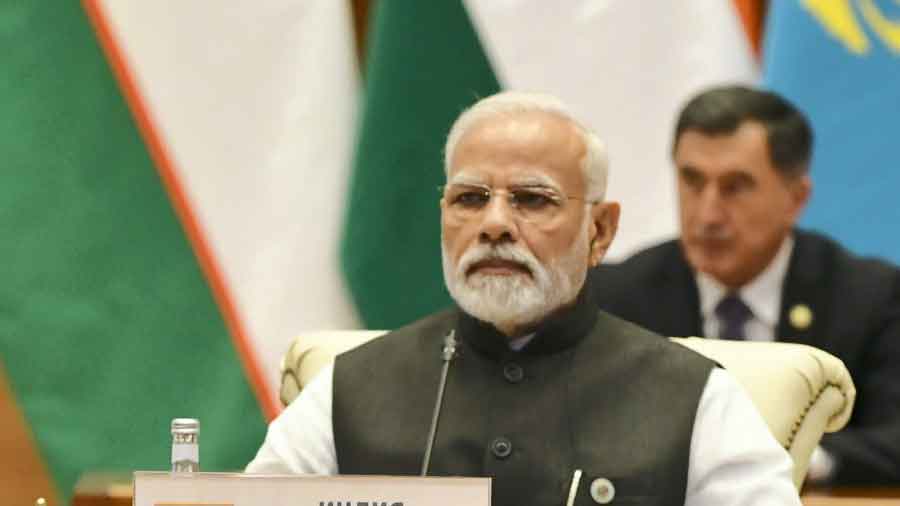 Narendra Modi.
File picture
---
New Delhi
|
Published 24.09.22, 01:55 AM
|
---
Russian ambassador to India Denis Alipov on Friday accused western countries of cherry-picking by flagging Prime Minister Narendra Modi's remark to President Vladimir Putin that "today's era is not of war" when the two met in Samarkand last week, maintaining that there was no change in India's approach to the Russia-Ukraine war.
French President Emmanuel Macron and US national security adviser Jake Sullivan have in recent days cited Modi's remark in appreciative tones, seeking to flag it as a shift in India's position though India has been maintaining that it was essentially a reiteration of what New Delhi has been saying since the war broke out on February 24.
Referring to Modi's statement in his opening remarks at a media interaction, Alipov said it had drawn a lot of attention. "There is nothing new in the approach," he said, pointing out that Modi had also made a loud and clear reiteration that India would maintain close relations with Russia.
He quoted the Prime Minister as referring to "the unbreakable friendship between our nations" and said the western leaders who had quoted Modi's remarks to "conveniently pick out parts of the conversation to suit their narrative, shying away from what they don't like".
He also insisted that Russia's approach to Ukraine did not differ much from India's as Moscow had been calling for the peaceful resolution of issues with Ukraine for 15 years "very patiently only to be denied our legitimate security concerns".
Macron had referred to Modi's remark at the ongoing UN General Assembly and said he was right to say that this was not the era for war while questioning the neutrality of those who had refused to condemn Russia. India is among the countries that have refused to pick a side in the war despite pressure from the West to condemn Russia.
Sullivan had welcomed the Prime Minister's remarks to Putin in the face-to-face meeting. Speaking to reporters at the White House, he called it a statement of principle. "This is a message that every country — in spite of how they feel about Russia, Ukraine and the US — should be able to centre around this basic proposition."
Both chose to keep quiet about the Prime Minister's speech at the East European Summit hosted by Putin in Vladivostok earlier this month. Modi not only praised Putin for his leadership but also voiced India's interest in engaging more deeply in the Russian Far East.
About the war itself, Alipov insisted it was a creation of Nato and the US; pointing out that there was no outcry when Washington invaded distant Iraq on a "false pretext" in a reference to the weapons of mass destruction narrative.