Rudraksh mala safer than pen
Journalists have found that their religious identity matters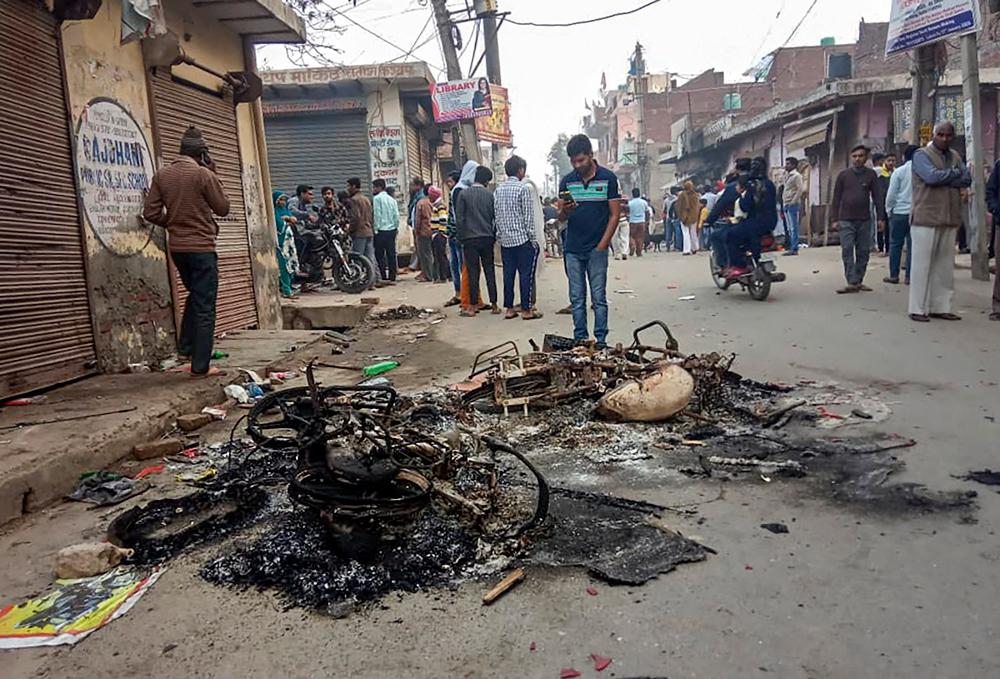 Charred remains of vehicles set ablaze during clashes at Mustafabad area of east Delhi on Tuesday
(PTI photo)
---
New Delhi
|
Published 25.02.20, 09:20 PM
|
---
I saw a mob heading towards our car. I quickly put my identity card, credit card and all my business cards under the carpet of the car. By sheer chance, my wife's credit card was in my wallet. I clasped it in my hand. A man wearing a yellow headband asked me if I was a Muslim. I waved my hand in the negative. He asked for my identity card. I flashed my wife's credit card, which bore her name, Ritu. He misread it as Ritik and shouted to the mob, "His name is Ritik! Let him go!" We soon resumed our journey towards Ahmedabad, not knowing then that the city had been hit by spiralling violence.
BBC Hindi correspondent Rehan Fazal, recalling the horrors of reporting the Gujarat riots of 2002, in an account on BBC News in 2012 on the 10th anniversary of the atrocities.
We got information of a place of worship being burnt, and we went to film…. A mob rushed towards Arvind Gunasekar and began to thrash him. They were going to hit his head with a rod when I reached…. I said, 'Brahman hoon (I am a Brahmin)' and showed them the rudraksh mala I wear…. They said, 'You are one of us' and let us go, but they made us delete the videos first.
NDTV journalist Saurabh Shukla, recounting his encounter with rioters in Delhi on Tuesday.
Journalists covering the riots in Delhi have found that their religious identity matters, in a chilling rerun of the Gujarat riots of 2002.
Shukla said on Tuesday he was in Gokulpuri with colleague Arvind Gunasekar when they heard that a place of worship was being burnt.
"We went on top of the flyover to shoot from our mobiles…. On seeing us filming, a mob on the flyover rushed towards Arvind and began to thrash him," Shukla said. "They were going to hit his head with a rod when I reached and the rod landed on my shoulder."
Shukla showed them his Foreign Correspondents' Club identity card. "I said, Brahman hoon (I am a Brahmin) and showed them the rudraksh mala I wear. Runjhun (Sharma of CNN News 18, who was also at the spot) also begged them to let Arvind go."
"They did stop beating us up because they said, 'You are from our own community. You should not be doing this. You should not be filming'…."
The three were allowed to go after the videos on their phones were deleted, Shukla said. Gunasekar has lost three teeth and Shukla suffered some bruises.
Gunasekar said on NDTV that 20 to 25 men had assaulted him. "The one thing they asked was: Are you journalists, why are you making videos? The very second interesting question they asked was about my religion."
Minutes earlier, they had seen two cops accompanying the mob, he said. "We saw two policemen on two bikes going along with the mob. Ten to 15 people holding sticks, they were walking on the same highway. Two policemen on the bikes were going along with them, and they took a U-turn and went. It looked like these two policemen guarded them... to that particular site and took a U-turn and vanished," Gunasekar said.
Gulam Jeelani of India Today tweeted: "Never before in ten-yr long career has my Muslim identity come in way of reporting. A gp of men and women, armed with sticks, on Moujpur Chwk threatened me, "Aap Mohameden hain, phir humse mat kehna." (You are a Muslim. Don't complain to us later if anything happens.) This when cops outnumbered locals. Very tense situation here."
Journalist shot
A journalist with the Hindi news channel JK24X7, Akash Napa, was shot in his left shoulder at Kardampuri in northeast Delhi on Tuesday afternoon. His channel telecast footage of him speaking with a ventilator mask on. Napa said a mob rushed towards him from an anti-CAA protest and opened fire. "Suddenly a bullet hit me. People first took me to a PCR (Police Control Room) van, and then to the hospital," he said. Napa has undergone surgery to remove the bullet.
On Monday, NewsClick's Ronak Chhabra had to get five stitches on his head after being beaten up by anti-CAA protesters in Jaffrabad.
In an account published on the news site, he wrote that one of the anti-CAA protesters told him: "You must go back. This is not a safe place for you. The police is here to kill us today…."
"Before I could realise what was happening, I was surrounded by around 20-25 people, who started beating me. Their anger was against the media. I could hear them say, 'They won't show how the saffron flag-bearers rampaged through our lanes. We don't trust the media…'
"I realised that the anger was against mainstream media, popularly known as the Godi Media, and they thought I was one of them. While I was being attacked, two persons in the group came forward and saved me.…."