Rs 10 crore green breach fine on railways
A green tribunal bench has observed that damage to the environment has taken place by ignoring the railway siting norms and not complying with environmental norms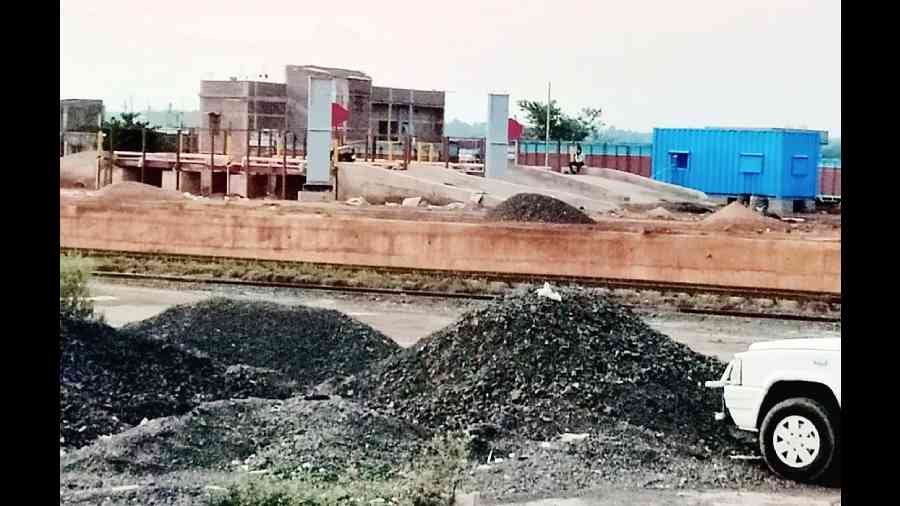 The railway coal stockyard at Rasikpur in Dumka in 2022.
Shabbir Hussain
---
Jamshedpur
|
Published 11.03.23, 02:43 AM
|
---
The NGT eastern zone bench has directed the railways to pay a compensation of Rs 10 crore to the Jharkhand State Pollution Control Board (JSPCB) for violating environmental norms in operating a coal stockyard in a densely populated area of Dumka.
The green tribunal bench comprising Justice Adarsh Kumar Goel as chairperson, Justice Amit Sthalekar (judicial member) and A. Senthil Vel (expert member) in its judgment on February 27 has observed that damage to the environment has taken place by ignoring the railway siting norms and not complying with environmental norms and directed "compensation (Rs 10 crore) to be deposited in the first instance by the railways within two months with liberty to recover the same from the user of the stockyard (West Bengal Power Development Corporation Limited)".
The order also states that "If payment (compensation) is not made, the consent (consent to establish-CTE and consent to operate-CTO) granted may be cancelled and the stockyard may not be allowed to be operated."
Supreme Court advocate Sanjay Upadhyay who had fought the case for residents of Dumka claimed that a railway coal stockyard had been set up in the densely populated area of Rasikpur in Ward Number 1, in violation of green norms.
"Due consent has not been granted by the Jharkhand State Pollution Control Board (JSPCB) for the said yard. The proposed yard is in violation of siting criteria of 2012 laid down by Central Pollution Control Board (CPCB) and Orissa State PCB which is followed by JSPCB which prohibits setting up similar stockyards near habitations, state and national highways and water bodies.
"The norm of CPCB states that such sites should be located at least one kilometre away from educational institutions, hospitals, archaeological monuments, market place and other sensitive areas. However, in the Dumka coal stockyard there is huge potential for coal dust affecting the nearby residential area due to wind having an impact on the health particularly of children. Coal dust is a well-known pollutant and source of various diseases," said Upadhyay.
"The stockyard is aimed at helping the WBPDC. Coal from Pakur coal mining is brought by road to the Dumka Railway Bengal siding and WBPDC takes the coal from coal racks to Bengal for use in thermal power units. JSPCB in its affidavits has said that CTE and CTO were granted to Dumka for storing and transporting stone chips but they have expanded the work for storage and transportation of coal," claimed Upadhyay.
Transportation of coal from the stockyard commenced from September 2022.
The NGT has directed the railways to deposit the compensation with JSPCB and asked for a joint panel headed by additional chief secretary environment, principal chief conservator of forest, nominee from CPCB, deputy commissioner Dumka and nominees of railways and WBPDC to suggest restoration steps from the compensation amount.