RJD cycle rally on fuel price hike
Tejashwi Prasad Yadav and his elder brother Tej Pratap Yadav led the 5km rally on the party's 24th foundation day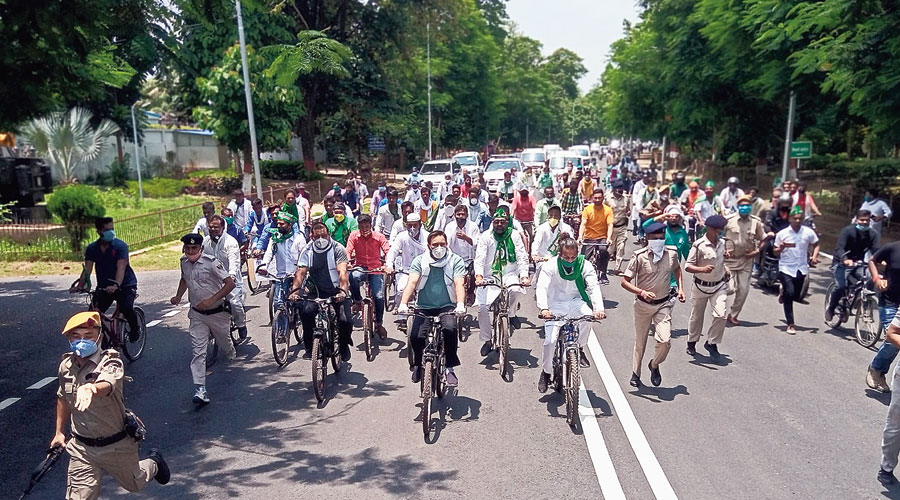 The RJD bicycle rally in Patna on Sunday.
Picture by Sanjay Choudhary
---
Patna
|
Published 06.07.20, 01:48 AM
|
---
The Rashtriya Janata Dal, Bihar's principal Opposition party, celebrated its 24th foundation day by taking out a 5km bicycle rally in the state capital on Sunday to protest rising fuel prices and inflation.
RJD leader Tejashwi Prasad Yadav, who led the rally, slammed the BJP for putting the common man in trouble and asked the Centre to roll back the recent hikes in petrol and diesel prices. He said the people of Bihar were missing party president Lalu Prasad in these dire times.
Tejashwi and his elder brother Tej Pratap Yadav led the bicycle rally from the 10, Circular Road residence of their mother and former chief minister Rabri Devi with several party legislators and leaders pedalling along to the RJD headquarters in central Patna.
While their security personnel cleared the route as they pedalled, the leaders' fuel-guzzling automobiles tailed the rally.
"There was a time when the BJP used to see inflation as mehengai dayan (price-rise witch). The same party now sees it as bhaujai (sister-in-law). The BJP leaders say that the people are not suffering due to the hikes in petrol and diesel prices," Tejashwi said while addressing RJD leaders and workers after the rally.
"Inflation has broken the back of the common people, farmers and the poor, but the BJP is not bothered about it. This is happening at a time when people are suffering due to the coronavirus pandemic. I ask the central government to roll back the hikes in petrol and diesel prices," the RJD leader added.
Tejashwi, the leader of the Opposition in the Bihar Assembly, remembered his father Lalu Prasad, currently undergoing treatment under incarceration in Ranchi after being convicted in fodder scam cases.
"The country is going through such a phase that we are feeling the need for the presence of Lalu. He is especially needed in Parliament. He has worked for the poor throughout his life and has ensured social justice, paving the way for the development of everybody. He had established the RJD to strengthen social justice, secularism and socialism," Tejashwi said.
Tejashwi exhorted his party workers and leaders to bury their differences and work for the people.
The BJP, which is a part of the ruling combine in the state, retaliated by attacking Lalu and calling his reign a dark age.
"The 15-year rule of Lalu was the dark age of Bihar. Development came to a standstill and Dlits, backwards and businessmen were massacred. Employment had vanished and lakhs of people had to migrate to other states to eke out a living. He gave poverty and violence to the state and the public punished his political acts," senior BJP leader and deputy chief minister Sushil Kumar Modi said.