Retiring? Try the Fidel stick
Indian drumstick revolution in Castro's residence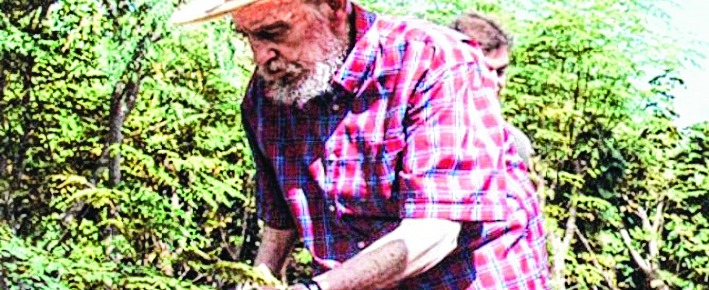 ---
---
Fidel Castro turns 90 today. Eight-and-a-half years into retirement, Fidel's life-long passion to give a better life to the poor and hungry in Latin America has prompted his focus on a vegetable which is grown in abundance in Bengal and south India. The writer was in Havana just before Fidel's birthday and found the Commandante's residence lush with drumsticks from India.
Outside Fidel Castro's modest four-bedroom house on the outskirts of Cuba's capital, his decades-long fascination with India is once again in full bloom and for all Cubans to see.
In complete retirement since 2008, the architect of the Cuban revolution is now quietly pursuing several pet hobbies. One of these is bringing drumstick seeds from Kerala and Tamil Nadu and cultivating them for his daily diet. The drumstick is moringa in Spanish, very similar to its name in Malayalam which is muringa. In Bengal, where too drumsticks are widely used in cuisine, they are called shojne danta.
A profusion of moringa trees has come up within Castro's residential compound, and some outside, in the last three years or so. When this reporter passed by the residence in Havana recently, Castro's favourite trees were bearing drumsticks and were resplendent in Cuba's summer greenery, when intermittent rain makes the entire island a lush fantasy.
Cubans talk of two other retirement pastimes of their leader: cheese-making and silk production. Castro has shown no interest in Indian paneer but for rearing silkworms, he has turned to India again.
Che Guevara, the other iconic symbol of the Cuban revolution, brought drumsticks to Cuba from Brazil for the first time in the 1960s, but its cultivation remained confined to a small patch of land in the middle of the island.
The moringa was the only one to survive among the 16 seed varieties Che had introduced into Cuban farming, according to agriculture experts here. Because it remained confined to a small patch of land on the island, the plant never attracted Castro's attention until about six years ago, according to his close aides.
In 2010, when Haiti was hit by a massive earthquake, which was followed by serious floods and mudslides, Castro was struck by the sufferings of Haitians. Relief efforts were riddled with corruption and inefficiency, compounded by Haiti's lack of infrastructure.
When a cholera epidemic added to the desperation of Haitians in October 2010, Castro decided he had to do something. At least 50 people were dying of cholera there every day as the epidemic reached its worst level.
Castro telephoned the founder of Cuba's Finlay Institute, Concepcion Campa Huergo, and told her that the people of Haiti would need something in the long term that addressed the problem of their chronic hunger.
Huergo and her close aide, Ricardo Perez, narrated to The Telegraph the chain of events which then led to Castro's current obsession with Indian moringa plants. "I told Fidel that the answer to Haiti's problem of pervasive hunger was moringa," Huergo said.
As an example of how Castro decisively deals with an issue even in retirement once he lays his hands on it, she recalled that in two hours the supreme Cuban revolutionary had read up whatever he could find about the moringa and its properties and was on the phone to Huergo once more.
"This is food for the hungry," Castro told Huergo with his famously infectious enthusiasm.
He chided her for not having drawn his attention earlier to the nutritional properties of this plant.
Since Castro was no longer President and had no formal role in government, he could not issue any fiats on promoting drumsticks on the island. So he wondered during the phone conversation how he could persuade someone to go to India, study moringa cultivation and bring its seeds to Cuba.
Without a moment's hesitation, Huergo said she would travel to India and undertake this task. By that time, she had been director for 31 years of Finlay Institute, a scientific organisation dedicated to vaccine research and production that has earned a reputation as one the most prestigious institutions of its kind in the world.
Huergo told this newspaper she had been practising yoga for 45 years, the result of a lifelong fascination with India. "For me, India is like a mother. India teaches important lessons to all humanity."
She had visited India for the first time at the invitation of the department of ayurveda, yoga and naturopathy, unani, siddha and homoeopathy to discuss the development of homoeopathy vaccines by the institute she had founded. Her initiation into the properties of the moringa had come several years earlier at the hands of a Canadian expert on the plant.
Prodded by Castro, she returned to India, first to Tamil Nadu, then Andhra Pradesh and finally Kerala. During these travels, drumsticks were on her mind day and night, in her sleep and in her waking hours, Huergo said.
Often, she would clutch a fistful of drumstick pods, walk into a small eatery and request that a dish with moringa be made for her. The idea was to taste local varieties to decide what she should take back to Cuba.
By December of 2011, she had instructions from Havana to buy 100 tonnes of moringa seeds to be shipped to Cuba. Castro was pleased and when the shipment arrived on the island, he took for himself a portion of the seeds to populate his compound and areas immediately outside it with drumstick plants.
He tends to them personally now as a hobby. Those plants have grown big enough to bear big pods of drumsticks. The Cuban media and websites promoting the moringa have published photos of Castro happily pottering about his favourite plants of Indian origin.
Cubans produce the Moringa oleifera powder from leaves of the plant. Huergo says use of the powder in soups, lentils and fries is growing on the island, popularised by publicity about its nutritional values.
Castro, who now writes occasional articles for the Cuban media, recently devoted an entire column on the value of Indian drumsticks.
"Moringa, originally from India, is the only plant that has every kind of amino acid. With proper planting and management, its green-leaf production can exceed 300 tonnes per hectare in a year. It has dozens of medicinal properties," the nonagenarian revolutionary wrote.
Moringa cultivation is one legacy of Cuba's association with India that will survive Fidel Castro, whose 90th birthday is on Saturday, August 13.