Parliamentarians point at five-year gap
Rarely invoked Rule 267 in Rajya Sabha attracts attention
This comes at a time Parliament has been paralysed by demands to debate issues such as the Pegasus controversy, farmers' agitation and price rise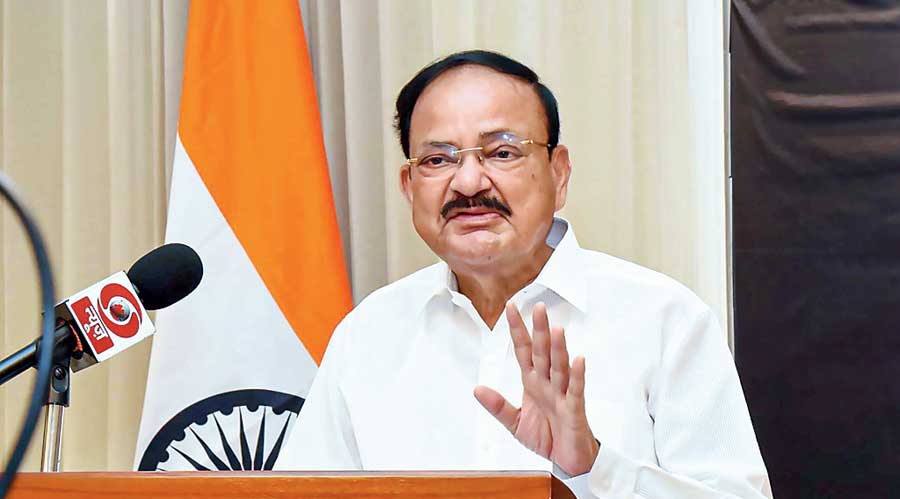 Venkaiah Naidu.
File picture
---
New Delhi
|
Published 02.08.21, 03:05 AM
|
---
The Rajya Sabha has for nearly five years not allowed discussions under Rule 267, which provides for the suspension of listed business to discuss a subject raised by one or more members.
The long gap has attracted attention at a time Parliament has been paralysed by demands to debate issues such as the Pegasus controversy, farmers' agitation and price rise.
"I am receiving 10 to 15 notices under Rule 267 every day on different issues," House Chairperson M. Venkaiah Naidu, who has rejected all these written notices from members, acknowledged on Friday.
Any member can give a notice to the Chair for a discussion on any subject under Rule 267. Historically, most such notices are denied. Two such notices were allowed in 2016 and one in 2015, when Hamid Ansari was the Chairperson.
According to Parliament records, the last time the Rajya Sabha witnessed a discussion under Rule 267 was on November 16, 2016. The issue was the demonetisation.
Naidu — Chairperson since August 11, 2017 — has rejected several hundred notices under Rule 267, on subjects ranging from the Rafale deal to the GST implementation.
Trinamul member Sukhendu Sekhar Ray — one of more than a dozen members to have given notices on the Pegasus allegations under Rule 267 — on Friday brought up the five-year gap.
"Sir, I would like to draw your kind attention to the fact that since November 2016 till today, on no occasion has Rule 267 been allowed in the past five years," Ray said in the House.
"I strongly believe that the rule still exists in the rules book, and kindly allow us to discuss under Rule 267."
Naidu stressed that Rule 267 was rarely used and suggested the matter be taken up by the House's General Purposes Committee, "whenever" it met.
According to the Rajya Sabha website, the committee's functions are to "consider and advise on such matters concerning the affairs of the House as may be referred to it by the Chairman from time to time".
"Right, Sukhendu Sekharji, you have made your point. We have to discuss it also whenever we meet in GPC or whatever it is," he said.
Naidu then shifted the focus to the Opposition's stalling of House proceedings, saying: "If the House has to be adjourned on those… that is not good. I want the House to function and discuss the issues. That is why, there is difference of opinion. We will see to it."
Ray told The Telegraph: "If matters of national importance are not discussed in Parliament, where will they be discussed? Will they be discussed in coffee houses?"
Sources said the Rajya Sabha had discussed the agrarian crisis on April 23, 2015, and the Kashmir situation on August 10, 2016, under Rule 267.
The Lok Sabha has a corresponding provision — the adjournment motion — for members to demand discussion on unlisted matters they deem important.
Sources said the last adjournment motion to be allowed was six years ago in August 2015. The subject was then foreign minister Sushma Swaraj's alleged role in getting British travel papers for a fugitive Lalit Modi whose passport Indian authorities had revoked.