Shashi Tharoor's rapier thrust at statue gladiators
It is like Roman gladiator fights, where people were gorged on the spectacle to distract them from their own oppression, the Congress leader says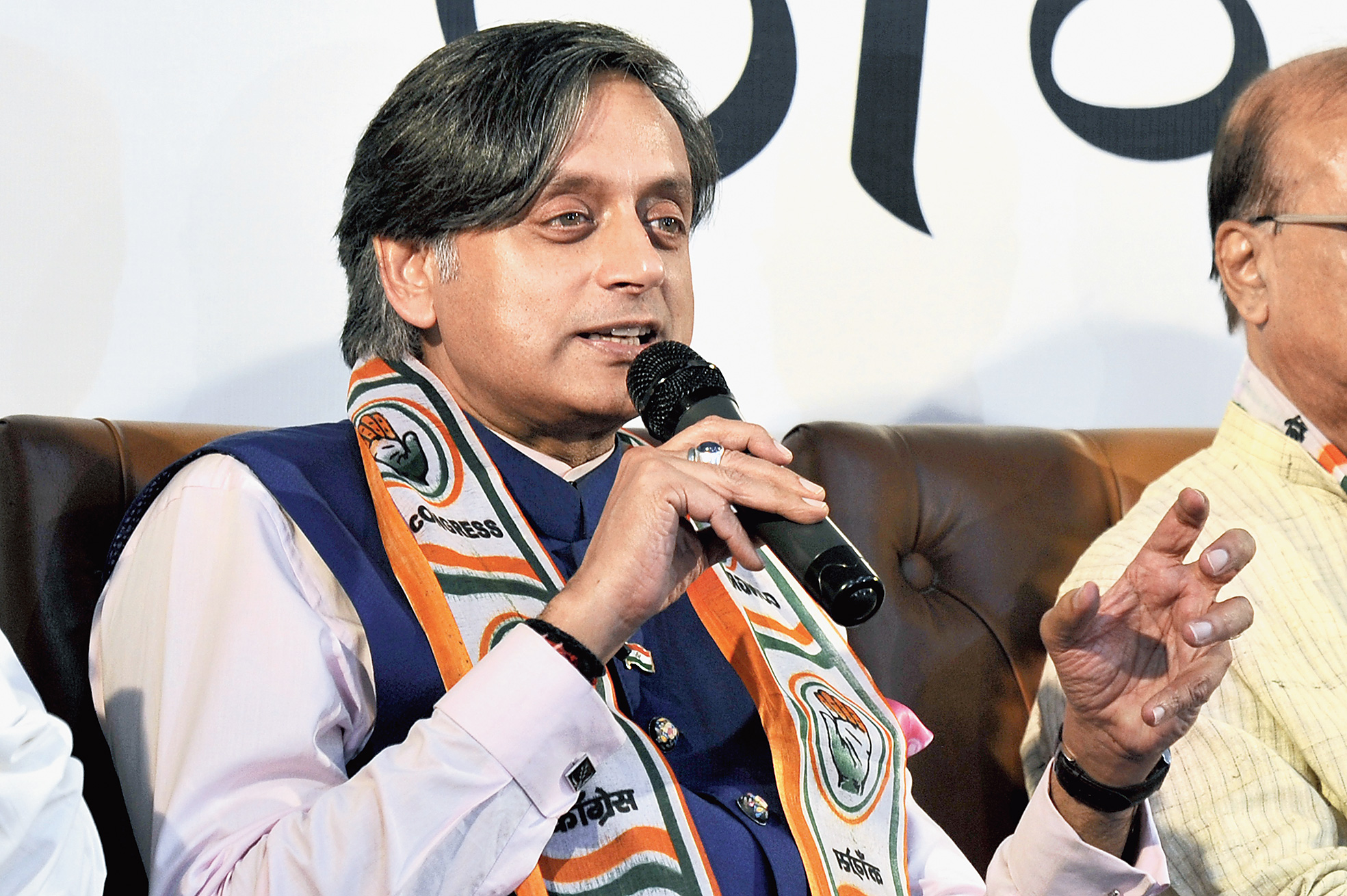 Tharoor in Calcutta on Saturday.
Sanat Kumar Sinha
---
Calcutta
|
Published 03.11.18, 07:12 PM
|
---
Congress MP Shashi Tharoor on Saturday likened the BJP's recent statue-building drive to the Roman spectacle of gladiator fights, saying both were meant to distract people from real issues.
"Erecting statues on the grounds of being biggest or longest is a ploy to keep people distracted," the Thiruvananthapuram MP told a news conference in Calcutta on Saturday afternoon.
Tharoor was in Calcutta to hold meetings as part of a consultative process to draw up the Congress manifesto for next year's Lok Sabha elections. He made the comments in response to a question on Uttar Pradesh chief minister Yogi Adityanath's recent declaration that he would build a 100m-tall Ram statue at Ayodha.
Tharoor's stress on the perceived futility of building statues is significant in the context of the ongoing debate over the statue of Sardar Vallabhbhai Patel, the tallest in the world, that Prime Minister Narendra Modi inaugurated in Gujarat last week.
Earlier Tharoor had questioned the BJP's rationale behind building the statue, which cost Rs 2,989 crore, saying the mammoth structure went against the ideals of Patel, who was a Gandhian.
"When a Rs 330 cylinder of gas is selling for Rs 930, and you ask why, the BJP will tell you that they are building the biggest and the longest," he said.
"It is like Roman gladiator fights, where people were gorged on the spectacle to distract them from their own oppression," he added.
During the news conference, Tharoor also addressed the controversy regarding a quote he used in his new book The Paradoxical Prime Minister, saying the continued debate over the matter was "frivolous" while also being a concern for freedom of speech.
"Of course a writer will dig up old material…. It is his job. And the quote that I used was from a reputable publication, not some gossip rack," he said.
The controversial quote was published in a 2012 profile of Modi in The Caravan magazine.
Written by journalist Vinod Jose, the quote was gathered by him from an "unnamed RSS pracharak" while profiling the RSS's relationship with Modi. The RSS worker had said: "A scorpion is sitting on a Shivling. It can neither be removed by hand nor slapped with a shoe."
At a recent book event, Tharoor had dubbed this an "extraordinarily striking metaphor".