Shun crackers, embrace charity
Archbishop asks followers to help poor on Christmas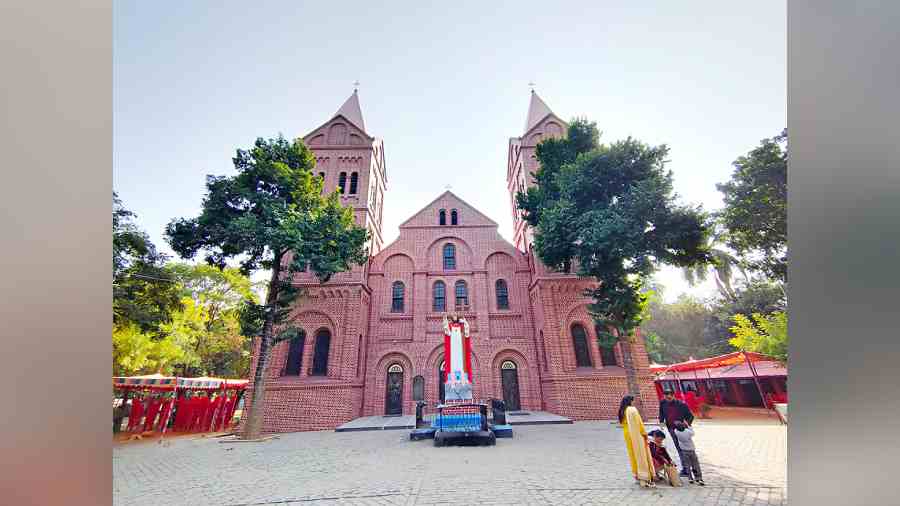 St Mary's Cathedral in Ranchi which houses the Archbishop's House.
Manob Chowdhury
---
Jamshedpur
|
Published 13.12.22, 02:54 AM
|
---
The Catholic Archdiocese of Ranchi has "strongly requested" its followers to shun firecrackers and not to bring flowers, sweets or cakes to the Archbishop House on Christmas this year and instead donate that money to funds meant for the poor.
The  Advent  and Christmas Pastoral letter issued in the last week of November and signed jointly by Ranchi Archbishop Felix Toppo and Auxiliary Bishop Theodore Mascarenhas, which will be read at all masses in cathedrals and parishes, states: "In view of protection of environment and as a measure against air and sound pollution, we strongly request you not to use firecrackers during this festive season. Instead of burning money in firecrackers let us use it for a good purpose."
The letter further requests well-wishers to shun the tradition of bringing flowers, sweets or cakes to Archbishop House.
"We request our friends and well-wishers not to bring flowers, sweets or cakes to the Archbishop House. Instead, they can donate the money saved either to the Archdiocesan Fund for the poor or the Archdiocesan Missions funds," the letter says.  
Bishops from the other eight dioceses namely Jamshedpur, Hazaribagh, Gumla, Khunti, Daltonganj, Dumka, Simdega and Andaman and Nicobar will also be requested to adopt the letter.
Ranchi is the only Archdiocese in Jharkhand while there are eight dioceses coming under it.
The letter also 'recommends' that each family and religious community "make sacrifices, especially during the season of Advent and contribute to charity so that we can help those who are living in poverty."
"For many of us, preparation for Christmas will be buying presents, stitching new clothes, celebrating with friends, decorating and beautifying our houses and homes. While there is nothing wrong in the material preparations for Christmas, without a spiritual preparation the meaning of Christmas will be lost," the letter advises.
"During Advent, we are invited to respond to God's love which is embodied in what Christ tells us 'A new commandment I give unto you, that you love one another as I have loved you. Loving our neighbour is the visible sign of our love for God," the letter states.
Quoting Biblical text, the letter states: "Faith by itself, if it does not have works, is dead" and adds, "In the last judgement Jesus will tell us, 'For I was hungry and you gave me food, I was thirsty and you gave me to drink, I was a stranger and you welcomed me, I was naked and you clothed me..."