Ramana quotes Urdu couplets to extol beauty of Kashmir
CJI says it is a 'confluence of religions' that should be cherished for it symbolises the country's 'plurality' and democracy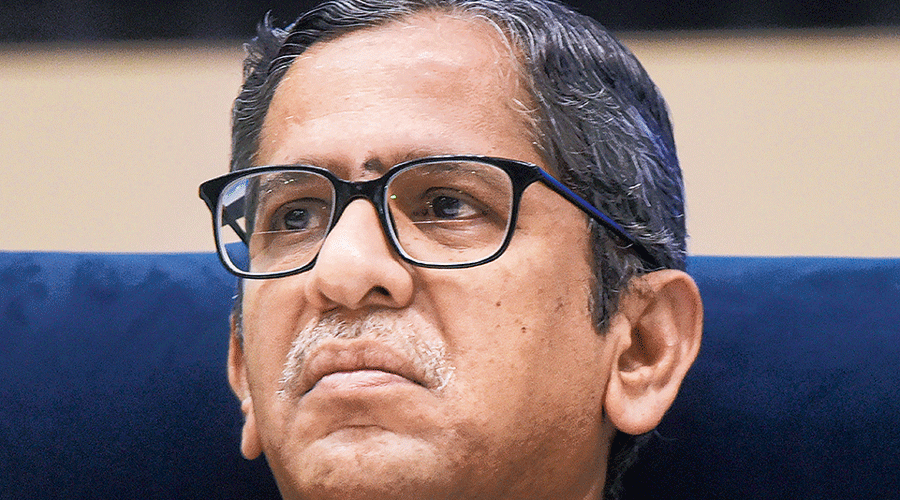 Chief Justice NV Ramana.
File photo
---
New Delhi
|
Published 15.05.22, 02:20 AM
|
---
Chief Justice of India N.V. Ramana on Saturday quoted Urdu couplets to extol the beauty and "humanity" of Kashmir, saying it was a "confluence of religions" that should be cherished for it symbolised the country's "plurality" and democracy.
"As the poet Raja Basu, an admirer of Kashmir, observed, Jammu and Kashmir is the confluence of three great religions — Hinduism, Buddhism and Islam. It is this confluence which is at the heart of our plurality, which needs to be sustained and cherished," the Chief Justice said.
His observations, at a ceremony to lay the foundation of a new high court complex in Srinagar, come amid a rise in anti-Kashmiri sentiments and generally anti-Muslim hate speeches in the country.
While citing Urdu poets' praise of Kashmir, Justice Ramana also spoke of his personal experience of Kashmiris' kindness and hospitality.
"Muddaton baad jo aayaa hoon is vaadi mein ik naya husn, naya rang nazar aata hai (I have come to this valley after ages. I can see a new beauty, new colour). These famous words of Poet Ali Jawad Zaidi reflect my sentiments," he said.
Justice Ramana said: "I had the fortune to visit this paradise many times, but every time I have been amazed by its beauty and moved by its hospitality. It's a land where one gets to experience four seasons. The kindness of the people here, and the enriching culture of Kashmir, transforms every soul that visits this scenic land."
Justice Ramana quoted another Urdu poet, Rifat Sarfarosh: "Yeh khitaye Kashmir hai, jannat ki ik tasweer, insaniyat ki dastaan, har zarre mein tehreer (This is Kashmir, an image of heaven, every particle of this land tells the story of humanity)."
He urged development of Kashmir, saying: "Unfortunately, (current) wealth creation is not commensurate with the true potential of this beautiful region with invaluable and highly skilled human resources. This situation needs to change for this land's brightest future."
Speedy justice
Addressing judges and other dignitaries, the Chief Justice urged speedy justice delivery, warning that the "denial of justice would ultimately lead to anarchy" and destabilise the judiciary itself, encouraging people to "look for extrajudicial mechanisms".
"The justice delivery mechanism in India is very complex and expensive. The judiciary must be at its innovative best to ensure that the challenges to its working are met with just and constitutional measures," he said.
Infrastructure
Justice Ramana regretted the poor state of judicial infrastructure and the huge judges' vacancies.
"Sadly, post-Independence, the judicial infrastructure has not been overhauled to meet the growing needs of modern India. We are far behind in making our courts inclusive and accessible. If we don't attend to this urgently, the constitutional ideal of access to justice would stand defeated," he said.
He said the judiciary can flourish only if its foundation — the district judiciary — is strong. He regretted that the district judiciary across the country faced 22 per cent vacancies and that "courts are operating from rented accommodations and under deplorable conditions".
He stressed the need to provide security and accommodation to all judges.
Congenial courts
Justice Ramana asked the judiciary to create a congenial environment for litigants who are often under a lot of psychological stress, sometimes illiterate, often unaware of the law and faced with financial issues.
"You should try to make them feel at ease. I would especially urge the district judiciary to always keep this in mind. You… are the first contact for the justice seeker with the judicial system," he said.
Justice Ramana urged judges to "persuade parties to choose ADR (alternative dispute redressal) mechanisms whenever possible" and make the best use of the national and state legal services "to reach out to the needy".
Justice Sanjay Kishan Kaul of the Supreme Court, Justice Pankaj Mithal, chief justice of the High Court of Jammu and Kashmir and Ladakh, and Union law minister Kiren Rijiju were in the audience.
The new court complex will sprawl 1.7 lakh square metres and be built at an estimated cost of Rs 310 crore.