Ram temple: Modi's opening words invoke Ma Sita
PM's invocation causes a flutter among VHP members who were among the temple movement's leading lights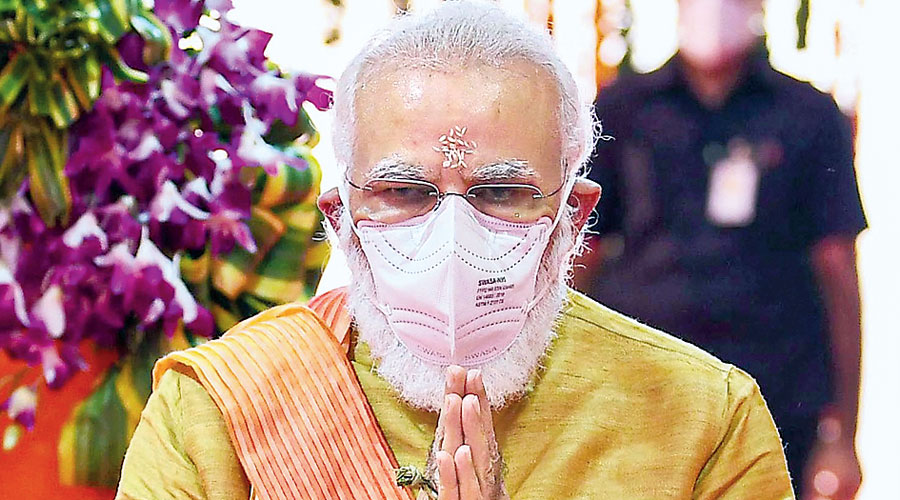 ---
|
Lucknow
|
Published 06.08.20, 03:50 AM
---
This was to be Lord Ram's day. But it suddenly seemed in danger of being hijacked by a woman whom those who claim to speak for the Prince of Ayodhya thought they had banished long ago.
As Prime Minister Narendra Modi began his speech in Ayodhya on Wednesday, after performing the bhoomi pujan for the Ram temple, his opening words invoked not just the Lord but the Lady too.
"First, let us remember Lord Ram and Mother Janaki (Sita) before I speak further," Modi said. He then chanted "Siyavar Ram Chandra ki (Ram Chandra, husband of Sita)..." and the audience responded with: "Jai (Glory to them)."
Modi continued: "Jai Siya Ram (Glory to Sita and Ram)."
The white-bearded Nritya Gopal Das, 82, the oldest surviving Vishwa Hindu Parishad member from among the temple movement's leading lights, was as usual looking half asleep in his chair on the dais when he seemed to suddenly wake with a start.
Das, who now heads the trust that is overseeing the temple's construction and organised Wednesday's event, turned his head towards Modi, looking as though he couldn't believe his ears.
Some of those watching on the roadside TV screens in Ayodhya told this newspaper they couldn't hide their astonishment, either.
That Modi's invocation of Sita should cause such a flutter is a commentary on the leanings of the Sangh parivar, which led the temple movement since the 1980s and created an entire culture around it.
Every Ram temple has a Sita idol too, and "Jai Siya Ram" had for centuries been the standard greeting among Hindus in the heartland along with "Ram Ram". But as the temple movement gained ground, its muscular slogan of "Jai Shri Ram" became also the principal salutation for its spearheads and supporters, with Sita sent away on her umpteenth exile.
Many have seen a patriarchal bias in the new slogan, saying the omission of the wife is aimed at transforming Ram's image from that of a loving husband to a warrior king.
"No wonder Das was surprised — we had forgotten the original salutation, which was popular before we started our temple movement," a local sadhu in Ayodhya told The Telegraph. He asked not to be named as he didn't want to annoy Das.
In the middle of his speech, Modi asked the gathering —which included Uttar Pradesh ministers, Sangh parivar heavyweights and sadhus — to chant "Jai Siya Ram".
He ended his speech with the hope that "Mother Sita" and "Shri Ram" would bless everyone and asked the audience again to join him in chanting: "Siya Pati Ram Chandra ki jai."
Few of the speakers who followed him, however, mentioned Sita, and even while the Prime Minister was speaking, a group of sadhus standing outside the venue kept shouting: "Jai Shri Ram."
The old greeting, however, had already had a public outing the day before, when Congress general secretary Priyanka Gandhi issued a statement flagging Ram's universal appeal and unifying power, signing off with "Jai Siya Ram".
During his 40-minute speech, Modi too portrayed Ram as a common thread across India's diversity of culture, and claimed the grand temple would help unite the nation as "Ram belongs to all and is in everyone".
He compared the temple movement to the freedom struggle and August 5 with Independence Day.
"There was no part of the land where sacrifices were not made for freedom. August 15 symbolises that unlimited, continuous dedication and sacrifice…. Similarly, many generations struggled for centuries for a Ram temple. This day represents that sacrifice and commitment," he said.
He threw in a Gandhi parallel too: "The way Dalits and tribal communities and all classes of society contributed to Gandhi's fight for freedom, the construction of the Ram temple is starting with the help of people across the entire country."
Continuing with the theme of unity amid diversity, Modi noted that the Ramayana had various versions in different Indian languages, and that Ram was revered in many countries including Indonesia, which has the largest Muslim population — points highlighted in Priyanka's Tuesday statement too.
Modi was, however, silent on party veteran L.K. Advani, architect of the temple movement who appears not to have been invited to Wednesday's event.
RSS chief Mohan Bhagwat, however, mentioned Advani in his speech, saying: "Some people who were part of this movement have passed away and some couldn't be here. Advani, who had led the Rath Yatra, must be watching the event (on television)."
Modi first prayed at the Hanumangarhi temple before arriving at the makeshift Ram temple and lying down prostrate for a while. He then performed the bhoomi pujan with a silver brick and several earthen bricks placed near the fire alongside a metal plate.
Shree Ram Janmabhoomi Teerth Kshetra Trust general secretary Champat Rai said that Shankaracharya Jayendra Saraswati of Kanchi had sent the metal plate with the history of the temple movement inscribed on it. Trust sources said it would be placed at the foundation of the temple as a sort of "time capsule".
Modi also unveiled a plaque that credited him with laying the foundation stone in the presence of Uttar Pradesh governor Anandiben Patel and chief minister Yogi Adityanath.