Rajnath Singh dodges talk on China status quo
Defence minister's silence comes amid reports of Chinese inflexibility on the subject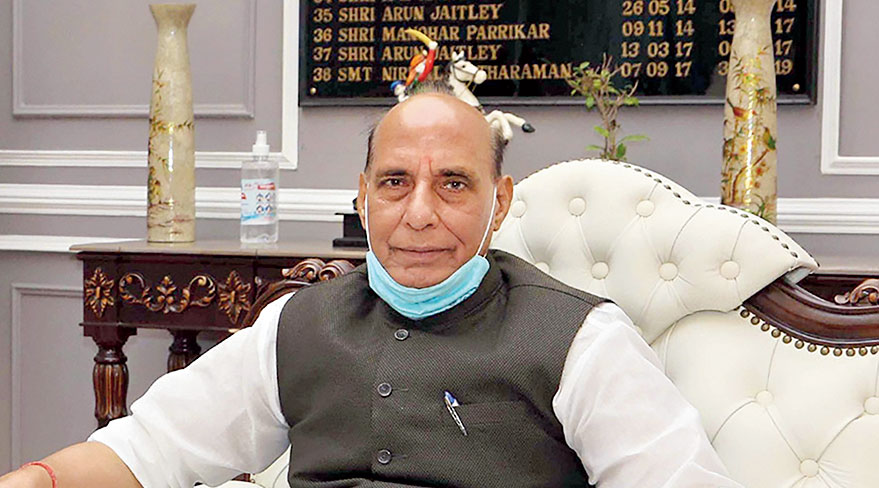 ---
---
Defence minister Rajnath Singh on Monday spoke of China's "unprovoked aggression" in eastern Ladakh and how Indian soldiers had "forced them to go back" but did not say where the two sides stood on disengagement amid reports of Chinese inflexibility on the subject.
Several military veterans questioned Rajnath's silence on the Indian demand for status quo ante and on reports — in the media and security establishment corridors -– that the Chinese army had told its Indian counterpart to accept the new status quo on the ground.
"The defence minister's statement is contrary to the ground situation. He must explain what he meant when he said the Indian troops had forced the Chinese to go back, and clarify which friction points he meant," a retired lieutenant general said.
"During the ongoing military talks, the Chinese are said to have indicated that India should accept the new status quo."
Chinese troops had breached the unmarked Line of Actual Control at several points — including the Depsang Plains, Pangong Lake and Hot Springs — and are estimated to be occupying close to 1,000sqkm of India-claimed territory.
A defence ministry official said that when Rajnath spoke of the Indian soldiers' bravery and the Chinese being forced back, he was alluding to the June 15 Galwan Valley clash during which 20 Indian soldiers died while China suffered unspecified casualties.
Rajnath, who was speaking at the annual general meeting of industry chamber Ficci, did not mention any particular friction point.
"The unprovoked aggression on our Himalayan frontiers is a reminder of how the world is changing, how existing agreements are being challenged, how power is being asserted not just in the Himalayas but across the Indo-Pacific," he said.
"As you are aware, there is a big build-up of armed forces on the LAC in Ladakh. In these testing times, our forces have shown exemplary courage and remarkable fortitude. They fought the PLA with utmost bravery and forced them to go back."
Rajnath added: "The coming generations of this nation will be proud of what our forces have managed to achieve this year. Whenever there is a situation at the LAC, the most obvious outcome is a comparison between India's and China's military strength."
A retired colonel asked: "Why is the defence minister no longer talking about restoration of the pre-April status quo?"
Another veteran said: "The Chinese have refused to pull back; they want India to accept the new normal at the LAC in Ladakh."