Rajasthan: Test for young TV anchors too
Gehlot does not name anyone but refers to the way in which some channels are supporting defection and poaching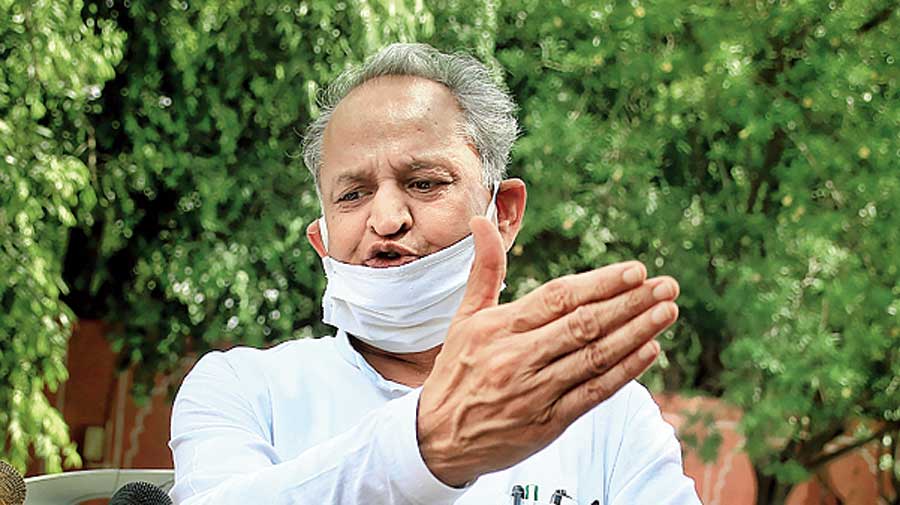 ---
---
The shenanigans in Rajasthan have brought into sharp focus the paths pursued by the young in not only politics but also the media.
Rajasthan chief minister Ashok Gehlot, a seasoned public figure who has fought many a battle for survival, did not mince any words on Wednesday.
"Isn't it the media's responsibility too to protect democracy? Money is being used to destroy democracy and they support it. Do you support horse-trading? You have to stand with the truth," the veteran politician said.
Gehlot did not name any names but he was referring to the way in which some television channels were supporting defection and poaching in the guise of rooting for "talent" and "youth".
"There are media houses which take money from the BJP, are complicit in their conspiracies. Democracy survived for 70 years; now the BJP is destroying democracy," the chief minister said.
The Congress leader's words could be viewed as that of politician trying to preserve his chair by tearing into political opponents.
But what Gehlot said next cannot be dismissed as political rhetoric. "The younger leaders, young anchors and journalists should be worried. They should resist it, go to jail. But just the opposite is happening," Gehlot said.
Along with the rise of the "strongman leader" in many parts of the world, signs of defiance have also emerged in several newsrooms. But such resistance has largely been absent in most of the mainstream newsrooms in India, prompting some to bring the Emergency-era putdown up to speed by declaring that the Indian media is crawling without being asked to bend.
For the Congress, whatever genuine grievances Sachin Pilot may have had, he seems to have seriously damaged the process of a generational shift in the party.
Coming soon after Jyotiraditya Scindia's act of sabotage in Madhya Pradesh, Pilot's rebellion has put Rahul Gandhi on the defensive and encouraged the seniors to question the younger brigade's ideological commitment.
Gehlot stressed this point. "The current leadership of the Congress has struggled for 40 years and is still serving the party. What is the commitment of these young leaders?" he said.
"We support the young generation, the future is theirs. But anybody getting responsibility without struggle, without going through the grind, cannot understand the value of patience."
Many seniors such as Tarun Gogoi and Salman Khurshid made the same point.
"Family disputes should be easy to mend but are sometimes worse for being in the family," Khurshid tweeted. "Respect and affection is legitimate expectation but demanding constant physical proof undermines the basis of relationship. Have to be human first, trader later."
Khurshid added: "Interesting that many of our colleagues have become 'leaders' because of generous support of top leadership and demand more support because of being 'leaders'.
"Trust and allegiance cannot be conditional. It is there or it is not. Sad to see events unfold in Rajasthan. Sad particularly because the son of my dearest late friend, Rajesh Pilot, is at the vortex. We have challenges ahead that make personal ambitions and expectations insignificant."
Jitu Patwari, a politician from Madhya Pradesh who too became an AICC secretary and a minister at a young age, tweeted: "It is true that Digvijaya Singh, Kamal Nath, Captain Amrinder Singh, Ashok Gehlot, Bhupinder Singh Hooda… etc also had differences with their seniors in the past. But they didn't cross the limits of dignity and discipline, and kept serving the party."
It appears that Rajasthan has brought home this message, with a sobering effect on many of the Congress's younger leaders.