Congress leader speaks his mind
Rahul Gandhi: Won't step aside
He once again expressed helplessness about the absence of institutional support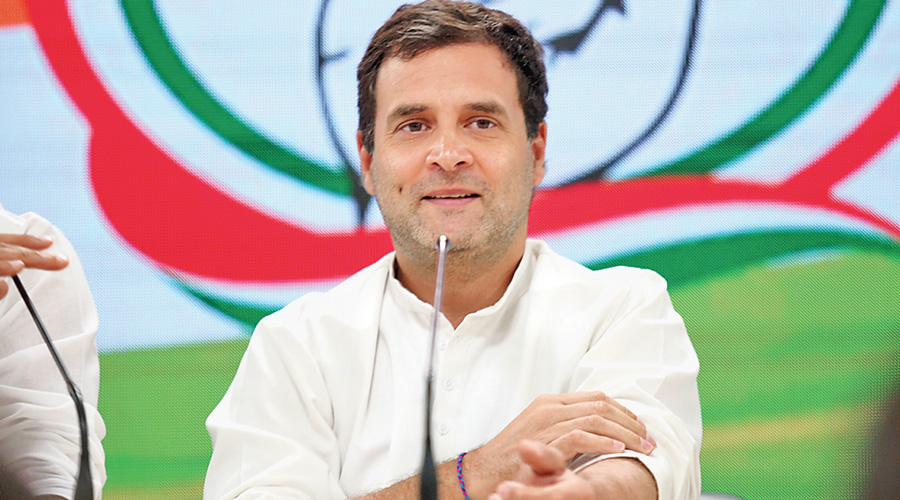 Rahul Gandhi.
File picture
---
New Delhi
|
Published 17.03.21, 02:10 AM
|
---
Congress leader Rahul Gandhi has said it was difficult to believe the results of the 2019 parliamentary elections in states like Chhattisgarh and Rajasthan, in spite of massive polarisation caused by the surgical strikes in Pakistan and media domination in favour of the BJP.
Asked what transformed the political landscape suddenly when the narrative was in favour of the Congress after victories in three states — Madhya Pradesh, Rajasthan and Chhattisgarh — Rahul said in a conversation with Brown University professors and students on Tuesday: "Our Chhattisgarh party, and I agree with them for sure, simply cannot explain how we go from a two-thirds majority to two seats. Can't explain. Very hard to believe something like that happened."
He went on: "Similarly in Rajasthan, after a solid fight, suddenly we get zero seats. It is surprising to me. It is not easy to believe. Now there are a couple of arguments people make. I can see some of those — massive polarisation in north India. But it doesn't take me to two seats in Chhattisgarh. Media domination, financial domination. It is there. Money spent, the ratio is 1:10. On media, Narendra Modi is 24x7. Institutional support, massive concentration of financial and political power sitting behind this machine."
While Rahul has talked about institutional capture and media domination in the past, he has for the first time argued that the results were still unacceptable in some states. Although he did not refer to his suspicions about electronic voting machine (EVM) on Tuesday, he has said in the past that he is not convinced about their safety and had even asked why the Election Commission of India didn't allow political parties and experts to check the machines.
Rahul once again expressed helplessness about the absence of institutional support and argued that it was a fantasy to think that democracy could work without independent institutions.
"Modern India is an ongoing negotiation. Independent institutions guarantee that negotiation. A determined attack on these institutions is going on. I represent a part of that negotiation as other political parties do. But we are not given room for negotiation. As a political player, I need that institutional support," the Congress MP said.
While Rahul's repeated arguments on these lines have generated appreciation as political observers and Opposition leaders agree with his assessment, many resent his show of helplessness, asserting that concrete political responses and strategies are required instead of theoretical lament.Rahul offered an interpretation of Mahatma Gandhi's role in the freedom struggle and nation-building and also emphasised the role of politics in the mediation between identities and cultures. He described Mahatma Gandhi as the master negotiator who didn't have a vested interest.
His argument that Gandhi had deployed his "shunyata" in negotiations to achieve results attracted ridicule on social media. "Gandhi, despite being in the middle of negotiation, didn't have a game of his own. It was as if he didn't exist," Rahul had said, meaning that without Gandhi's detached neutrality, negotiation wouldn't have been possible in a diverse and complex country like India.
Asked about Gandhi giving up power, Rahul said: "If you take the blunt view of power, yes, he gave up. But in a sophisticated view of power, Gandhi didn't give up his power. He used his power to give India the Constitution."
Asked about dynastic politics and whether he was willing to step aside for a non-Gandhi to lead the Congress, Rahul said: "Why should I step aside when I am defending an idea? I can't be told that you can't defend that idea because you are somebody's son."
Told that the issue was about intra-party democracy, not defending an idea, he said he had been roasted for advocating internal elections. He said he was encouraging new leaders and wondered why the question of internal democracy was not asked of other parties, including the BJP.
When Professor Ashutosh Varshney, who anchored the talk, asked him about the downgrading of Indian democracy by two foreign global institutions, Rahul said: "Foreign institutions have their views but we don't need their stamp. They are much behind the curve. The situation here is much worse. Election is not about simply pushing the button on the EVM. Election is about narrative, debates, institutions. If you control WhatsApp and Facebook, you don't have to attack the voting system. We have seen Saddam and Gaddafi coming to power."