Rahul on PM: Cowardly like Chamberlain
Unscathing attack by the Congress leader on Modi's image as a strong leader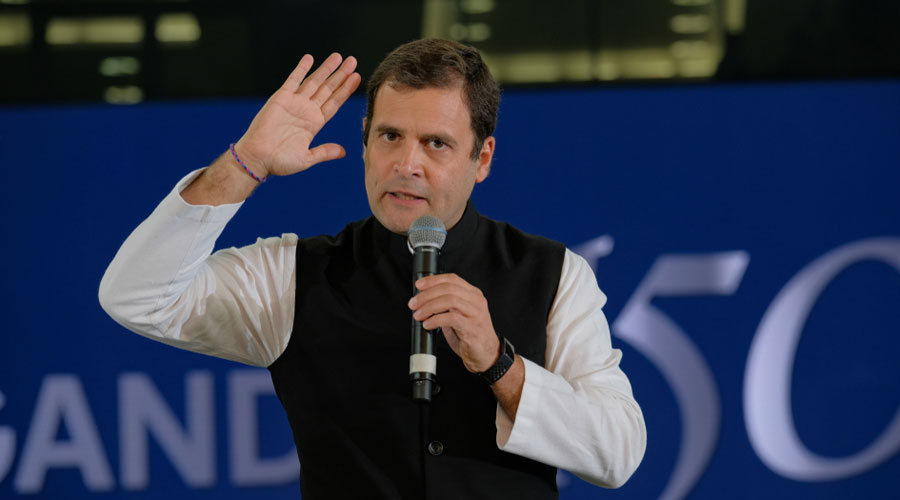 Rahul Gandhi
Shutterstock
---
New Delhi
|
Published 19.07.20, 01:57 AM
|
---
Rahul Gandhi on Saturday described the Narendra Modi regime as "cowardly" and said India would pay a "huge price" for the government's actions.
"China has taken our land and the Government of India is behaving like Chamberlain. This will further embolden China. India is going to pay a huge price because of the Government's cowardly actions," the Congress leader tweeted.
Arthur Neville Chamberlain is the British Prime Minister whose name is identified with the policy of "appeasement" toward Adolf Hitler's Germany in the period immediately preceding World War II. He signed the Munich Agreement in 1938 conceding regions in Czechoslovakia to Germany in a gesture seen as surrender to Hitler.
In comparing Modi with Chamberlain, who is synonymous with a weak foreign policy, Rahul mounted a scathing attack on the Prime Minister who projects himself as a strong leader and one who has enhanced India's prestige abroad.
Rahul attached to his tweet a video clip of defence minister Rajnath Singh in Ladakh on Friday, where he said about China: "Based on the progress of the talks so far, the situation should be resolved. But to what extent it will be resolved, I cannot guarantee.
"However, I want to assure you that no power on earth can touch or capture even an inch of India territory."
Senior Congress leader and former home minister P. Chidambaram said in a series of tweets on Saturday: "Indian security agencies have assessed that Chinese troops are still up to 1.5 kms on the Indian side of the LAC (according to India's perception). In May, Chinese troops had intruded up to 5 kms on our side of the LAC. All talk of 'no one had intruded into Indian territory and no one is inside Indian territory' was empty rhetoric. Defence Minister's statement that 'no one can touch an inch of India's territory' is just more rhetoric. As long as the Government does not acknowledge the reality, the status quo ante will be an elusive goal."
The Congress posted a tweet in response to external affairs minister S. Jaishankar's 10 on Friday asking Rahul to ask the experts about India's foreign policy.
 "Chinese troops continue to occupy Indian territory, despite the lies spewed by various members of your party. Ask your fellow government officials. Ask our jawans. Ask the citizens of Ladakh," the party said.
Senior Congress leader Jairam Ramesh took a dig at Jaishankar, who had served as foreign secretary. "He is no longer the professional that he was supposed to be… He has joined the ranks of unthinking drumbeaters for the Omniscient One," Jairam tweeted.