Not Sorryvarkar
Loud cheer signals what lies ahead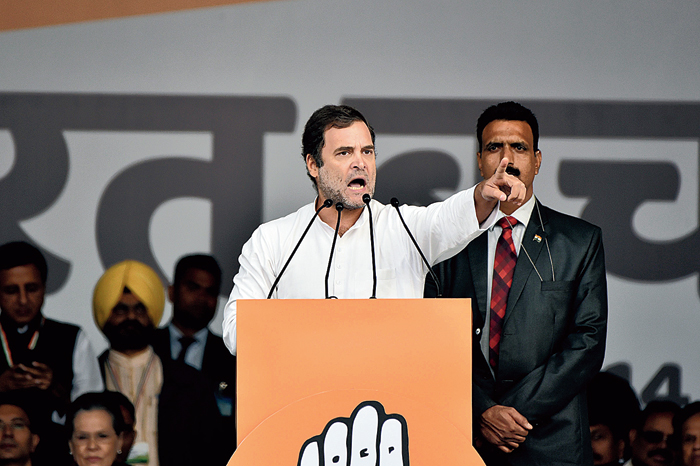 Rahul Gandhi speaks at the rally on the Ramlila grounds in Delhi on Saturday
(AP)
---
New Delhi
|
Published 14.12.19, 08:33 PM
|
---
Rahul Gandhi declared that his name was not Savarkar, it was Gandhi, and he would die but not apologise for speaking the truth — and the audience of Congress workers erupted in joy, dismissing any doubts about who their leader was.
"This is the leader," the whisper swept through the packed Ramlila grounds at the Bharat Bachao rally on Saturday where Rahul thundered like no one else can, ripping Narendra Modi with characteristic bluntness.
Therefore if the government in their manifold beneficence and mercy release me, I for one cannot but be the staunchest advocate of constitutional progress and loyalty to the English government...
- V.D. Savarkar, in 1913
"They want me to apologise for speaking the truth," he said, confronting the BJP's criticism of his comment on the rising incidents of rape in the country. "Mera naam Rahul Savarkar nahin hai, Rahul Gandhi hai. Mar jaoonga, maafi nahin mangunga."

Through this assertion Rahul highlighted the legacy of cowardice of the Sangh parivar, whose icon V.D. Savarkar had written to the British pleading for mercy to escape punishment, and presented himself as the protector of a glorious tradition that led India's freedom movement.
The "will-die-but-will-not-apologise" opening line set the stage for a power-packed speech at the mega rally, which saw thousands of people wandering on the roads for want of space at the grounds.
"India's enemies, every one of them, wanted to destroy India's main strength — its economy. Modi himself, alone, destroyed India's economy. He did what our enemies wanted and he calls himself a patriot," Rahul said.
"They are telling me to apologise. Modi and his assistant, Amit Shah, have to apologise. They have to apologise for destroying the economy, for setting the Northeast on fire, for locking down Kashmir, for taking unemployment to a 45-year high, for crime against women, for dividing India."
Although he avoided the "Chowkidar chor hai" slogan, he said: "Modi snatches money from the poor and hands it over to his corporate friends. I don't want to take names but I will give one example. In the last five years, Modi has given Adani over 50 contracts worth over Rs 1 lakh crore. He gave him airports, ports… without tender. If this is not theft, what is it? If this is not corruption, what is it?"
Arguing that protecting the Constitution was the responsibility of every institution, he said: "The media attacked our government. That's their job. But they are not doing their job now. I appeal to every institution — the media, the judges sitting in courts, the bureaucrats — to protect India. Enough is enough; India's soul is being attacked. When you are suppressed, don't get scared. An attack on you is an attack on India. Don't fear, don't surrender."
Once he had finished speaking, the satisfied workers started leaving the grounds. Thousands were already streaming out when Sonia delivered her presidential speech. The conversation in every group revolved around Rahul's leadership and they loudly argued against any waste of time by delaying his return.
The rally bore telltale signs of his imminent return. Posters and banners carried Rahul's photographs more than any other; hundreds of party workers wore T-shirts and caps hailing the former party president; members of the students' wing NSUI held up a string of cards that read: "OUR LEADER RAHUL GANDHI"; and the Youth Congress president, B.V. Srinivas, explicitly pleaded with Rahul to return and lead the struggle against the Modi-Shah regime.
Rahul not only received the loudest cheer as he stepped on to the dais, chants of "Rahul-Rahul" continued throughout the meeting. Priyanka Gandhi started her speech by describing Rahul as "her leader".
Congress chief ministers said he had led a powerful campaign on real issues but Modi had hijacked the election using nationalism. Rajasthan's Ashok Gehlot, who along with Chhattigarh's Bhupesh Baghel had recently argued that Rahul was the only leader and that he would have to return sooner rather than later, told the rally that every issue raised by Rahul was alive and relevant.
Senior leaders believe this will gain momentum over the next few months because the AICC session likely in March-April will have to settle the leadership question.
"We will need clarity on this issue as Sonia Gandhi is doubtless a stop-gap arrangement," one general secretary told The Telegraph, insisting that Rahul was the only option in mind.