Rahul Gandhi: Modi stuck, being remote-controlled
The Congress leader led the party's nationwide agitation on 'Kisan Adhikar Divas', featuring marches to Raj Bhavans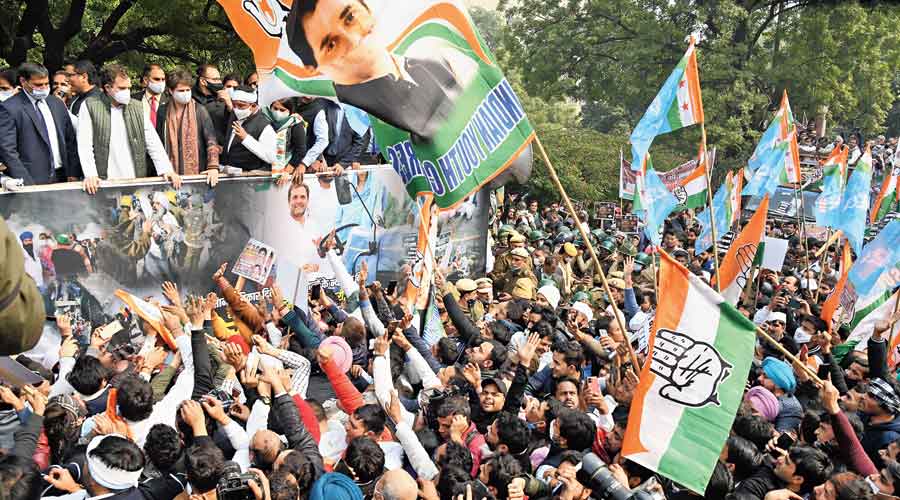 ---
---
Rahul Gandhi on Friday warned that if the government could not be thwarted over the farm laws, its next targets would be other sectors and Prime Minister Narendra Modi's capitalist friends would "snatch away whatever belongs to the people".
Rahul, who led the Congress's nationwide agitation on "Kisan Adhikar Divas", featuring marches to Raj Bhavans, claimed the farmers had understood the sinister game but the rest of India hadn't.
"The day India's food security is destroyed, India's freedom is gone. Modi and his capitalist friends are on one side and India is on the other. The farmers have understood this and that's why they have risen against it," he said.
"Hindustan hasn't understood this yet. Hindustan doesn't understand that if the farmers' freedom is gone, the next step will be (against the) middle class, workers…. If we don't stop the government now, this will escalate. India will have to realise this today or tomorrow or the day after. I will keep repeating this till they understand.
"Modi and his capitalist friends are going to snatch away whatever belongs to the people. There are only four-five people who control every sector — media, IT, retail, power…. Airports, ports, everything is controlled by them with Modi's help.
"Modi doesn't understand India. He thinks three-four industrialists run the country. This is superficial thinking. This country is run by kisan-mazdoor. The youth runs this country."
Rahul had joined a sit-in protest by Congress MPs from Punjab at Jantar Mantar after police prevented a large crowd of party workers from surrounding Raj Bhavan. He sought to question Modi's understanding of basic aspects of governance.
"One senior leader who had discussed farming with Modi told me once that he believes rice and wheat can be purchased from other countries if these are not cultivated in India. This is a fundamental misunderstanding," he said.
"India got freedom in 1947 but who maintained the freedom? The farmers sustained the freedom, not Adani-Ambani. These laws are not for farmers but meant to finish the farmers."
Rahul claimed that Modi had begun his assault on the farmers much earlier — at the time when he tried to kill the Land Acquisition Act, which stipulated strict conditions for any land acquisition.
"The talks (with the protesting farmers) are aimed at buying time. Modi has failed to assess the strength of the farmers, he thinks they will get tired and run away in two-three months. The farmers won't go back. Modi will have to run away. These laws will have to be scrapped," he said.
Asked why the Prime Minister might have failed to express sympathy over the death of 70-odd protesting farmers, he said: "Because Modi doesn't have basic respect for the farmers. One, two or 200 farmers dying will not make any difference to him."
To a question about the "debate" on the farmers' plan for a tractor rally on Republic Day, he said: "Where is the debate; what debate? There is just one loudspeaker and that is Modi. If farmers want to parade with their tractors, what is the problem?"
Asked about the protesting farmers being called Khalistani, he appeared shocked: "What do they mean — these lakhs of farmers are Khalistani? Their sons protecting our borders, are they sons of Khalistanis?"
Rahul accused the media of failing to show the real picture.
"The media is controlled by these three-four capitalists. Modi works for them and they show what Modi wants. If Modi won't work for them, the balloon will burst. In fact, Modi too is stuck. I pity him. He is being remote-controlled."
The Congress organised marches to Raj Bhavan in every state but was foiled by the police in BJP-ruled states. The party, however, mobilised sizeable gatherings everywhere.