Rahul Gandhi keeps focus on jobs
He signalled that he remains insistent that jobs and farm distress are India's primary concerns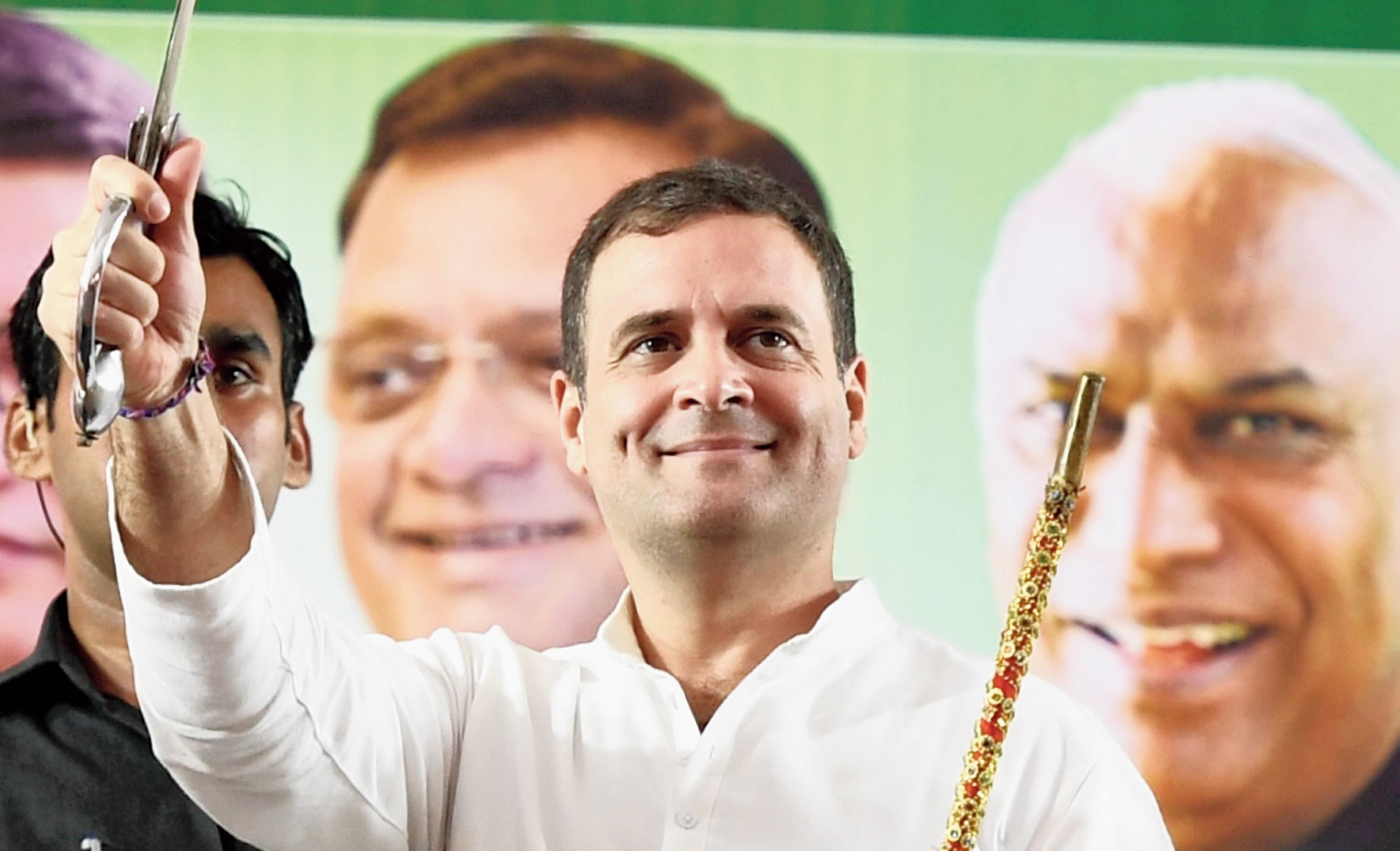 Rahul Gandhi at a rally in Mumbai on Sunday.
(PTI)
---
New Delhi
|
Published 14.10.19, 12:42 AM
|
---
Rahul Gandhi, who quit as Congress president after the general election rout five months ago, returned to the campaign stage on Sunday and showed he had lost none of his punch, accusing Prime Minister Narendra Modi of ceaselessly using diversionary tactics and calling on people to wake up to this.
"Ho kya raha hai aap samjhiye (Understand what is happening)," Rahul told the crowd at a rally in Latur, Maharashtra. "The real problems are unemployment and farm distress. But Modi is using a compliant media to divert the nation's attention to Jammu and Kashmir, Japan, Korea, the moon…. That's their tactic."
Maharashtra will vote in Assembly polls on October 21.
"The youth are not getting jobs, they are worried about their future. Modi says, 'Look at the moon'," Rahul said.
"India's moon mission was not envisaged by Modi; the Congress government had established Isro," he said.
"But reaching the moon won't fill stomachs. They have ruined the economy. The auto sector is destroyed; textile and diamond are in trouble. Millions are losing jobs. This is the beginning. Wait for six-seven months and see what unfolds. That's why Kashmir and the moon…."
Rahul signalled he remains insistent that jobs and farm distress are India's primary concerns, despite having raised these issues and faced a humiliating defeat at the hands of a BJP that spoke of Pulwama and Balakot.
"Kaise hain, rozgar mil raha hai? Kisan ko sahi dam mil raha hai (How are you? Are you earning? Are farmers getting the right price)?" he asked at the start of his speech.
Although Rahul did not refer to the Rafale deal in Latur, he did so at a rally in Mumbai but in a subdued manner. "Poore desh ko pata hai Rafale mein chori hui hai. The official files suggest the Prime Minister was interfering in negotiations. The truth will out, Modi and Amit Shah can't escape the truth," he said.
"Have you ever heard that the defence minister goes to receive the delivery of a fighter plane? But Rajnath Singh went to France because there is guilt, chori hui hai. This pinches, this guilt… hurts."
Daring the Prime Minister and the chief minister to talk about the Punjab and Maharashtra Cooperative Bank, thousands of whose customers cannot access their own money, Rahul said: "Who looted the PMC Bank? Who was the director? ….But they can't talk about real concerns; they will drag you to the moon…."