Rahul flags RBI mood report
'Expect more bad news on the economy and jobs front'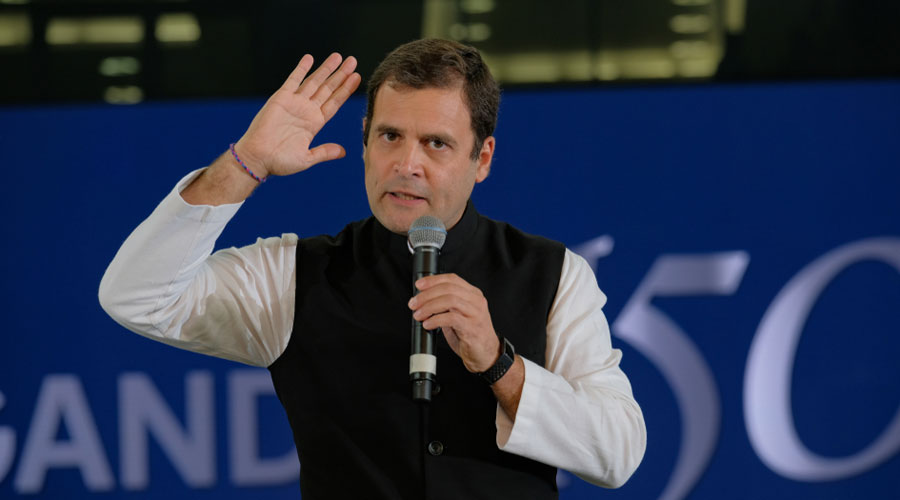 ---
---
Rahul Gandhi on Friday predicted "more bad news" on the economy and job fronts while commenting on Thursday's Reserve Bank of India report that described consumer confidence as being at an "all-time low".
"RBI reveals the real 'Mood of the Nation': People's confidence at all-time low. Fear and insecurity at all-time high. Expect more bad news on the economy and jobs front," Rahul tweeted.
In another tweet, he accused the government of going missing in action in the battle against Covid-19.
The Congress released a video of Rahul's interaction with party leaders in Bihar on Thursday, where he blamed the Narendra Modi government's politics for India facing problems on so many fronts.
"What I said about corona in February has come true. I'm not happy to be proven right but it happened. Today I say what is being witnessed on the economic front is nothing; far more dreadful things are going to happen. You will see in six months," Rahul told the meeting, held online.
He said the job situation would turn grim as the Prime Minister had not accepted the Congress proposals to help the micro, small and medium enterprises and to transfer cash directly into the accounts of the poor.
"India won't be able to give jobs to crores of people. That means India's resources being wasted. Millions lost their jobs during the lockdown but the government didn't intervene. Not one rupee was given. Unemployment is going to play havoc," Rahul said.
Rather than blaming the failures of policy, Rahul pointed a finger at the BJP ideology.
"What the RSS-BJP did is that they destroyed the structures built by the Congress over the past decades. These structures were the backbone of India and sustained the country for so long," he said.
"The coronavirus inflicted such damage because those structures were not there to help. Even the Chinese encroached upon our land only because they saw structural weaknesses."
Rahul recalled how the country was given barely four hours to prepare for the lockdown in March.
"All industrialists were aware in advance that a lockdown was coming. But the poor migrant labours got stuck because only four hours were given," he said.
"I want to ask the people of Bihar — those who returned home from big cities — did your government stand by you in the hour of crisis? Did the government help you?"
The Congress is likely to base its Bihar campaign on the plank of mismanagement of the Covid-19 crisis by the Modi and Nitish Kumar governments.
The party had sought a cash transfer into the bank accounts of the entire bottom half of the population during the lockdown, which snuffed out the earnings of the poor.
Bihar was one of the worst hit, being home to the largest number of migrant workers who returned from Maharashtra, Delhi and Punjab.