Raghubar Das spreads Diwali cheer
Speaking to a crowd of 5,000, Das trumpeted the achievements of the 'double-engine BJP government'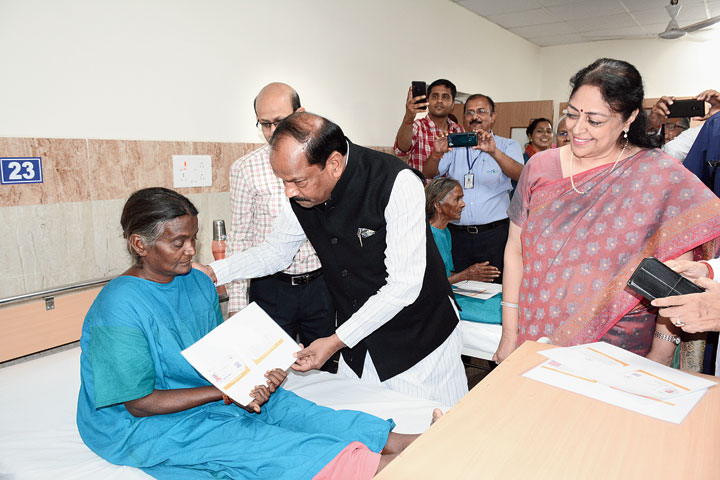 ---
---
CM Raghubar Das on Saturday brought Diwali cheer by laying foundation stones and inaugurating projects worth over Rs 300 crore in East Singhbhum in the run-up to the Assembly polls, and also empanelled two private hospitals in the steel city under the Pradhan Mantri Ayushman Bharat Yojana.
Reaching his hometown around 1pm, Das, who also happens to be the Jamshedpur (East) MLA, launched Ayushman Bharat at Jamshedpur Eye Hospital in Sakchi. Later, he inaugurated the Tata Motors Hospital Plaza near Parivar Kalyan Sansthan in Telco, where the 10-bed facility (five each for men and women) is exclusively built for Ayushman Bharat beneficiaries for care in general medicine, general surgery and orthopaedics.
At both, Das also gave away golden cards of the scheme to beneficiaries.
Later, Das at Bagunhatu football grounds in Sidhgora laid the foundation stone of 201 schemes worth Rs 237.05 crore, and inaugurated 163 infrastructure projects worth over Rs 63 crore across East Singhbhum. He also handed over allotment letters to beneficiaries of Pradhan Mantri Awas Yojana (urban) being built at Bagunhatu and handed keys of cycles to jal sahiyas.
Speaking to a crowd of 5,000, Das trumpeted the achievements of the "double-engine BJP government".
He claimed that an agreement has been reached between Tata Steel utilities wing Jusco and the state government for water and power in urban slums. "Anyone can show proof of residence in the steel city for over three decades and get a lease of their home," Das added.