Radio waves to beat pollution? Scientists are surprised
Bangalore firm claims success at lowering air pollution over parts of Delhi, using devices that broadcast ultrahigh frequency radio waves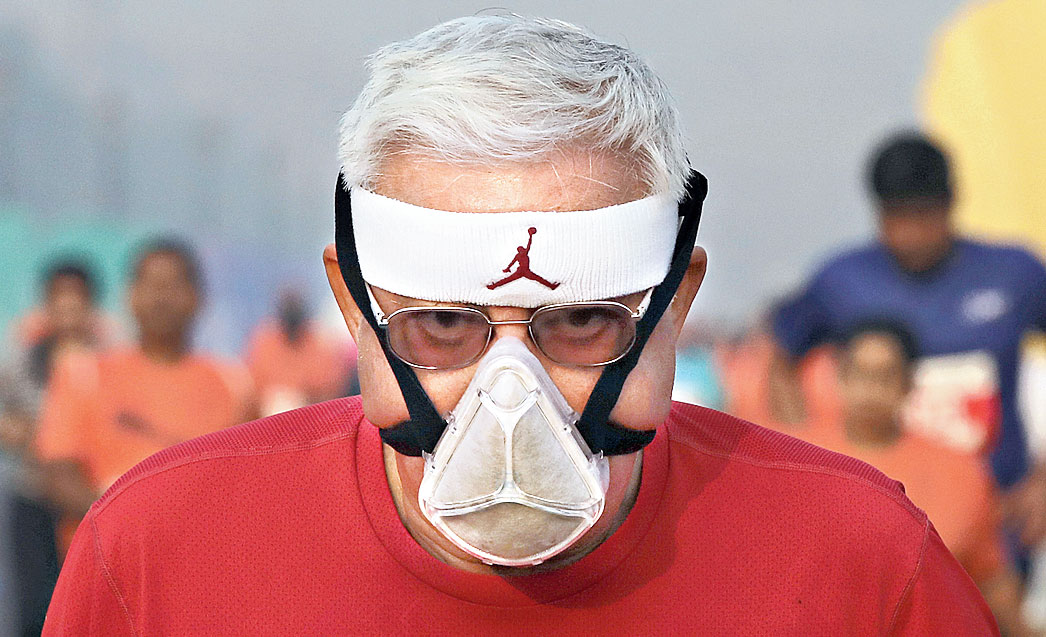 A man wearing a mask takes part in the Delhi half-marathon at Rajpath on Sunday.
Reuters
---
New Delhi
|
Published 21.10.18, 10:24 PM
|
---
A Bangalore-based company claimed on Sunday that it had used radio frequency waves to lower air pollution over parts of Delhi, surprising sections of scientists who say they have never heard of such technology.
Devic Earth had installed devices that broadcast ultrahigh frequency (UHF) radio waves at two sites in the capital, responding to requests from Procam International, the organisers of the Delhi half-marathon, a Devic official said.
Company officials and the organisers have claimed the devices helped lower levels of tiny particulate matter (PM) in the air and served as a protective umbrella for the marathon runners. The devices used on Sunday were paid for by the organisers.
"It was a great day with clear skies and no pollution-related incidents among our 35,000 runners," Vivek Singh, managing director of race promoter Procam told Reuters.
He said the Delhi government should look at using the UHF technology. "We have shown that it works and made it a point to tell the authorities," Reuters quoted Singh as saying.
Devic's website says the UHF radio waves can "reduce" PM 2.5 microns and 10 microns by "30-40%". It adds that "acute illnesses related to air pollution are reduced by 33% in the area covered by the system".
But two senior scientists who specialise in weather and air pollution studies said they had not heard of the use of UHF radio waves to lower air pollution and that the claim needed to be verified through rigorous scientific evaluation.
"I don't know of any peer-reviewed research paper explaining how this works," Jayaraman Srinivasan, professor and distinguished scientist at the Divecha Centre for Climate Change at the Indian Institute of Science, Bangalore.
Madhavan Rajeevan, a senior atmospheric physicist and secretary in the Union earth sciences ministry, said peer-reviewed papers would help the claims made by the company gain scientific credibility.
But Shrikant Sola, a cardiologist who is the co-founder and director of Devic, said the company decided to begin selling the UHF technology ahead of scientific publications because the results were promising and people could benefit from the devices.
He said the devices have a range of capacities and cost anywhere from Rs 1.5 lakh to Rs 12 lakh.
"We've protected the intellectual property through patents -– we are collecting data for scientific papers," Sola told The Telegraph. "We're reluctant to publish any details early because we thought there could be attempts to acquire the technology from us."
Sola said the company would be happy to provide the UHF devices to government scientific agencies for independent assessment of their efficacy.
He said the Union environment ministry had provided "seed funds" of Rs 5.5 lakh in 2009 to the company. The Bangalore branch of a US-based electronics company had lent equipment and engineering expertise to refine work on the idea.
Devic's website says research publications based on the company's data "will be submitted to peer-reviewed journals pending initial clearance of our next round of patents".