Questions on terror for Imran Khan at UN
India attacks 'hate speech'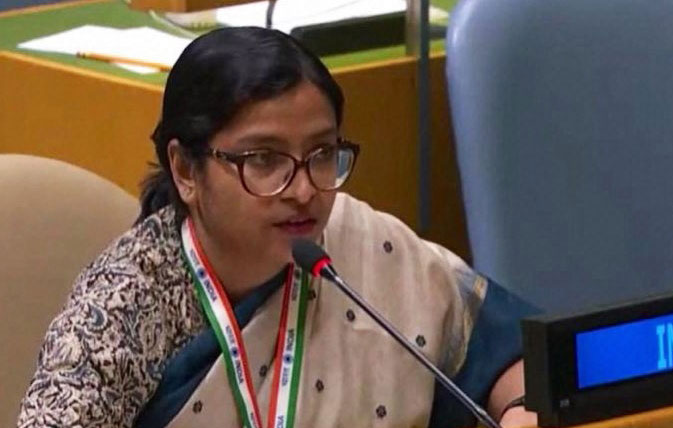 ---
---
India on Friday accused Pakistan Prime Minister Imran Khan of "brinkmanship, not statesmanship" for his "threat of unleashing nuclear devastation" if the international community failed to rein India in, labelling his address to the United Nations General Assembly a "hate speech".
Vidisha Maitra, first secretary at India's permanent mission to the UN, exercised New Delhi's right of reply at the fag end of Friday's proceedings (early Saturday morning in India) at the General Assembly.
"Every word spoken from the podium of this august Assembly, it is believed, carries the weight of history. Unfortunately, what we heard today from Prime Minister Imran Khan of Pakistan was a callous portrayal of the world in binary terms. Us vs Them; Rich vs Poor; North vs South; Developed Vs Developing; Muslims vs Others. A script that fosters divisiveness at the United Nations. Attempts to sharpen differences and stir up hatred are simply put — 'hate speech'," Maitra said.
In response to Imran's championing the Kashmiri cause, she said: "Citizens of India do not need anyone else to speak on their behalf, least of all those who have built an industry of terrorism from the ideology of hate."
Also, "even coming from the leader of a country that has monopolised the entire value chain of the industry of terrorism, Prime Minister Khan's justification of terrorism was brazen and incendiary".
Imran had warned that the betrayal of the Kashmiri people and the clampdown could spark radicalisation, which could spawn an attack that would then be blamed on Pakistan.
Since Imran had in his speech invited UN observers to Pakistan to verify there are no militant organisations there, India posed certain terror-related questions to Islamabad, such as whether it provides pensions to a UN-proscribed terrorist.
It referred to Imran's past defence of Osama bin Laden.
India also argued that Pakistan's defence of human rights sounded hollow given the state of its minorities and the genocide that preceded the creation of Bangladesh in 1971.