If you merge with BJP, we will rebuild Sena: Raut
Pushed to a corner, Shiv Sena offers olive branch to rebels
Come back to Mumbai, we will think of leaving the coalition with Congress and NCP, says Team Thackeray leader Sanjay Raut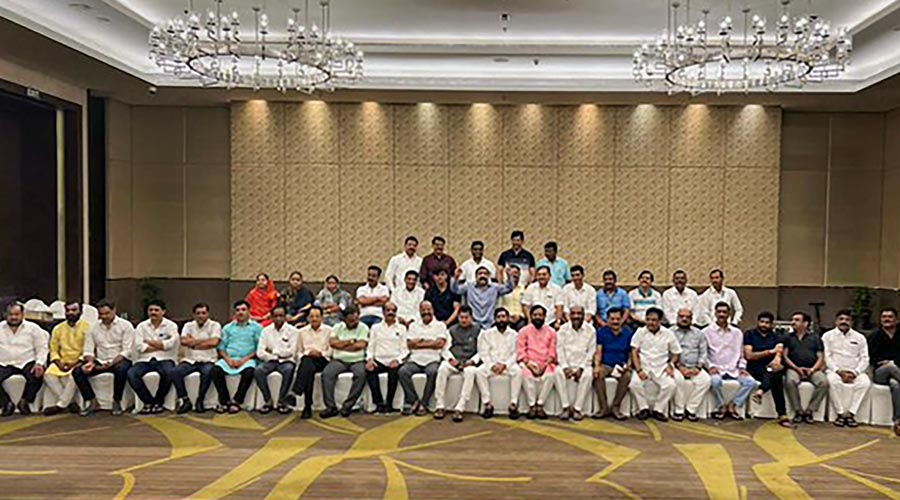 Rebel Shiv Sena MLA Eknath Shinde with 42 other MLAs at a hotel in Guwahati.
PTI Photo
---
Published 23.06.22, 03:42 PM
|
---
The Shiv Sena rebel camp, led by Eknath Shinde, continued to grow in numbers with more Sena MLAs joining him in Guwahati since Thursday morning, forcing the parent party to mount a last-ditch effort to save the alliance by coming out with a peace offering.
Senior Sena leader in chief minister Uddhav Thackery's team Sanjay Raut asked all the rebels camping at a Guwahati hotel under the leadership of Eknath Shinde to come back. In return, he promised that the Sena leadership would consider their demand of exiting from the MVA (Maha Vikas Aghadi) government formed in alliance with Sharad Pawar's NCP and the Congress. 
You merge with BJP, we will rebuild Sena, Sanjay Raut tells rebels, ndtv.com reports
No entry to your house for 2.5 years, rebel to Uddhav Thackeray, reports ndtv.com
"We are ready to walk out of the MVA (Maha Vikas Aghadi) government in Maharashtra, but party rebels should return to Mumbai (from Guwahati) in 24 hours," said Sanjay Raut, who is Shiv Sena's chief spokesperson, said. Earlier in the day, Raut acting as the leading spokesperson of Team Thackeray - Uddhav has tested positive for Covid - tried his best to put up a brave front in the face of what seemed like a losing battle.
"Uddhav Thackeray is in no danger of losing either his post as Chief Minister or as top boss of his party," proclaimed Raut in Mumbai. But going by events of the last 24 hours, as many as 42 Sena MLAs seem to have promised their support to Shinde either by written letters of support or by their presence at the hotel in Guwahati from where the operation to split the party and engineer the fall of the Sena-NCP-Congress alliance was being run.
This meant Uddhav was left with the support of some 13 MLAs, reported NDTV.
Claims and counter-claims
On Thursday morning, Raut said, "Twenty of the rebel MLAs are in touch with us. When they come to Mumbai, you will get to know, (it) will soon be revealed, in what circumstances, pressure these MLAs left us."
But the events in Guwahati did not show that. Conflicting reports emerged during the morning with the party MP Krupal Tumane denying reports of joining the rebel faction led by Shinde.
He asserted he was still with the Sena and said "patience is the need of the hour".
Before that, agencies and television news channels reported that four more MLAs had been flown to Guwahati to join the rebels.
Emotional appeal
On Wednesday, chief minister Thackeray asked Shiv Sena MLAs to tell him to his face to relinquish his chair instead of plotting behind his back, playing the emotional card in a salvage bid with the numbers appearing to be stacked against him.Uddhav had expected around 12 of the rebel MLAs holed up at a Surat hotel since Tuesday to flee in a day or two. But after rebel leader Eknath Shinde shifted to Guwahati in BJP-ruled Assam along with 34 fellow Sena MLAs, he was forced to issue his appeal.
"If Sena MLAs feel I should not be chief minister, let them tell it to my face. If they hesitate to come here now, they can tell me on the phone. But Shiv Sainiks must not betray me," he said on Facebook Live.
"What of the chief minister's post — if they don't want me as Shiv Sena chief, I shall relinquish that post too."
'Ditch alliance' demand
In response, Sena MLA Deepak Kesarkar, among the later leaders to join the rebels in Guwahati, said on Thursday morning that they (the rebels) did not want Uddhav Thackeray to resign as Chief Minister of Maharashtra. "Instead, we want him to get into an alliance with the BJP and form a new government with a natural ally," he told NDTV. Kesarkar flew to Guwahati in BJP-ruled Assam earlier in the morning to join the Shinde camp. He was being seen with the Thackerays till two days ago.
But he told the news channel over the phone that three Sena MLAs and at least one Independent were with him on the flight. Kesarkar had earlier, too, said that several MLAs had told Thackeray to ditch the Congress and NCP to go with the BJP owing to ideological similarities.
No time for delay
He asserted, "There is no time for any further delay. People want Shiv Sena to ally with the BJP. All the important ministries are with NCP or Congress. We just have Industries and Urban Development. Departments related to rural Maharashtra are with NCP or Congress."
"We are not angry with the chief minister. We are angry with the others in the coalition," Kesarkar said, adding that it would be better for the state to have the same ruling parties as in the Centre.