Puri: Armies of large, dull red ants terrorising villagers
Many of us have rashes and swellings on our limbs from the toxic saliva that a bite from them leaves on the skin, says villager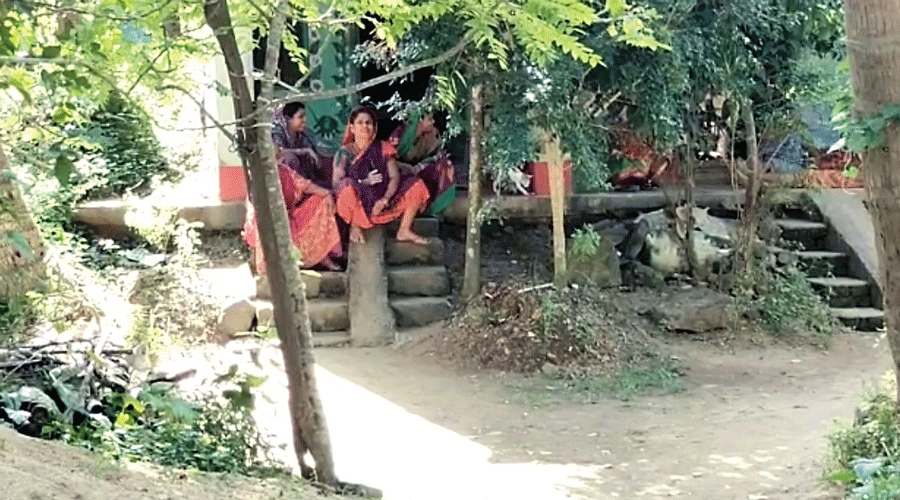 Scared residents of Brahmansahi village.
Sarat Kumar Patra
---
Bhubaneswar
|
Published 12.09.22, 02:49 AM
|
---
The 200 residents of Brahmansahi village in Puri district are antsy. For fear of ants.
Over the past fortnight, armies of large, dull red ants have been building colonies in their homes and in the fields and roads — and stinging them, provoked or unprovoked.
"Many of us have rashes and swellings on our limbs from the toxic saliva that a bite from them leaves on the skin," a villager said, adding that the ants also attack lizards, frogs, centipedes, snakes, cats and dogs.
Fear of the ants has prompted three families to leave the village, 40km from here, and move in with relatives. A baffled administration, its efforts to solve the problem with JCBs and pesticides having so far yielded little, has sent an SOS to scientists.
A team of scientists from the Odisha University of Agriculture and Technology (OUAT), who visited the village on Monday and collected samples of the ants to study their behaviour, said the insects were probably a species of fire ant.
Some villagers suggested the ants may have come from the anthills in a nearby mango orchard located on the banks of a canal.
One of the OUAT scientists who visited the village said the floods of mid-August may have forced the ants to move from the banks of the canal into the village, located on higher ground.
"We have to find and kill the queen ant. She is responsible for the explosion of red ants in the area," the scientist, Sanjay Mohanty, said.
He said the team would try to identify the principal anthill and spray pesticides within a two-metre radius of it. He advised the villagers to keep their surroundings clean.
Raja Prasad Das, elected panchayat member from a local ward, said: "I had gone to the village armed with a packet of gammaxene powder, kerosene and some other pesticides, hoping to kill the ants. We worked for nearly a week but there is no sign of the ants going away or reducing their attacks. Rather, the attacks have grown more virulent."
He added: "They are everywhere. It's difficult to walk on the village roads. These ants leave behind their saliva on the foot, which makes one's skin itch badly."
Narasingha Das, a villager, said: "We never saw this kind of ant before. They have made our life miserable."
Rasmita Nath, block development officer for Pipili, told The Telegraph: "I have never come across such a problem. We deal with all kinds of issues but this is unique."
She said the administration had hired a private agency to spray pesticides and clear the village of the ants, which she described as slightly bigger than ordinary ants.
The administration has brought in a JCB machine to clear the bushes and scrubs around the village.