Pure water might hold back certain flavours of tea: Study
Water hardness caused by calcium or magnesium carbonates or bicarbonates can influence the formation of so-called thin films on the surface and change flavour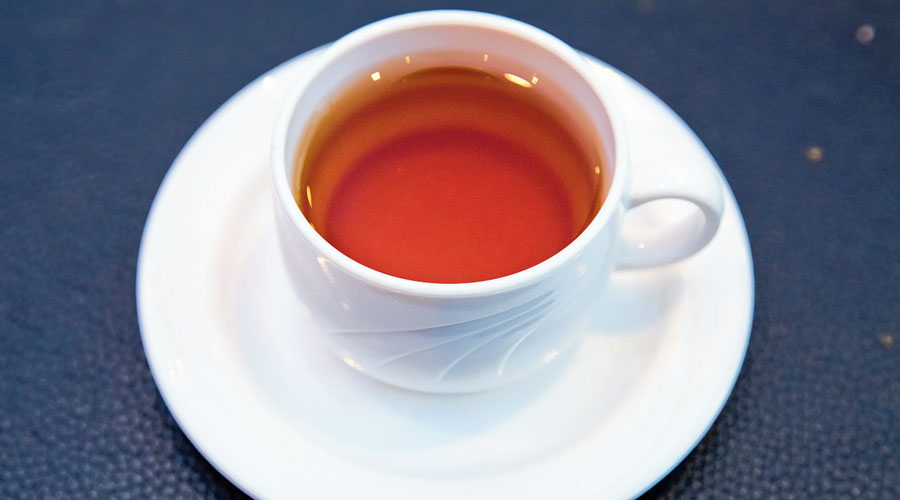 ---
New Delhi
|
Published 08.09.21, 01:36 AM
|
---
Pure water might hold back certain flavours of tea, a study has found.
Scientists have discovered that water hardness caused by minerals such as calcium or magnesium carbonates or bicarbonates can influence the formation of so-called thin films on the surface of tea and change its flavour.
The researchers at ETH Zurich, the Swiss Federal Institute of Technology, studied the brittle or elastic nature of the thin films that often form on the surface of tea at the air-liquid interface and measured how water hardness changes the film's strength.
"Thin films on tea may appear unsightly but it can also alter surface phenomenon which can change evaporation and aromatics in the tea's scent," Caroline Giacomin, the study's co-author, told The Telegraph.
A thin film on the surface means that for evaporation to occur and for aromatics to be released into the air, they must transfer across the film or around the islands of film if the film is already cracked or patchy. "The scent would be the same scent, but less strong with a thick film present, especially when not broken up yet," she said.
Giacomin and her colleagues assessed the mechanical properties of thin films on tea which the scientists knew from earlier research is affected by water hardness, acidity, sugar or milk, the concentration of tea and brewing temperature.
The earlier studies had established that calcium carbonate in water contributes to the formation of the thin films on the surface of tea. Many households use water purifiers or softeners that significantly reduce such minerals in drinking water.
"If you were to make a cup of tea in perfectly pure water, it would not form a thin film at all, but the tea would taste quite bitter," Giacomin said. "The bitterness of very pure water is called astringency and has to do with the saliva-water interaction."
The formation of thin films does not eliminate the bitterness but is an indicator that the water has sufficient ions to avoid the bitterness caused by the astringency.
The astringency, she said, explains why tea from de-mineralised water might not be ideal. "There is a nice middle range of water that is not too pure and not too hard to balance the bitterness and the film formation."
The idea for the study, she said, came through her observations during travel to several places that the same brand of tea formed thin films in some locations but didn't form thin films in other locations. She also noticed a change in tea flavour.
The researchers found that chemically hardened water — that contributes to the formation of the strongest thin films — may be industrially useful in packaged tea beverages for prolonged shelf life. But less hardened water that forms weak films would be useful for dried tea mixes. The study's findings were published on Tuesday in the research journal Physics of Fluids.