Punjab polls: Charanjit Singh Channi faces AAP challenge
In Chamkaur Sahib, some hunger for change while others appreciate good work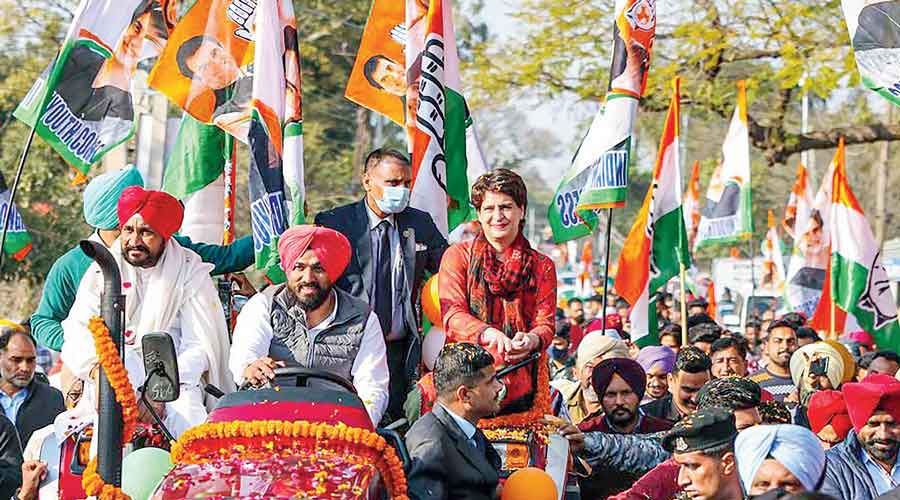 Priyanka Gandhi Vadra (right) with Charanjit Singh Channi (extreme left) at a campaign in Rupnagar, Punjab.
PTI Photo
---
Chamkaur Sahib, Punjab
|
Published 16.02.22, 02:10 AM
|
---
Declared loyalties can be deceptive in chief minister Charanjit Singh Channi's pocket borough here.
A butcher's shop in the village of Lutheri now doubles as the AAP campaign office. More than a butcher shop, it serves as a place where young peasants and labourers hang out — with tea from a neighbouring stall or something stronger from a liquor store across the road.
Sukhvinder says he is an Akali Dal supporter, Rajinder says he is "kattar" (hardcore) Congress but wants to give AAP a chance this time, and the oldest — Jasvinder, an elderly landlord who drops in to offer some words of wisdom to the youngsters, says he hates all parties.
"We're all AAP now," says Ram Singh, the young and dapper butcher and a polling agent of the party. In contrast to the soft-spoken Ram Singh, the others are much more vocal in their opposition to Channi, except Jasvinder.
"What is wrong if Punjabis want change?" asks Sukhvinder. "I have been to Delhi and seen the government schools when I was at the Singhu border during the farm protest. I want government schools like that here that look like private schools. My children won't need to go to Chandigarh and work as a daily wager like I do. Not everyone can get rich like Channi." Snide comments at the prosperity of Channi — MLA for the past 15 years from Chamkaur Sahib, flow thick and fast. He has declared assets worth Rs 9.44 crore, higher than the average of all candidates for the February 20 Punjab polls at Rs 4.31 crore. His nephew has been arrested for allegedly laundering money from illegal sand mining.
The jibes are dismissed by Jasvinder. "If he had stolen, then the Centre would have jailed him. All I know is what I see. I asked Channi to build a road to my farm. He did it in no time. Only when you don't have a good MLA will you realise how good he is…. The Akalis are supporting AAP," he says.
Ravi, a tall youth who has travelled a lot, comes tottering in from the booze shop. Ram Singh looks at Jasvinder and says: "Yes, thanks to our MLA, Ravi is high today."
Ravi, a mechanic, vehemently denies that he accepted booze from Congress workers in lieu of his vote. He says: "There is booze everywhere but I am voting for AAP. Once all this corruption stops, I will get a job based on my skills."
"Kattar Congressi" Rajinder — who sells construction material — explains: "The Congress has worked like any government should. But let's give AAP a chance, they seem to be more sincere. Let them come to power first and work. I don't know how good or bad their schools or hospitals are, but they will certainly be better than what we have. I don't have high expectations from anyone…. So what if Akalis are supporting AAP, even Congress people are in awe of them (AAP)."
This allegation of Akali cadres secretly working for AAP resounds in every other village in these parts. The Shiromani Akali Dal's campaign is barely visible in the region, unprecedented for a party that has ruled the state for six terms.
The pilgrim town of Chamkaur Sahib in Rupnagar district, home to the Gurdwara Qatalgarh Sahib that marks the place where two sons of Guru Gobind Singh were killed in a battle with the Mughals, boasts of a beautiful promenade interspersed by palm trees. The recently redeveloped marketplace with cobbled streets, and a theme park on Sikh history are attributed to Channi.
Ajay Pal Singh, who runs the main watch shop here, says: "This was a dusty village when I came here 35 years ago from Jalandhar. Despite being an important pilgrimage for Sikhs, there was squalor. Channi transformed this place. Unlike most politicians, he meets people even after becoming chief minister. There is still a strong urge for change, but I hope he remains chief minister and MLA from here."
Cloth trader Rajinder Kumar says: "I find this whole poor Channi versus rich opponents laughable. Talk about hospitals, schools, work you can do in future rather than what was done in the past. People who ask for votes either in the name of Ram Mandir or in the name of their poverty don't convince me of either."
Channi's AAP challenger is his namesake Charanjit Singh, an eye surgeon who has a similar personal connect with voters. He was runner-up last time. Channi is additionally contesting from Bhadaur in Barnala district. AAP leader Arvind Kejriwal has declared that Channi will be defeated in both. The BSP, an Akali ally, has fielded former cop Harmohan Sandhu from Chamkaur Sahib.
In Rurki Heeran village, support for Channi is strong, especially among his community of Dalits. Elderly farmer Nirmal Singh says: "Irrespective of who comes to power, there is a lot of respect for Channi. He is our boy and we will vote for him, although I really wish some government comes up with ways to create jobs here as our youth only aspire for Canada. The educated lot don't see a future here. The primary health centres have to be improved. They never have the medicines we need."