Punjab: A bumpy ride for Congress, thorny path for Channi too
The approach road to Chamkaur Sahib, CM's constituency, from Morinda — has been pockmarked with craters for as long as people can remember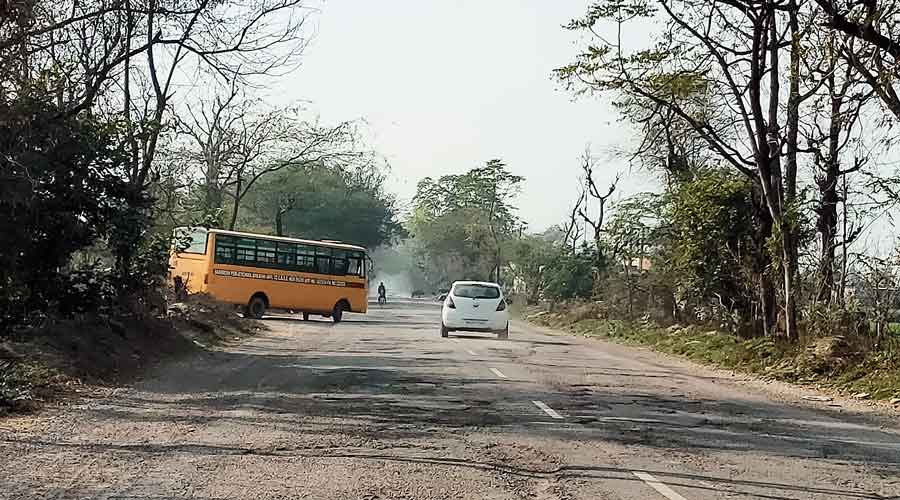 The road from Barnala to Bhadaur.
Pheroze L. Vincent
---
Bhadaur/ Barnala/ Nabha, Punjab
|
Published 17.02.22, 01:51 AM
|
---
The joke in Bhadaur is that Chief Minister Charanjit Singh Channi will feel as much at home here as he does in his constituency, Chamkaur Sahib — the road to both is paved with yawning potholes.
Congress leader and Punjab's chief minister for five months, Channi, is contesting from Bhadaur in addition to Chamkaur Sahib. The approach roads to both towns — Bhadaur from Barnala and Chamkaur Sahib from Morinda — have been pockmarked with craters for as long as people can remember.
Paramjit Kaur, an elderly school cook in Bhadaur, says her meagre monthly wage of Rs 3,000 or even her elder son's death due to drug addiction are still lesser priorities for her than the abysmal road.
"Ask a woman going to deliver a baby how much she suffers on a long drive on a bad road. For the slightest complications the government hospital here will refer you to Barnala's Civil Hospital. Let alone medicines, it's hard to even find a doctor here when you need one. I don't think merely the chief minister contesting from here will make a difference," she says, adding that she has lost faith in politics.
The 26km drive to Barnala is backbreaking, literally, and can almost take an hour for a cautious driver. Paramjit's son Ashwani says: "I will vote for the Aam Aadmi Party (AAP). Personalities don't matter, else wouldn't the chief minister have fixed the roads in his own constituency?"
Road improvement work is in progress in Morinda, just south of the Sutlej river beyond which is the Doaba region. Channi has ostensibly been fielded also from Bhadaur to improve the ruling Congress's prospects in the populous Malwa region where the AAP got all its seats last time.
Both Chamkaur Sahib and Bhadaur are reserved for Scheduled Castes. AAP's Pirmal Singh Dhaula, who had won Bhadaur in 2017 with a margin of more than 16 per cent, has since joined the Congress. AAP has this time fielded Labh Singh Ugoke, a local activist of the party since 2013.
"I can walk into Labh Singh's house anytime and yell at him. Can I do that to the chief minister?" asks mechanic Surinder Singh in village Sehna.
"We have seen enough of all these old parties.… Hear Bhagwant Mann (AAP MP and chief minister face for the February 20 elections) speak in Parliament when all the other Punjabis there just whimper. We are also Harijans, sanu ki mileya hai (What do we get for being from the same caste as Channi?)" Surinder asks.
The labourers and shopkeepers gathered around agree with him.
In Ludhiana on Tuesday morning, AAP national convener and Delhi chief minister Arvind Kejriwal pandered to communal sentiments and raised the breach in Prime Minister Narendra Modi's security during a visit to Punjab.
"The way the BJP and the Congress caused a stir with their petty politics over the Prime Minister's security in Punjab, it instilled a sense of fear in the minds of Hindus here," Kejriwal said.
At a public meeting in Barnala on Tuesday, Congress leader Rahul Gandhi responded by twice repeating the fact that the "senior-most leader of AAP was found in the house of a terrorist". In 2017, Kejriwal had stayed at a house in Moga linked to Britain-based alleged Khalistan Commando Force member Gurinder Singh.
"The Khalistan movement is finished here. This attempt to influence Hindu voters may not work, but may have unforeseen and dangerous outcomes. There was a perception in 2017 that the Maur Mandi blasts three days before polling, as well as Kejriwal's stay in the Moga house, dissuaded the Congress's Hindu voters from migrating to AAP. I doubt that was true then, as it is not true now. The overwhelming narrative is that voters have lost hope in the Congress and the Akalis and so they want to give AAP a chance," Barnala-based publisher and rationalist activist Amit Mitter tells The Telegraph.
Mitter acknowledges that outside Malwa, AAP's support is predominantly rural but the conversations hinge on the party's agenda of better service delivery and alleged corruption of Congress leaders.
With 69 of Punjab's 117 Assembly seats in Malwa, a Congress rout here could spell doom for the party. Hindus make up 38.5 per cent of Punjab's population. In most seats in this region — where insurgency peaked in the 80s — one in five voters is a Hindu. While the support for AAP, across communities, is stronger among youths, most elderly Hindus profess support for the Congress but hedge their bets by saying: "AAP ki hawa hai (The momentum is with AAP)."
Khalistan however, is taboo. "Those days are over," a Hindu shopkeeper in Nabha says on the condition of anonymity.
"My support for the Congress is out of nostalgia. Channi did more in a few weeks than Captain (former chief minister Amarinder Singh) did in his entire career, but there is no denying that they are corrupt. Look at this road (to Dhuri). All the banners are of the Congress but the votes are for AAP. The money for this publicity comes from their (the Congress's) panchayat members who derive it from welfare schemes," he alleges.
Several were seen leaving Rahul's rally even as he was speaking. Those who spoke to this newspaper dismissed the "AAP ki hawa" claim and attributed the Congress's problems to AAP's projection of Bhagwant Mann — a Jat Sikh comedian who is hugely popular — as chief minister face against Channi, a Dalit, as well as poor selection of candidates.
"Channi will win, he has to win even if there are no jobs and hospitals are bad. Doesn't he also deserve a chance to prove himself?" Manohar Singh, a Congress panchayat member at Rahul's rally, tells this newspaper.
Sarbjit, a PhD scholar at Patiala's Punjabi University, says her family of agrarian Akali voters in Mansa district's Budhlada constituency is now leaning towards AAP.
"We want someone to generate jobs, end corruption and bridge the growing inequality…. Bhagwant is seen as a socially conscious grassroots person. I personally do not see any road map from any party to provide solutions, but I am reconsidering my past decision to go for NOTA," she says.