Pune cops to grill Digvijaya in Maoist case
Former Congress CM's number found in a letter, police say a week before Madhya Pradesh elections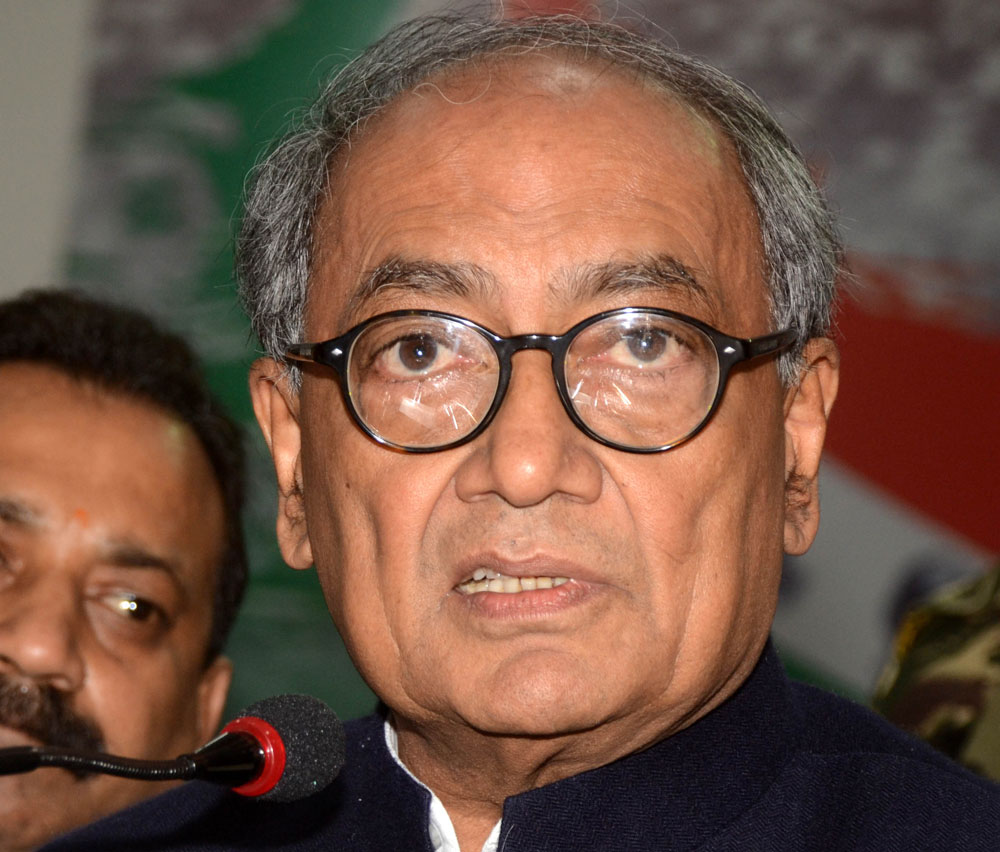 Digvijaya Singh
Telegraph file picture
---
Mumbai
|
Published 19.11.18, 11:24 PM
|
---
Pune police are likely to question Congress Rajya Sabha member and former Madhya Pradesh chief minister Digvijaya Singh in connection with his phone number figuring in a purported Maoist letter, officers have said.
The allegation comes barely a week before Madhya Pradesh votes in a crucial election where the Congress would be looking to unseat a scam-riddled BJP government that has been in power for the past 15 years.
Police sources claimed the purported letter was exchanged between a "Comrade Prakash" and a "Comrade Surendra", who they believe is lawyer activist Surendra Gadling, chargesheeted in connection with the January 1 Bhima-Koregaon caste clash near Pune.
The Pune police had arrested five Left-leaning activists in June and another five in August in connection with a Dalit event in Bhima-Koregaon ahead of the violence, and accused them of having links to Maoists and corresponding with the rebels.
"Phone numbers of several people have been found in the letters and their roles are being probed," Subhas Bavche, deputy commissioner of police (Zone I), Pune, told reporters without mentioning names. "In case someone is found involved directly or indirectly, the person would be questioned."
Police sources claimed that Digvijaya's phone number figured in the letter, which they said was dated September 25, 2017, and was part of documents the Pune police had furnished in court along with the chargesheet early last September.
"Congress leaders are very much willing to assist in this process and have also agreed (to) fund further agitations whenever such opportunities arrive," says the letter, portions of which police sources have shown reporters. "In this regard you can contact our friend at (a number reportedly allotted to Digvijaya)."
In Bhopal, Digvijaya told reporters he had not used the number for four years, and added that the number was available on the Rajya Sabha website.
The members' page of the Rajya Sabha website mentions two mobile numbers as Digvijaya's. One of these numbers, along with another one, is listed on the Congress website as Digvijaya's.
Digvijaya dared "Narendra Modi, Rajnath Singh and Maharashtra chief minister Devendra Fadnavis" to arrest him.
"The BJP and the RSS are scared of me and (are therefore) using such tactics," he said.
The Pune police had arrested Sudha Bharadwaj, Varavara Rao, Arun Ferreira, Vernon Gonsalves and Gautam Navlakha on August 28. All of them, except Navlakha, are now in the custody of the Pune police following the expiry of relief granted by the higher courts.
Poet-activist Varavara, who was rearrested on Saturday, was admitted to the Sassoon Hospital, Pune, on Monday afternoon after he complained of difficulty in breathing.