Publisher pulls Delhi riots book after backlash
The authors of the book blame the riots on the protesters against the new citizenship matrix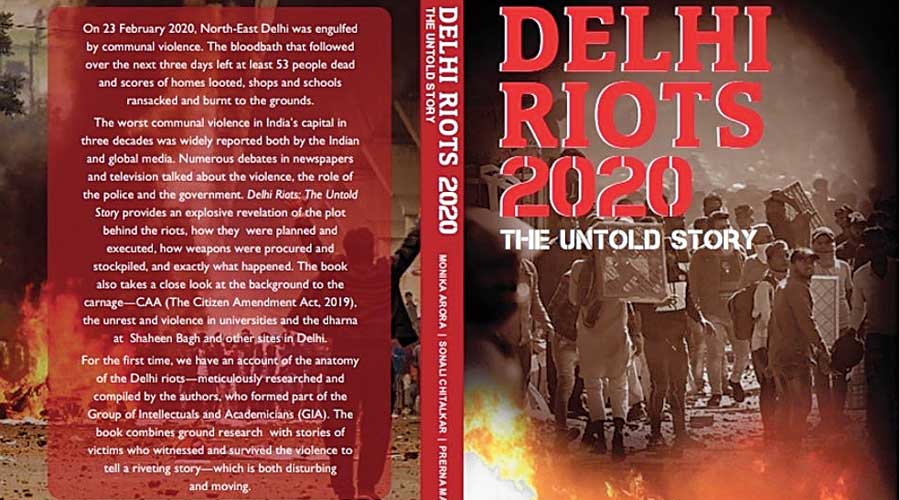 The cover from the Twitter timeline of Monika Arora, one of the authors
Twitter/@advmonikaarora
---
New Delhi
|
Published 23.08.20, 02:16 AM
|
---
A storm of tweets by authors breaking off ties with Bloomsbury, and readers threatening a boycott, has led to the British publisher withdrawing a book that blames the Delhi riots on the protesters against the new citizenship matrix.
On Friday, the authors of the book   lawyer Monika Arora and Delhi University teachers Prerna Malhotra and Sonali Chitalkar had shared posters on social media of the virtual launch of Delhi Riots 2020: The Untold Story, published by Bloomsbury.
BJP national general secretary and Rajya Sabha MP Bhupendra Yadav was announced as the chief guest who would release the book at Saturday afternoon's event.
The guests of honour were Nupur Sharma, editor of Rightwing website OpIndia, filmmaker Vivek Agnihotri who has been credited with coining the term "urban Naxal", and BJP politician Kapil Mishra, accused by the Delhi minority commission of provoking the riots.
Arora was a BJP candidate in the 2003 Delhi Assembly polls.
Outrage poured in online. Sociologist Nandini Sundar, historian Suchetana Chattopadhyay, economist Jayati Ghosh, journalist Stanly Johny, and blogger Sumaiyya Naseem were among the many authors who spoke out against Bloomsbury, with whom they have been associated.
Sundar, a Delhi University teacher, tweeted that she had refused to review a book for the publisher after it emerged that it "publishes a book that is full of lies about Delhi's academics".
Chattopadhyay, who teaches at Jadavpur university, wrote on Facebook that she would not be writing a book on Islamists during the First World War in Calcutta for Bloomsbury since the publisher has "published a book justifying the recent pogroms in Delhi".
The book on the Delhi riots, the authors had explained during the virtual launch, grew out of a field study they had conducted under the aegis of an NGO, the Group of Intellectuals and Academicians.
Their report, given to the Union home ministry in March, had blamed the riots on a "Leftjihadi model of revolution" and the "systematic radicalisation of the minorities by a far Lefturban Naxal network operating in universities in Delhi".
They had claimed that "jihadi mobs indulged in targeted killings, looting and vandalising shops" and that Mishra  who had issued an ultimatum to the antiCAA protesters just before the riots began – "was asked to help clear the place of locals since the police finds it difficult to protect locals from stone pelting from 2 sides".
The police have told the court they have found no evidence against Mishra, a video of whose speech was played by a Delhi High Court judge in the courtroom for the force's benefit.
Several activists tagged other authors published by Bloomsbury and asked them to clear their stand on the book. On Friday night, Bloomsbury sent a statement to a few journalists dissociating itself from the book launch.
A Twitter tag on Saturday afternoon called for a boycott of all Bloomsbury publications.
Ziya Us Salam, author of two bestsellers on Shaheen Bagh and the Muslim practice of halala, published by Bloomsbury, clarified to several hurt readers on Twitter: "I have nothing to do with the Delhi pogrom book."
Just before the launch on Saturday afternoon, Bloomsbury India said in a statement: "Bloomsbury India had planned to release Delhi Riots 2020: The Untold Story in September, a book purportedly giving a factual report on the riots in Delhi in February 2020, based on investigations and interviews conducted by the authors.
"However, in view of very recent events including a virtual prepublication launch organised without our knowledge by the authors, with participation by parties of whom the publishers would not have approved, we have decided to withdraw publication of the book. Bloomsbury India strongly supports freedom of speech but also has a deep sense of responsibility towards society."
The book had been listed as a bestseller in the preorder section of Amazon, but was labelled "currently unavailable" after the publisher withdrew it.
Bloomsbury's move led to calls for a counter boycott. OpIndia CEO Rahul Roushan tweeted: "Bloomsbury should be banned from all libraries that 'RW' may control. I don't know how that works. I don't know if that's feasible. But costs have to be imposed."
Bloomsbury has lately emerged as the publisher of choice for authors of books that glorify the ruling establishment or promote its worldview.
These include Amit Shah and the March of the BJP by Anirban Ganguly and Shiwanand Dwivedi, Modi 2.0: Beyond the Ordinary by Sunil Sharan, and Gandhi's Hinduism: The Struggle against Jinnah's Islam by BJP parliamentarian M.J. Akbar.
A source associated with the publisher claimed that at least one editor at Bloomsbury had washed his hands of the manuscript of the book on the Delhi riots when it was initially submitted. It was finally cleared by a team that included an editor whose expertise so far had been on books on sports and entertainment, the source said.
"Besides giving its imprint, the company was not really doing anything to promote the book. The authors were managing this on their own. The legal team of the company spent three weeks on the manuscript and recommended several edits. In the light of the controversy, there is talk of redesignating an editor who vetted the book," the source said.
During the virtual launch, Arora said: "This is the same cabal that tweeted with the hastag #HumDekhenge during Prashant Bhushan's contempt verdict…. You threaten people and call yourself liberal. This is no longer 1967 when the Congress held the political space and Leftists held the mind space."
She added: "If one publisher withdraws, 10 will come forward. Thoughts are not dependent on any platform. The truth shall tear even 1,000 curtains and come out."
Kapil Mishra said: "We have seen the dance of the international lobby that supports urban Naxals and Islamic jihadis since last evening. The moment they came to know of a book that exposes their propaganda, the custodians of the freedom of expression got scared and are running around to stop the publication of this book, to prevent it from being sold and read or seen."
He added: "This book is feared by those who say it is the freedom of expression to abuse Mother India, deities, raise slogans of 'Afzal Guru zindabad' and consider Burhan Wani a son of their homes."
Guru was convicted in the 2001 Parliament attack case and hanged in 2013. Wani, a young Hizbul Mujahideen commander, was killed by the security forces in 2016.
On Saturday evening, the principal economic adviser to the Union government, Sanjeev Sanyal, tweeted: "A few weeks ago, I had raised the issue of how a tiny cabal controls Indian publishing and constantly imposes ideological censorship. We have just witnessed one example of how this insidious control is wielded.
"I have not read the book in question & have no idea if it is good or bad. However, this is obviously not a quality control problem but about censorship. I commit to never publish a book with @BloomsburyIndia."
Historian Audrey Truschke of Rutgers University said in a series of tweets: "For those not uptodate on Indian politics, a rough Western equivalent is this: Nazis commit a pogrom against Jews, then blame the Jews for it, and an international publishing house platforms and profits from this antiSemitism @BloomsburyIndia: Do you really want to do this?
"A few followups, largely for the benefit of @BloomsburyIndia. They should see what they are doing with an unvarnished gaze. Many observers and scholars consider the Delhi riots a pogrom, i.e., an organised massacre of an ethnic or religious group. In this case, Muslims. During the 2020 Delhi riots/ pogrom, Hindu Rightwingers targeted Muslims with violence. This wasn't a debate; it wasn't a clash about which reasonable people can disagree. One group tried to massacre members of another, and succeeded in taking dozens of lives."
She added: "Hindu nationalism (also known as Hindutva) is a political ideology with root."