Public exams from Class III mooted
Draft says students should have to sit eight board exams — one after each semester in Class IX, X, XI and XII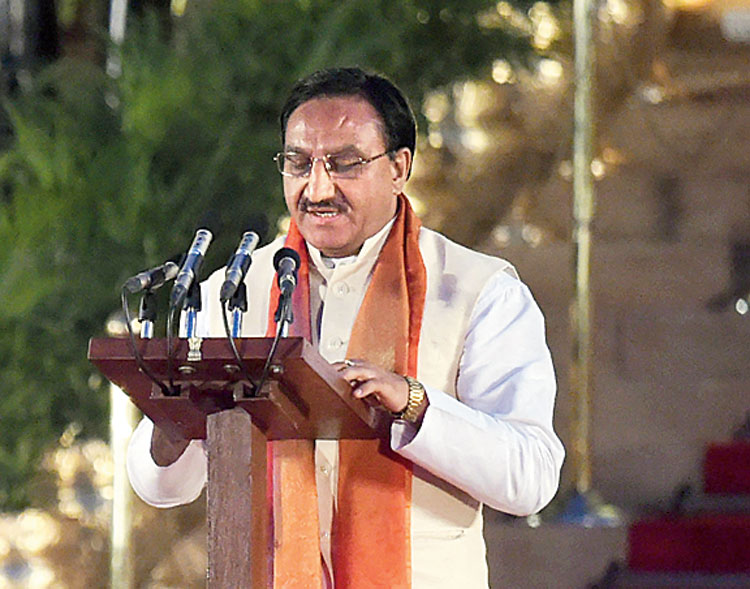 ---
---
Schoolchildren should have to take state or national-level "census" exams in Classes III, V and VIII, the draft National Education Policy has suggested, without linking performances in these tests to promotion to the next class.
"To track students' progress throughout their school experience, and not just at the end in Grade (Class) 10 and 12, all students will take State census examinations in Grades 3, 5, and 8 in addition to the board examinations in Grades 10 and 12," says the policy, handed to the government on Friday.
It adds that these exams would be to "the benefit of students, parents, teachers, principals and school management committees in planning improvements to schools and teaching-learning processes".
An official said the government would decide whether to interpret the word "State" here as the country as a whole or the "provinces". The government is expected to accept feedback from the public on the draft till early July.
Educationist Venita Kaul, professor emeritus at Ambedkar University in Delhi, said the state-level exams were "a good idea" as long as they "assessed competence" and were not used to deny the poor performers promotion to the next class.
The Right to Education Act originally provided for unhindered promotion of schoolchildren till Class VIII. It was amended last year to allow state governments to fail a child in Class V or Class VIII, based on an assessment. The new system is yet to be implemented.
According to the draft policy, the census exams will test the pupils' understanding of core concepts and knowledge of matters relating to their national and local curricula. They will assess skill, not rote learning. The Grade 3 census exam will be a test of basic literacy, numeracy and other foundational skills.
Board exams
The draft policy says that instead of taking one board exam at the end of Class X and another after Class XII, the students should have to sit eight board exams — one after each six-month semester in Class IX, X, XI and XII.
"Students will be expected to take… at least 24 subject board examinations, or on average three a semester, and these examinations would be in lieu of in-school final examinations so as not to be any additional burden…. Practical portions of certain board examinations would be assessed locally," it says.
It indicates how the 24 subjects will be split, saying the students must take two semester board exams in mathematics, two in science, one in Indian history, one in world history, one in knowledge of contemporary India, one in ethics and philosophy, one in economics, one in business/commerce, one in digital literacy/computational thinking, one in art, one in physical education, two in vocational subjects, one basic test each in the three languages they study, and at least one literature paper in one Indian language from among the three. Various other elective subjects will be available.
What happens if a student sits the Indian history test in the first semester of Class IX and exhausts her two mathematics tests by the second semester of Class X? Will she not sit these exams any more over the next few years? This remains unclear from the draft.
The draft says the National Testing Agency should conduct aptitude tests in various subjects from 2020 multiple times a year, with the universities encouraged to use these scores to admit students instead of holding their own entrance exams.
School fees
The draft suggests revoking the RTE stipulation for private schools to reserve 25 per cent of their seats for the free education of impoverished children, saying this hampers the schools' autonomy and is widely abused.
It allows private schools to raise their fees once in three years, subject to inflation-based limits fixed by proposed, state-level school regulatory authorities. It bars schools from unjustified increases under any "fees head" like "school development" or "infrastructure fund".