Protesters walking in Gandhi's steps: PC
Congress leader takes heart from people's 'civil disobedience'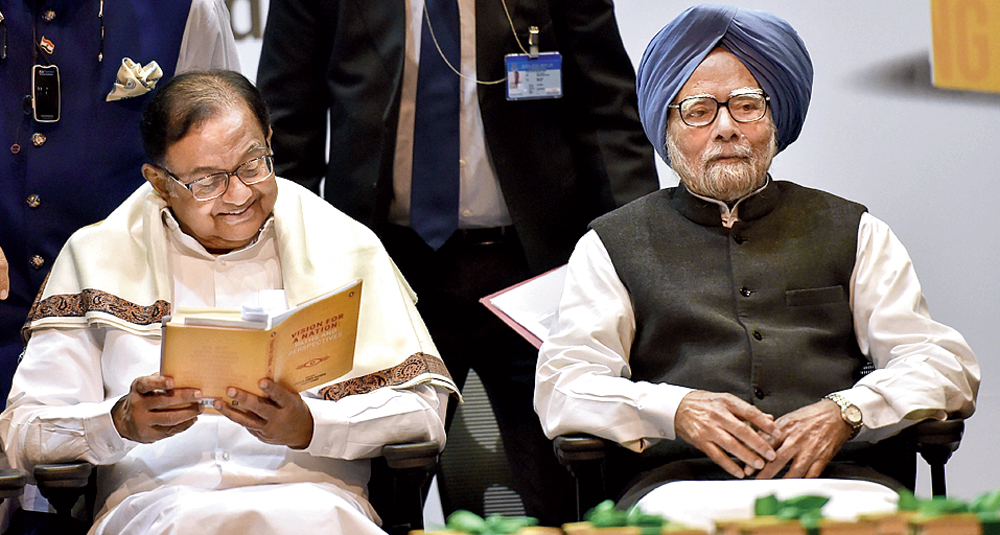 P Chidambaram (left) and Manmohan Singh at the book release on Wednesday
(PTI photo)
---
New Delhi
|
Published 05.02.20, 09:32 PM
|
---
Congress leader P. Chidambaram on Wednesday compared the ongoing nationwide protests against the citizenship law with the civil disobedience movement, arguing that citizens are demonstrating Mahatma Gandhi's moral courage in the face of injustice.
Speaking at a book release, Chidambaram argued that the very foundation of India had come under attack and a debate had started on the future of the republic.
"If you are secular, you are condemned as anti-national, your patriotism is questioned, you are accused of speaking the language of Pakistan," he said.
"Many of these people will have their citizenship questioned in future. The debate on secularism has shifted to a debate on citizenship. The founding fathers of India tried to build a concept of citizenship based on Constitution, rather than religion, race, language, culture… As long as this is propagated by Savarkar or Golwalkar, one can laugh it away. But when this becomes a political project executed by the state, what will happen to the constitutional citizenship?" the former Union minister asked.
Chidambaram said a "politicised religion" was taking over the state and institutions, and those refusing to subscribe to the "politicisation of religion" were being questioned.
But he expressed relief that people and the youth had risen in protest. "Hitler demanded complete obedience to the supreme leader. Gandhi launched non-cooperation (with the British), showing moral courage in the face of injustice. People coming out to protest are practising Gandhi's civil disobedience," Chidambaram said.
Prime Minister Narendra Modi has said the protests are a ploy to weaken social harmony and several ministers in his government have condemned them as "anti-national".
Home minister Amit Shah has been repeatedly asking Delhi's voters to press the EVM button so hard that Shaheen Bagh, the longest continuous protest against the citizenship law that is now seen as the symbolic epicentre of the anti-CAA movement, gets an electric shock.
If the BJP leaders have been describing those extending moral support to Shaheen Bagh as traitors, Chidambaram has likened the protest to the freedom struggle.
The CPM general secretary Sitaram Yechury said at the book release: "This is the defining moment for the future of the Indian republic. The redeeming factor is that youngsters have come out using symbols of nationalism — from the Tricolour to the Preamble of the Constitution — to oppose the citizenship law."
Yechury said the RSS vision is antagonistic to the idea of India.
Former Prime Minister Manmohan Singh and former Vice-President Hamid Ansari were also present.
Shashi Tharoor, one of the contributors to the book Vision for a Nation: Paths & Perspectives," edited by Ashish Nandy and Aakash Singh Rathore, said: "Fourteen volumes will be published under the series Rethinking India and 140 academics, policy-makers activists and intellectuals will contribute."
Chidambaram said it was an "unhappy" development that "we have to rethink India after 70 years of Independence instead of re-imagining and rebuilding India" because somebody was attacking the roots of Indian democracy and culture.