Probe coronavirus, not Bengal post-poll violence: Congress
Demanding the immediate sacking of Harsh Vardhan and Jaishankar, the party lamented that the Centre was still not alarmed by the situation and was wasting time on unimportant issues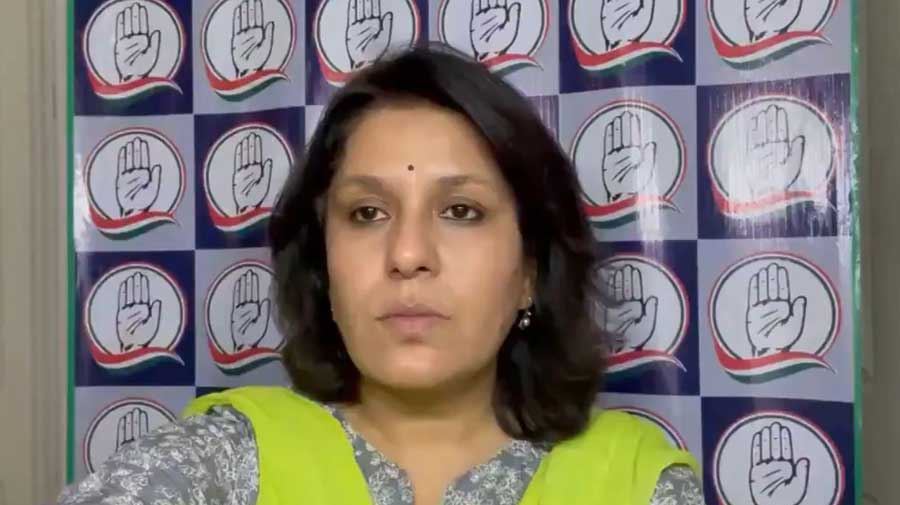 Supriya Shrinate
Twitter/@SupriyaShrinate
---
New Delhi
|
Published 07.05.21, 12:54 AM
|
---
The Congress on Thursday said central committees should be deployed to investigate the mismanagement of the Covid crisis with over 4 lakh daily cases and close to 4,000 deaths, not to probe stray incidents of post-poll violence in Bengal.
Responding to the Narendra Modi government's decision to send a four-member home ministry team to Bengal to examine the bloodshed after the elections in which Trinamul comprehensively defeated the BJP, Congress spokesperson Supriya Shrinate said: "Does the Centre not have faith in the police and the judiciary of Bengal, and the elected government there? A probe is needed into the reasons for such a large number of deaths caused by the coronavirus everyday; into why 4 lakh new cases are coming up daily. Who ignored the specific alerts? Who was supposed to prepare for the second wave?"
The Congress is aghast that the Prime Minister promptly spoke to the Bengal governor to enquire about the stray incidents of violence but had remained silent on the national outcry over the oxygen crisis and the overwhelming rush at hospitals and crematoriums. 
"The situation is going from bad to worse and Modi is sitting quiet like a blindfolded Dhritarashtra. He won't even acknowledge constructive suggestions given by former Prime Minister Manmohan Singh. Recently, 300 top officials were briefed on how to refurbish the government's image. The entire focus is on managing perceptions," Shrinate said.
Demanding the immediate sacking of health minister Harsh Vardhan and external affairs minister S. Jaishankar for "making a mockery" of people's miseries and showing insensitivity, the Congress lamented that the Centre was still not alarmed by the horrific situation and was wasting time on unimportant issues and diversionary tricks.
"The priorities of the government are so horribly wrong," Shrinate said, wondering how a government could be so disconnected from ground realities.
The Congress made the following demands:
⚪ Stop all wasteful expenditure, the country needs oxygen and vaccines, not the Central Vista project and luxurious planes 
⚪ Evolve a fair and transparent system of distributing aid coming from foreign countries
⚪ Reach out to the scientific community and experts, instead of sitting in an echo chamber, to understand the whole gamut of the Covid crisis
⚪ Focus on crisis management instead of wasting time on managing perceptions.