Priyanka hurls 'weak' jibe at Modi
The comments came in the same heartland constituency where Modi had last week described Priyanka's late father Rajiv Gandhi as 'bhrashtachari (corrupt) No. 1'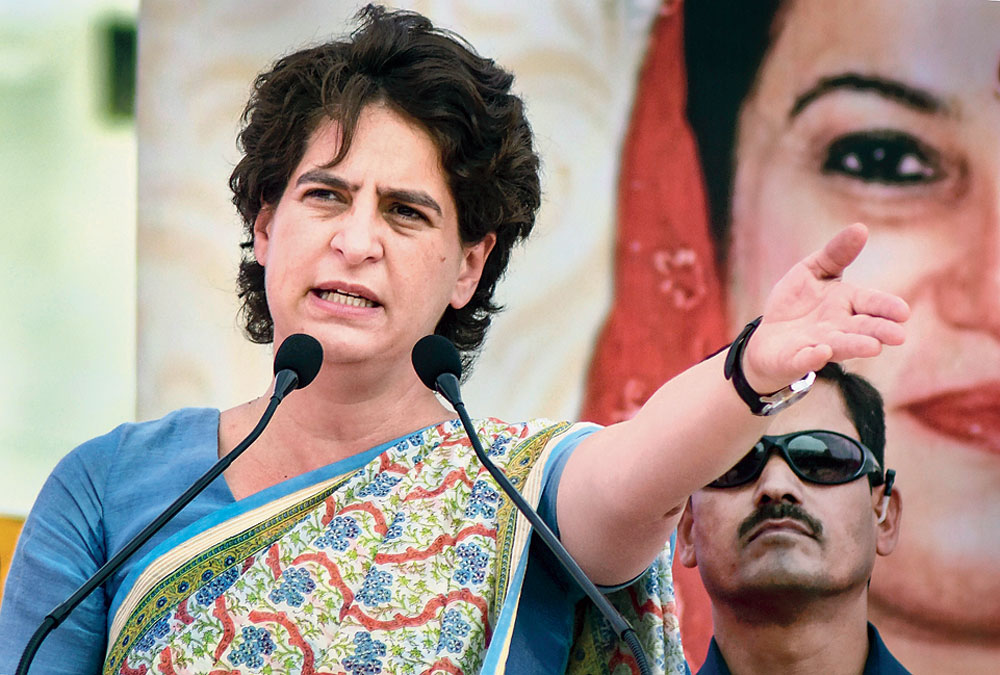 ---
|
Lucknow
|
Published 10.05.19, 12:25 AM
---
Priyanka Gandhi Vadra on Thursday dubbed Narendra Modi the "most cowardly" and "weakest" Prime Minister she has ever seen, saying the BJP mascot only holds big public rallies to avoid uncomfortable questions on unfulfilled promises.
"He (Modi) publicises that he is very powerful…. I (Modi) am great and I (Modi) will strengthen the country," the Congress general secretary for eastern Uttar Pradesh told a rally in Pratapgarh.
"Bhaiyon evan behnon, inse bara kaayar, inse kamjor pradhan mantri maine zindagi me nahin dekha tha (Brothers and sisters, I had never seen in my life such a coward, such a weak Prime Minister in my life)," the 47-year-old added.
"Political strength doesn't come through publicity. Political strength comes when you accept that the people are the most powerful; it comes when you have the strength to listen to the people; when you have the strength to solve the problems of the people; when you have the strength to accept criticism."
The comments came in the same heartland constituency where Modi had last week described Priyanka's late father Rajiv Gandhi as "bhrashtachari (corrupt) No. 1" while targeting her brother, Congress chief Rahul Gandhi.
Priyanka, however, did not bring up that comment.
Priyanka said Modi did not have any answers to people's queries and so hid from them. "This Prime Minister… let alone hearing your views, he doesn't want to reply to your questions. He doesn't answer when you ask what happened to the Rs 15 lakh (that Modi had promised Indians ahead of the 2014 Lok Sabha elections).
"He doesn't have any answer, brothers and sisters, when you ask him about the promise of creating two crore jobs (every year). He is trying to hide from you while holding only big rallies instead of being with you. You were cheated (by him)," Priyanka said.
"He had said he would eradicate corruption. But who proved the most corrupt?" Priyanka asked the gathering.
"Modi," the crowd responded.
"He is hiding the truth behind big publicity campaigns," Priyanka said.
"Maine kal-parson ek ishtehar dekha ki 'bijli ke bill par maari talwar, ek baar phir Modi sarkar'. Wah, wah (I saw an advertisement the other day that said 'the electricity bill had been slashed, once again Modi government'. Wow)."
"A woman in Amethi told me she has received an electricity bill of Rs 35,000 when she doesn't have a connection. Another woman who had no power connection had received a bill of Rs 50,000. And they (the BJP) are giving the slogan that they have slashed the electricity bill. They may have reduced the electricity bills of big industrialists," Priyanka said as the crowd cheered.