Priyanka Gandhi sets up a patriot test
People were at the centre of the definition of nationalism offered by the Cong general secretary in charge of eastern UP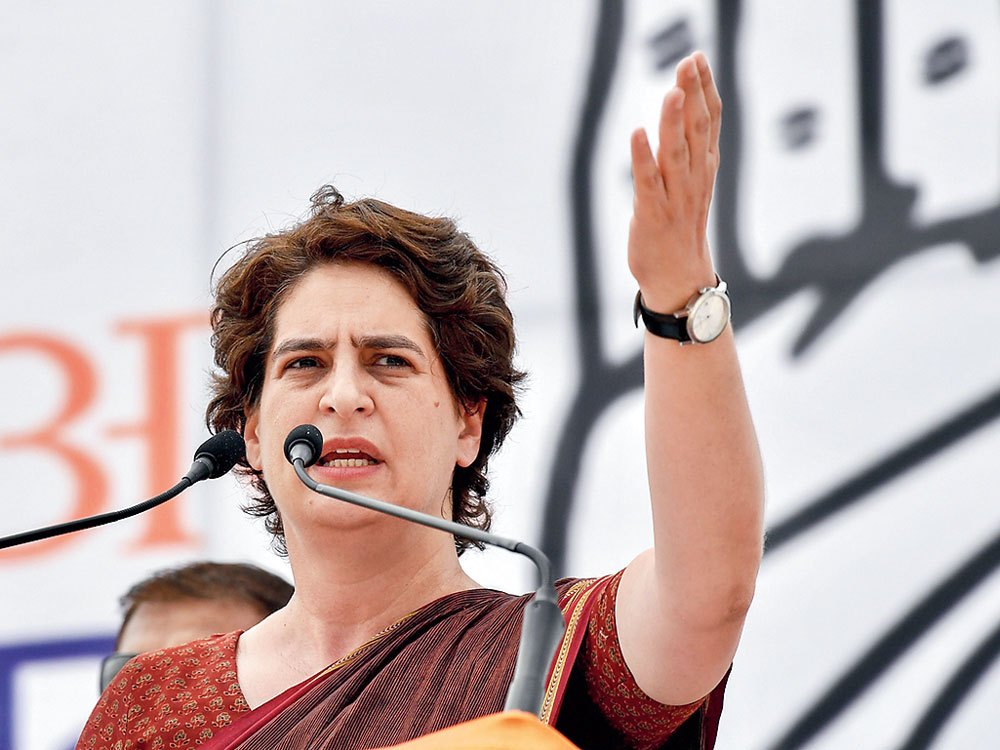 ---
---
A true nationalist will protect institutions that empower people, will be proud of people's democratic instincts and will bow to citizens who ask questions, Priyanka Gandhi Vadra has said, intervening in the nationalism debate to counter the RSS-BJP's narrow military-oriented and majoritarian perspective.
People were at the centre of the definition of nationalism offered by the Congress general secretary in charge of eastern Uttar Pradesh.
Priyanka told a rally at Fatehpur Sikri on Monday: "A nationalist leader will protect, not demolish, institutions that empower people and nurture their rights and interests. A true nationalist will not suppress people's voices; he will be happy about an aware, confident citizen who questions the government, who tries to enforce accountability of rulers."
She continued: "A nationalist leader will bow to citizens who ask questions, would be proud of citizens' democratic instincts. True nationalism is traversing the path of truth."
Although Priyanka did not name anyone, her exposition was clearly a critique of Narendra Modi who has been accused of crushing dissent, suppressing freedom and being intolerant of questioning to the extent that he has not addressed a single news conference in his five years as Prime Minister.
Modi defines nationalism and patriotism in the context of Pakistan, the military and political allegiance to the ruling party. This was evident in his appeal last week to first-time voters to dedicate their votes to the soldiers who carried out the Balakot air strikes and to those killed in the Pulwama blast.
The Prime Minister, who has ignored an advisory from the Election Commission to keep the armed forces out of the poll campaign and even an anguished appeal by military veterans not to cite military action to seek votes, said in an interview on Monday: "If a farmer dies, it becomes an election issue. If a soldier dies, why should it not be an election issue?"
Modi has, however, not spoken of dying farmers in his campaign.
Priyanka said: "If you are a nationalist, why didn't you meet the farmers who walked barefoot to the national capital from different parts of the country? Why don't you tell the youth what is your plan for creating jobs? Why don't you remind your leaders of Indian culture when they insult women?"
A true nationalist will not tolerate lynching in the name of religion, she said.
Arguing that a nationalist must think of India instead of harping on Pakistan, Priyanka said: "If you are a nationalist, respect martyrs, irrespective of their caste and religion. If you are a nationalist, stop insulting freedom fighters who made this country with their blood and toil."
This is not the first time she has waded into the nationalism debate and offered a perspective that is different from the narrow and jingoist narrative fuelled by television.
In her first outing at a public rally in Ahmedabad last month, Priyanka had said awareness and conscientious decision-making were the best expressions of patriotism.
"What is happening in the country today pains me. I want to tell you something from my heart: Nothing can be more patriotic today than being aware. Your awareness is a weapon. Your vote is a weapon. With this weapon, you don't hurt anybody but empower yourself," she had said.
People should tell the leaders their patriotism will be reflected through harmony, love and non-violence, she added.
While the Congress has often avoided locking horns with the RSS-BJP on the question of nationalism, Priyanka has taken it upon herself to confront the narrow definition that excludes the interests of the common people from the discourse and only inflames passions by inventing an enemy.