Videos emerge from UAE 'jail villa'
Princess Latifa recordings reveal shameful details of 'Indian role'
The Dubai royal says commandos dragged her to a naval ship and then allowed a private jet to fly the drugged captive to her father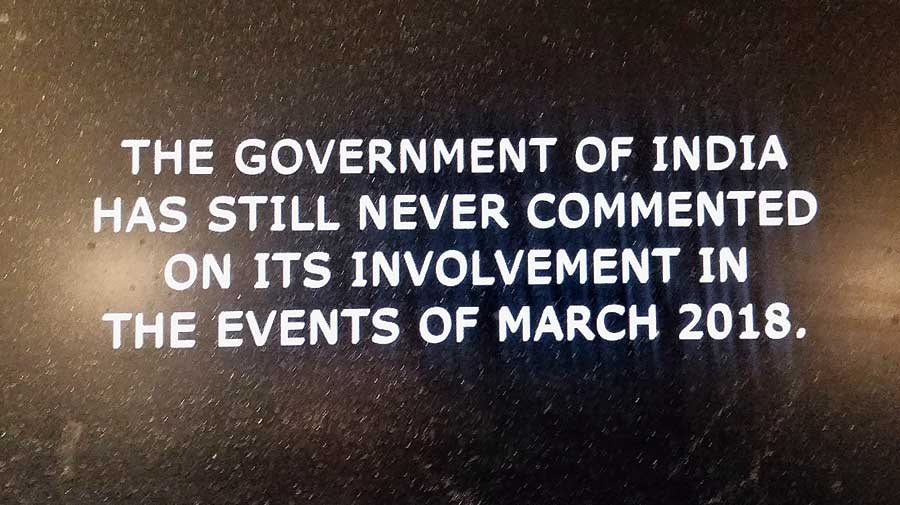 ---
|
London
|
Published 18.02.21, 01:47 AM
---
Between 12 and 15 Indian commandos had kidnapped Princess Latifa as her small boat approached the Indian coast three years ago, wrecking her dash to freedom from her restricted life in her country, the Dubai royal has alleged in secret video recordings.
She says the commandos dragged her to an Indian naval ship and then allowed a private jet to fly the drugged captive to her father, Sheikh Mohammed bin Rashid Al Maktoum, ruler of Dubai and Vice-President and Prime Minister of the United Arab Emirates.
Latifa's video messages, apparently sent from the bathroom of the villa in the UAE where she says she is a prisoner fearing for her life, were broadcast on Tuesday night on BBC TV's flagship Panorama programme.
She is heard describing how two commandos sat on her to hold her down, how she was injected twice with what seemed tranquilisers, how she bit an Emirati commando, and how "generals" on a purported Indian ship ignored her pleas to let her go.
The revelations ended with a note from the BBC: "The Government of India has still never commented on its involvement in the events of March 2018."
What began as a domestic quarrel between possibly an over-strict father and a daughter seeking her freedom has now exploded into a full-scale international row.
On Wednesday, the BBC announced: "The United Nations has said it will raise the detention of Princess Latifa."
"We will certainly raise these new developments with the UAE," spokesperson Rupert Colville said. "Other parts of the UN human rights system with relevant mandates may also become involved once they have analysed the new material."
The timetable of events in the Panorama programme, The Missing Princess, is that Latifa, now 35, was snatched off her boat at midnight on March 4, 2018, by Indian forces. A year later, her long-time tutor and friend from Finland, Tiina Jauhiainen, managed to smuggle a phone to her, allowing her to send video messages from her bathroom.
Latifa's supporters in the West have now gone public with her video messages because they fear her phone has been discovered.
Panorama's voiceover is done by Sophie Black: "Latifa and Tiina managed to get out of Dubai and board a yacht. The plan was to cross the Indian Ocean, then fly to the United States, where she would try to claim political asylum. But as they neared India, the escape went horribly wrong."
Tiina takes up the sequence of events: "Myself and Latifa were tired. So around 10 o'clock in the evening, we decided to go down to our cabin to get some sleep. We started hearing noises from the upper deck, which sounded like gunshots.
"Basically, the boat was taken over by Indian special forces. Lots of people. She was saying, 'Oh my God, oh my God, they're here.' She continued screaming and kicking and trying to get away. That's the last time I see my friend."
Narration by Black: "Now, for the first time, Latifa can reveal what happened to her that night on the boat."
Latifa reveals: "So when they kidnapped me on March 4, 2018, on the small boat.... I don't know how many commandos, maybe 12-15, and the two Emirati-like lieutenants... sergeants.
"I was fighting. And this guy came with a small camouflage pouch. And he took out the needle and he injected me in my arm and I was fighting. I was saying, 'Don't do that. Don't do that. Don't do that.' And I just assumed it was tranquilisers, but it didn't take any effect on me.
"But then I was like, 'Okay, assess your situation. Your hands are tied. You have two guys sitting on you, you're on the bottom, a small boat. So just calm down.' There's no fighting at this point. I just calmed down."
Voiceover: "Latifa says she was transferred to an Indian military ship."
Latifa continues: "The commandos carried me through this corridor and to a big room. And there was in front of me maybe four or five generals. So I'm repeating to them, 'My name is Latifa…. I wanted to get asylum. I was in international waters. You should let me go.' But they did not stop.
"I see a private jet in front of me at that point. I said, 'No. I'm not going to voluntarily go'."
Voiceover: "She says she was then manhandled by an Emirati commando."
Latifa: "He grabs me, and he lifts me up. And (I was) kicking and fighting, and he's much bigger than me. So I see that his sleeves rolled up and his arm is exposed. So I said, 'Okay, I have one shot.' So I just bite him as hard as I can, and shake my head. And he screamed, the same guy tranquilised me again.
"They put me on a stretcher. And as they were carrying me up the steps of the private jet is when I passed out, I lost consciousness. All I remember was the rocking and seeing the stairs and then I just passed out.
"When I woke up, the private jet had already landed in Dubai. I just felt really sad at that point. Working for so many years to get my freedom was gone."
She describes her captivity in Dubai: "This video is from a bathroom because this is the only room with the door locked. So I'm in a villa. And I'm a hostage. And this villa has been converted into a jail — the windows are barred shut. I can't open any window. There are five policemen outside and two inside the house. And I can't even go outside to get any fresh air. I don't know when I'll be released. Every day I am worried about my safety in my life. I don't really know if I'm going to survive the situation."
British foreign secretary Dominic Raab, who said he had watched the programme, said the UK would support the UN's efforts to raise the issue with the UAE.
"I think it's deeply troubling. And you can see a young woman in deep distress," Raab said.
Mary Robinson, former United Nations High Commissioner for Human Rights and erstwhile President of the Irish Republic, who had earlier given Sheikh Mohammed a clean chit, now says she was "tricked" into doing so.
She has changed her stance and told the programme: "I continue to be very worried about Latifa. Things have moved on. I think it should be investigated."