Swadeshi Jargon meets Nehru
The Prime Minister appears to have tweaked the focus of his flopped Make in India campaign, which he mentioned only once in his address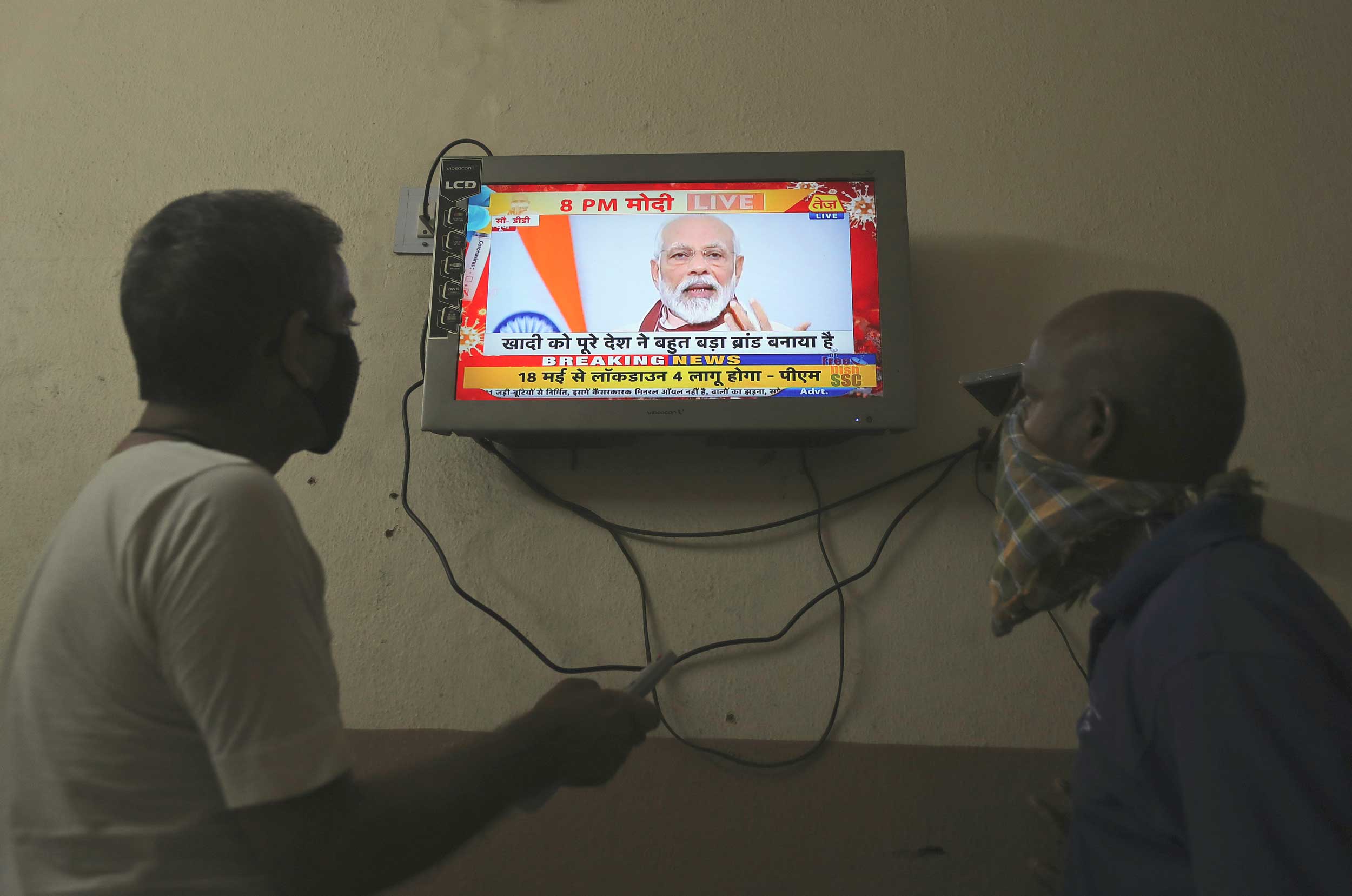 Two men watch a televised Prime Minister Narendra Modi's address to the nation in Hyderabad on Tuesday.
(AP)
---
New Delhi
|
Published 12.05.20, 09:45 PM
|
---
Be vocal about local, Prime Minister Narendra Modi exhorted the nation on Tuesday, falling back on a mix of Nehruvian thrust on self-reliance and the jargon usually associated with the Swadeshi Jagran Manch, the economic spearhead of the Sangh parivar.
Without using the term "swadeshi", Modi said during his address to the nation that locally made products had taken care of the needs of the people during the coronavirus pandemic and asked citizens not to give them up.
Modi did not mention that India had imported controversial antibody test kits from China. India also depends heavily on China for active pharmaceutical ingredients.
"In times of crisis, this local has fulfilled our demand, this local has saved us. Local is not just the need, it is our responsibility also. Time has taught us that we must make the local a mantra of our life. The global brands you feel today were sometimes also very local like this. But when people started using them, started promoting them, branding them, became proud of them, they became global from local products.
"Therefore, from today every Indian has to become vocal for their local, not only to buy local products, but also to promote them proudly," Modi said, according to a translation uploaded on the Prime Minister's website of his televised address to the nation.
Without saying so, the Prime Minister appears to have tweaked the focus of his flopped Make in India campaign, which he mentioned only once in his address.
When the Make in India drive was launched, the stated objective was to make products in India for the world. The campaign went against the advice of some economists who had said India should make for India first, which was at the heart of the thrust on self-reliance and institution-building by Jawaharlal Nehru, a frequent target of Modi's taunts.
Now, Modi seems to have changed his focus to make in India for the domestic market although he did say relentless promotion of local products within the country will make them global brands.
Modi's thrust on the "local" sits easy with the RSS's views. The Swadeshi Jagran Manch has been urging people to reject Chinese goods. On Tuesday, Manch chief Ashwani Mahajan hailed the Prime Minister for promoting "self-reliance" and swadeshi products.
While Nehruvian self-reliance tapped into modern technology and was driven by science, the Sangh brand derives its inspiration from a perceived glorious past. The RSS has for decades been tom-tomming the greatness of India's age-old economic model and yearning that it would once again become a "visva guru" (world leader).
On Tuesday, Modi, too, harked back to such a past, claiming India was a "sone ki chidiya" (golden bird) once and decades of "gulami" (slavery) had robbed it of its glory. The coronavirus crisis had thrown up an opportunity to emerge as a world leader, he suggested.