Prime Minister extols India as the 'mother of democracy'
Modi lays the foundation for a new Parliament building, days after a SC rap on his government and a globally condemned crackdown on protest against the farm bills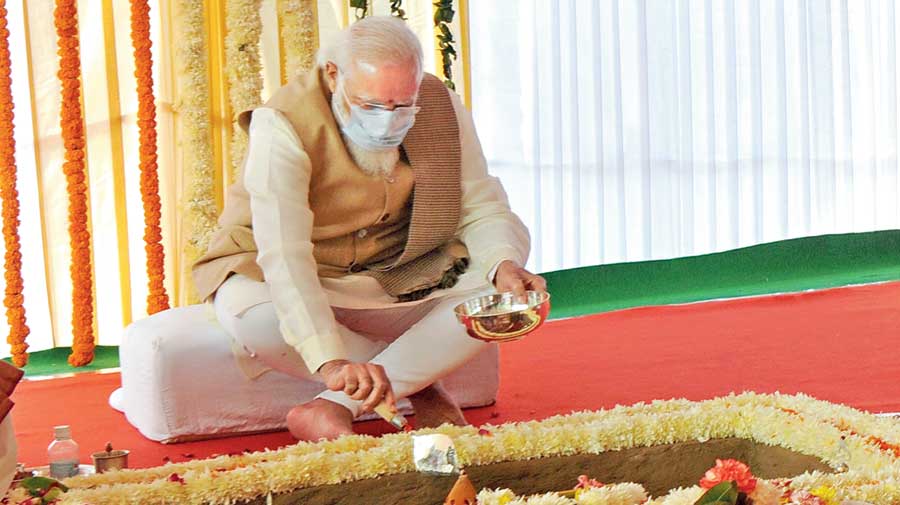 ---
New Delhi
|
Published 11.12.20, 02:00 AM
|
---
Prime Minister Narendra Modi on Thursday cited rising vote percentages as proof of India's thriving democracy as he laid the foundation for a new Parliament building, days after a Supreme Court rap on his government and a globally condemned crackdown on protesting farmers.
"Today is a milestone in India's democratic history," Modi said after performing a "bhoomi pujan" (earth worship) guided by priests from the Sringeri Math in Karnataka.
The Prime Minister extolled India as the "mother of democracy". Two days ago, Modi's acolyte and Niti Aayog chief Amitabh Kant had said India was "too much of a democracy" that made tough reforms difficult to execute.
The new Parliament building, to be built at an estimated cost of Rs 971 crore, is part of Modi's pet Rs 20,000-crore Central Vista project to redevelop Lutyens Delhi that many activists have described as unnecessary and harmful to the environment.
This was the second high-profile bhoomi pujan the Prime Minister has performed recently, the first being that for a Ram temple in Ayodhya that too has attracted charges of symbolising pride and lavish ostentation amid the pandemic distress all around.
On Monday, the Supreme Court had censured the Centre for continuing construction and tree relocations for the Central Vista project despite the matter being under its scrutiny — seeing in it a lack of "deference" — but allowed Thursday's ceremony. The court is considering a slew of petitions questioning the project's legality.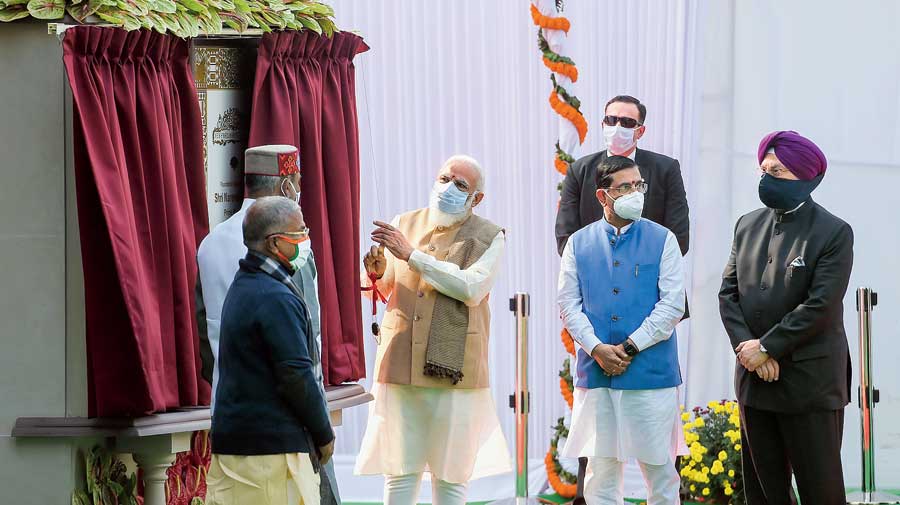 Bengal chief minister Mamata Banerjee questioned the need for the project and the expenditure on it.
"Stunt-baji, all the time. Thousands of crores on statues, thousands of crores on a new Parliament building," she said in Calcutta.
Mamata added: "Let them, I don't object. But I think there was no need for a new Parliament building right now. That money could have been given to the farmers of this country, for instance. The existing Parliament building was sufficient for now."
Modi, addressing a select gathering of about 200, insisted that a "New India" needed a new Parliament building.
He said the current structure, built during colonial times, had become too old and should be "put to rest".
"The old (Parliament) building gave direction to India after Independence and the new building will be a testament to a self-reliant India," he said.
The Prime Minister claimed India had developed democratic traditions even before the West. He cited historical texts and stone inscriptions as evidence, and said the world would soon accept India as the "mother of democracy".
He said that while democratic procedures were withering in many countries, democracy's roots were strengthening in India. As evidence, he pointed to a rise in voting percentages, "particularly the increased participation by women and the youth", but gave no figures.
After his paean to democracy, the Prime Minister urged each citizen to pledge to make the "national interest" supreme over the next quarter century so the country reached new heights by 2047 when it celebrated 100 years of independence.
The government wants to complete the new Parliament building by 2022, coinciding with 75 years of independence.
"Friends, we the people of India should pledge that for us, no interest should be above the national interest. We the people of India should pledge that for us, the country's concerns should be greater than our own concerns," Modi said.
Against the backdrop of the farmers' agitation, Modi cited Guru Nanak's stress on talking and listening. Mindful of the upcoming Bengal polls, he referred to Swami Vivekananda and Rabindranath Tagore, portraying them as advocates of unity and the national interest.