PM calls for shift from British education focus
Narendra Modi underlines multidimensionality of Indian education system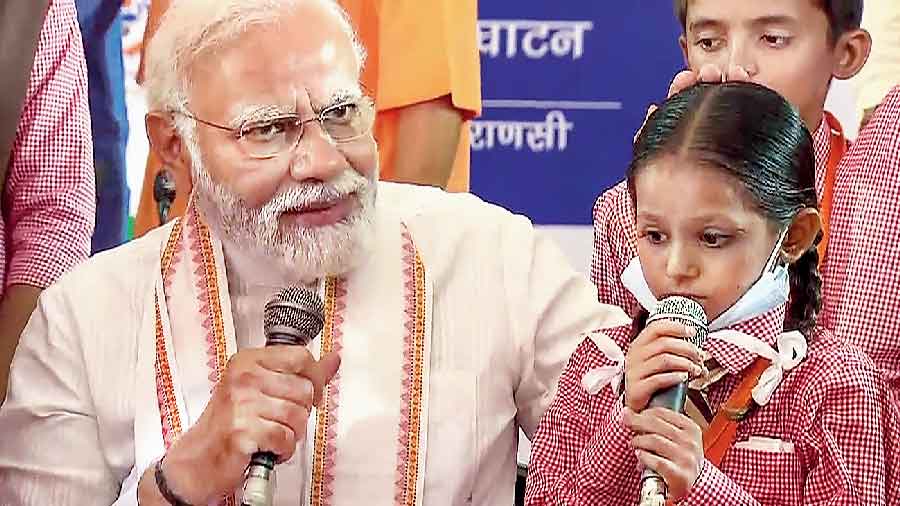 Prime Minister Narendra Modi with schoolchildren at the inauguration of an Akshay Patra midday meal kitchen building in Varanasi on Thursday
PTI Picture
---
New Delhi
|
Published 08.07.22, 02:04 AM
|
---
Prime Minister Narendra Modi on Thursday said the British linked education to jobs as they wanted a service class but the present-day youths should be provided with skills to prepare them for new ventures.
Inaugurating a conference in Varanasi on the implementation of the National Education Policy (NEP), Modi asked vice-chancellors to focus on creating human resources for the country than degree-holders.
"The basic premise of the NEP is to take education out of narrow thinking and connect it with the modern ideas of the 21st century. There is no dearth of talent in our country. But unfortunately, we had a system in which the purpose of education was limited to getting jobs. The British started this practice as they wanted a service class," Modi said.
"The British system was never part of Indian ethos. After independence, some changes have been made. But a lot of changes are still required," he said.
Modi underlined the multidimensionality of the Indian education system.
"We should not only prepare degree-holder youths but give the human resource to the country…. Our youths should be skilled, confident, practical…. The education policy is preparing the ground for this," Modi said.
The Prime Minister mentioned new areas of opportunities for youths. He said India is the third-largest start-up ecosystem in the world. Space technology, where earlier only the government used to do everything, is now involving private players, creating new opportunities for youths, he said.
The Prime Minister underlined the importance of evidence-based research and asked for research on how to utilise the demographic dividend of India. The three-day conference is being attended by nearly 300 academics from universities, IITs, IIMs and other institutions. 
A faculty member of Banaras Hindu University later told this newspaper that the NEP was yet to take off. There is little action on most of the key recommendations. There is also confusion in certain states if it will be implemented at all.
"The government is trying to create an impression that things are being implemented but the ground situation is different," said the faculty member.
Prince Gajendra Babu, general secretary of the State Platform for Common Schooling System, a civil society watchdog in Tamil Nadu, said the NEP is heavily focused on skilling than educating children. The policy has suggested the introduction of skill training as early as from Class VI.
"This is a violation of the child labour law, which prohibits the employment of children below 14 in any profession. Schools are supposed to provide foundational education and life skills. Enhancing employability of a student is the responsibility of institutions in higher and professional education streams. This push to vocational education will deprive a large section of students of quality learning," Babu said.