Mission to create database with patient history
Health ID with digital records
Experts say the programme's components could benefit patients and healthcare institutions, but cautioned that implementing the plan could be even more challenging than Aadhaar was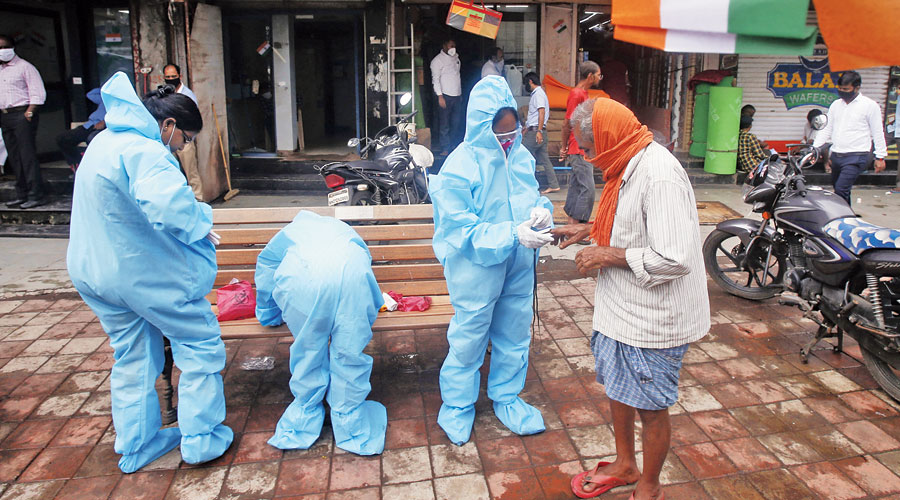 ---
New Delhi
|
Published 16.08.20, 01:20 AM
|
---
Prime Minister Narendra Modi on Saturday announced a national digital health mission he said would enable doctors to access their patients' entire medical records and help people fix appointments with doctors and make payments through keyboard strikes.
Some health experts applauded the announcement saying the mission's components could benefit patients and healthcare institutions, but cautioned that implementing the plan could be even more challenging than Aadhaar was.
"Every Indian will be given a health ID," Modi said in his Independence Day speech. "This health ID will work like a health account of every Indian. This account will contain your details of every test, every disease, the doctors you visited, the medicines you took and the diagnosis."
Doctors and experts enthusiastic about the plan said standardised records and error-free data entry would be critical. They underlined that people across India have for years detected errors in their voter I-cards, driving licences, Aadhaar cards and other such documents.
"The intent is good — this is the way forward," said Vispi Jokhi, a senior orthopaedic surgeon and chief executive officer at Masina Hospital, Mumbai.
"But the most important issue will be training to ensure (patients') data is entered correctly. Remember: garbage in, garbage out."
Another doctor stressed that while lay people can identify errors in their voter cards and driving licences, they are likely to be oblivious to any errors in their medical records.
Many healthcare institutions already face staff shortages and it is uncertain who will enter the data. Another important challenge will be to ensure that whoever enters the data, Jokhi said — whether a nurse, doctor or healthcare worker — views it as "an aid at work rather than a hindrance".
The mission will create databases of doctors and hospitals across India, senior officials with the National Health Authority, a government agency entrusted with rolling out the mission, said.
"These core building blocks of the mission shall be owned, operated and maintained by the government," said Indu Bhushan, the NHA's chief executive officer, in a media release.
"Private institutions will have an opportunity to integrate with these building blocks… but the core activities and verifications, such as the generation of the health ID or approval of a doctor or facility, will remain with the government."
A patient's personal health records — including information about previous doctors' consultations, diagnostic tests and prescriptions — will be maintained in a digital format but will be accessible only with the patient's consent, the NHA officials said.
"No doctor will be able to access the personal health records without the patient's consent," Praveen Gedam, the NHA's additional CEO, told The Telegraph.
The mission will begin this month in seven Union Territories — Chandigarh, Ladakh, Dadra and Nagar Haveli, Daman and Diu, Puducherry, the Andaman and Nicobar islands, and Lakshadweep — Union health minister Harsh Vardhan said.
The NHA has said the mission will be a voluntary healthcare programme, which means that people who lack the health ID will not be denied treatment.
But enthusiasm for the idea among health experts appeared tempered by concerns at the slow adoption of the electronic medical records (EMR) by the country's healthcare institutions, although the Union health ministry had notified standards for the EMR in 2013 and revised them in 2016.
"Even (among) private hospitals, EMRs are rarely exchanged between hospitals," a senior official in India's ministry of electronics and information technology had written in a paper four years ago.
"These (EMRs) remain in the same hospital… and there is no authentic report on the number of patients whose EMRs have been stored."
But many believe the health ID will facilitate the mission's rollout.
"A unique health ID will help link the dots," said Oommen John, a public health specialist at The George Institute for Global Health, New Delhi.
"This vision could be operationalised when the health ID is cross-linked across existing health records that are lying... with different healthcare providers and different diagnostic laboratories."
But getting healthcare institutions to sign in and share data in a standardised EMR format would be a challenge, officials and health experts said.
"The technical objectives of ensuring the standardisation of records and ensuring seamless access along with appropriate safeguards could make this even more challenging than was Aadhaar," John said.
The proposed databases of doctors and hospitals will allow patients to choose their providers online.