Suspected Covid corpses in the Ganga triggers fears of water contamination
Medical experts say people are far likelier to get infected from respiratory droplets and close contact than river water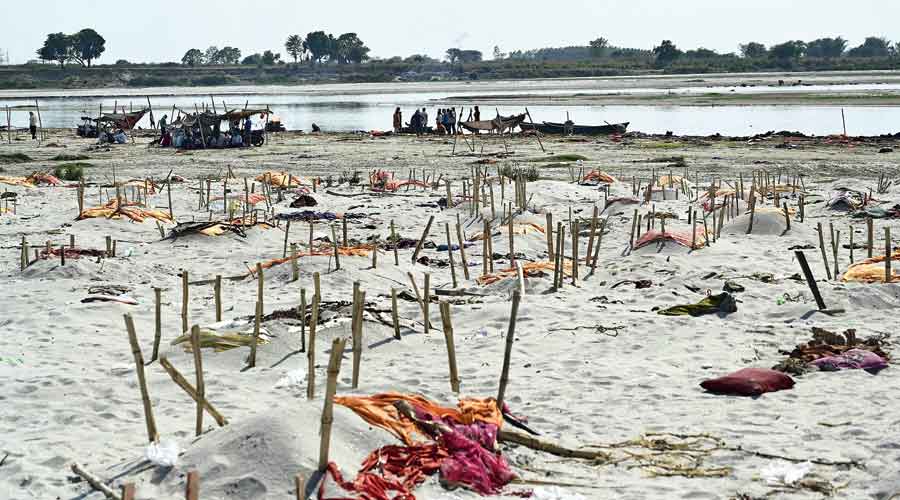 ---
---
The presence of corpses of suspected Covid-19 patients in the Ganga in northern India has triggered fears of contaminated water, but medical experts say people are far likelier to get infected from respiratory droplets and close contact than river water.
Scientists say that while the disposal of Covid-19 patients' bodies into rivers could release viral particles into the water, there is no evidence for Covid-19 transmission through water or food.
Local authorities have over the past week plucked hundreds of bodies of suspected Covid-19 patients out of the river in Bihar and Uttar Pradesh.
Many believe the dead were released into rivers because their families were unable to access or afford the increasingly scarce and costly crematory space and firewood.
Downstream in Bengal, the images of bodies in rivers have hit fish demand. But, one doctor said, this is more likely driven by the disgust of consuming fish that may have fed on human bodies than by a fear of infection.
Viruses need living cells to multiply in and cannot replicate in a dead body, but scientists say viruses in dead tissues can remain infectious for some time. This makes bodies of Covid-19 patients a potential source
of infection requiring special precautions while burial or cremation.
However, the chances of Covid infection through water remain minimal, scientists say, although corpses in rivers can easily spread many kinds of infections such as bacterial disease.
Santanu Tripathi, former professor of pharmacology at the Calcutta School of Tropical Medicine, said: "Whether of a Covid-19 patient or not, any dead human or even a dead animal floating in rivers has the potential to spread infection."
"But this must not happen," Tripathi said. "No civilised country should have dead bodies floating in rivers."
Any risk of Covid-19 infection posed by a floating body would depend on multiple factors – the body's viral load, how long the virus can survive in dead tissues, the survivability of the virus in the water, and even the volumetric water flow at the site – Tripathi and others say.
Four years ago, scientists at Japan's National Institute of Animal Health found that the viability of another respiratory virus – the H1N1 influenza virus – in dead tissues depends on the temperature and type of tissue.
At 20°C, the virus survived 3 days in the liver, 20 days in muscles, and 30 days in feather tissues. But at 4°C, the temperature inside a refrigerator, the virus survived for 20 days in the liver, 160 days in the muscle and 240 days in feather tissues.
"We don't have similar data yet to know how long SARS-CoV-2 (the virus that causes Covid-19) can survive in either dead bodies or in water," said Tripathi. But viruses would be expected to lose their viability within hours to days in the current hot season across the country.
While respiratory droplets and close contact are the main routes of SARS-CoV-2 transmission, multiple studies have shown strong evidence of intestinal infection by SARS-CoV-2. But, scientists say, intestinal infections by themselves do not necessarily mean the virus can spread through food or water.
Many studies have found viral genetic material in stools and the gastrointestinal tracts of patients, Richard Flavell, professor of immunology at the Yale School of Medicine, and his colleagues said in a research review earlier this year.
"But further research is needed to determine the mechanism of intestinal infection and the possibility of faecal-oral transmission."