Pranam, Pragyaji: If, but...
Thakur's remarks brought Opposition members rushing to the well of the House, saying the apology was not acceptable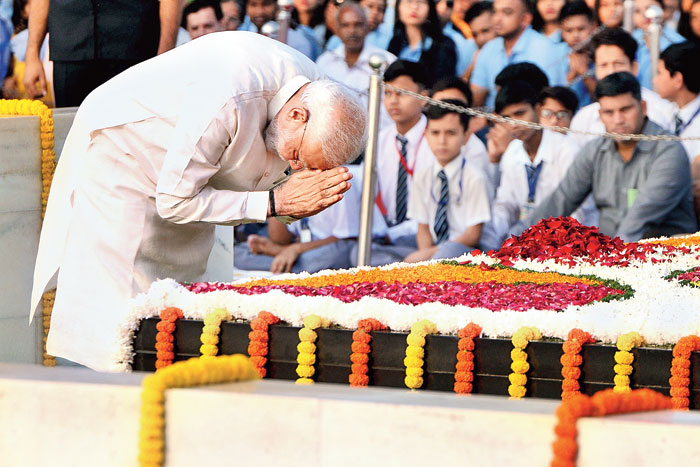 ---
---
Pragya Singh Thakur, terror accused and BJP parliamentarian, ducked and digressed and eventually tendered an apology in the Lok Sabha on Friday but stuck to her stand that she "didn't call Godse a patriot".
This was her second attempt at an apology after her first, which included an attack on Rahul Gandhi and a claim that her comment had been twisted, prompted an Opposition uproar and an all-party meeting.
"I didn't call Nathuram Godse a patriot. Despite this, if anybody's sentiments have been hurt because of my remark, I apologise," the saffron-robed member from Bhopal said in her second apology.
The Opposition chose not to pursue the matter further although her continued denial about having referred to Mahatma Gandhi's assassin left it unclear whether her apology was indeed "unconditional".
Pragya's first apology had come during Zero Hour, shortly past noon. "If my remarks in the House have hurt anybody's sentiments then I express regret and apologise," she said.
But she added that her statement had been twisted and slammed Rahul for calling her a "terrorist", saying it was an "insult to a woman, sanyasin and MP". She alleged the previous government had framed her and the terror charges were yet to be proved.
Pragya later submitted a breach of privilege notice to the Speaker against Rahul for calling her a "terrorist", PTI reported.
"Terrorist Pragya calls terrorist Godse a patriot," Rahul had tweeted on Thursday.
On Friday, he told reporters: "Yes, I stand by my statement; there's no problem. Whatever they want to do, I'll welcome (it)."
Pragya's remarks brought Opposition members rushing to the well of the House, saying the apology was not acceptable. The treasury benches, with no senior leader present, looked worried.
"Down, down, Godse… down, down Godse party…. BJP party, Godse party," the Opposition members chanted. They demanded an "unconditional apology" or Pragya's suspension from the House.
BJP member Nishikant Dubey tried to salvage the situation, alleging Rahul's "terrorist" label on Pragya amounted to a breach of privilege and he should be made to apologise.
He also held up an old editorial in Shiv Sena mouthpiece Saamana that called Godse a "patriot" and taunted the Congress for aligning with the party in its "greed for power".
Congress members said the House could not be concerned with things said and written outside and accused the BJP of diversion tactics.
"Mahatma Gandhi is the Father of the Nation and is worshipped across the globe. The message that has gone out across the world is that in the Indian Parliament, his assassin has been called a patriot. We can't allow this," the Congress's House leader, Adhir Ranjan Chowdhury, said.
Speaker Om Birla tried to calm tempers by adjourning the House and calling the leaders of all the parties to his chamber. It was decided that Pragya would tender an unconditional apology.
When the House met again, Pragya stood up but again tried to deviate from an unconditional apology. "My enemies…" she began.
Birla cut in and asked her to utter only an apology.
"You cannot cite the example of a patriot," Pragya had said on Wednesday when DMK member A. Raja had referred to the threat Godse had posed to Mahatma Gandhi.
Minister Pralhad Joshi had then claimed that Pragya had referred not to Godse but to freedom fighter Udham Singh. Raja had indeed referred to Udham but Pragya had not uttered anything then.
On Thursday, the BJP dropped Pragya from a parliamentary panel and temporarily barred her from its MPs' meetings, indirectly acknowledging her comment was about Godse. But Pragya insisted in a tweet that she had referred only to Udham.