Pragya's 'curse' hangs on BJP in Maharashtra
Hundreds of youths have taken to Twitter to express their outrage and started an online campaign with the hashtag #MeHemantKarkare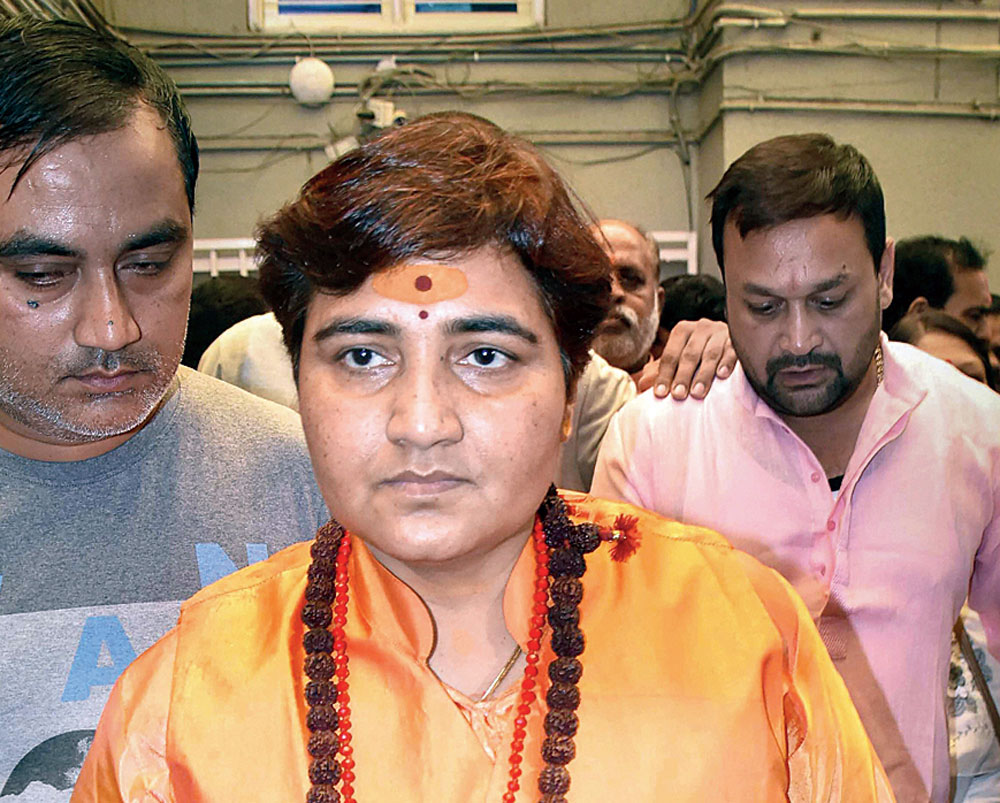 Pragya Singh Thakur at the BJP office in Bhopal on April 17, 2019.
(PTI)
---
Nashik
|
Published 21.04.19, 11:53 PM
|
---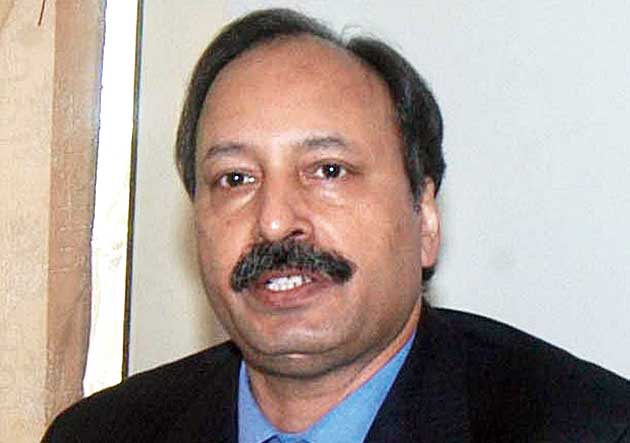 BJP candidate Pragya Singh Thakur could end up hurting her party in Maharashtra with people across various backgrounds slamming her comment that her curse had killed police officer Hemant Karkare, who died while tackling the 26/11 attackers.
Karkare, who headed the state's anti-terrorism squad, is regarded as an icon in Maharashtra.
The officer was investigating the September 2008 Malegaon bomb blast — Pragya is a prime accused in the case now out on bail — when he died during the November 26 siege by Ajmal Kasab and his gang.
Dr Sanjay Jadhav, professor of orthopaedics at SMBT medical college, said Pragya's comment would have an impact on the public in Maharashtra, where the ruling BJP and ally Shiv Sena are up against the Congress and the Nationalist Congress Party in the Lok Sabha elections. Her comment could hurt the BJP's bid to project itself as a party under whose leadership the country is safe, he said.
Pragya, the BJP's Bhopal candidate who uses the honorific "Sadhvi" and wears saffron, had on Thursday said: "He (Karkare) tortured me. I told him he will be destroyed. A month later he was shot dead by terrorists."
The BJP has described Karkare as a martyr and Pragya's comments as her "personal views" but has not condemned the statement. Rather, it has appeared to rationalise it, saying the statement perhaps arose from the "torture" Pragya faced.
Pragya later said she was taking her comment back as it was strengthening her rivals.
"Hemant Karkare is a hero for the people of Maharashtra," said Srimant Mane, a political analyst here, adding that Pragya's comments would only make her party "unpopular".
Hundreds of youths have taken to Twitter to express their outrage and started an online campaign with the hashtag "#MeHemantKarkare".
If netizens are livid, the anger is showing on the ground too. Maharashtra Navnirman Sena chief Raj Thackeray's extremely critical campaign against Prime Minister Narendra Modi and BJP president Amit Shah has been drawing huge crowds in the state.
Karkare — killed along with police officers Tukaram Ombale and Vijay Salaskar and Major Sandeep Unnikrishnan as they fought the 26/11 terrorists — is remembered as a dedicated officer.
On January 26, 2009, the government had honoured Karkare's bravery with an Ashok Chakra, India's highest peacetime gallantry award.
Babasaheb Mulla, 40, a private sector employee, said Pragya's comment and the BJP's failure to condemn it amounted to an insult of Karkare and all those who had sacrificed their lives like him.
"Modi says the country is in safe hands under his leadership. A person like Karkare, who made the supreme sacrifice for his compatriots, is being insulted by the BJP candidate. The BJP is not dropping her. The Prime Minister is defending her candidature. It shows the BJP's double standard," Mulla said.
In a recent interview to a television channel, Modi had defended fielding Pragya from the prestigious Bhopal Lok Sabha seat in Madhya Pradesh.
The Prime Minister had described her as a "sadhvi" (ascetic) and said she had been humiliated by the then Congress government.
Vinay Vidhate, a shopkeeper, said a true ascetic wouldn't fight elections. "Is it the job of a sadhvi to fight elections? She is moving in costly vehicles," he added. "Modi is seeking votes in the name of soldiers. This is wrong."
Nitin Pawar, a bank employee here, said Pragya's comment would surely weaken the BJP's chances. "Marathis have a long history of fighting against enemies. Karkare sacrificed his life for the public. People will not tolerate such statements."
Suraja Khara, a BPharm student, said Pragya's nomination should be withdrawn. "By not withdrawing the ticket, the BJP is sending out the wrong message."
Pragya has defenders too, though. Satyajeet Deore, a student, said it was the harassment she had suffered that made her say what she did. "She has said this in the past too. Because of her harassment she said this," Deora said.
"It depends on how the Opposition parties highlight it (the comment)," said Sanjay Kulkarni, a private sector employee. "If they succeed in making it an issue, the BJP will suffer."
Nashik police commissioner Vishwas Nangare Patil, who was part of the Karkare-led team that fought the 26/11 terrorists, declined to comment on Pragya's statement.
The IPS association has issued a statement condemning the comment and demanding that "sacrifice by our martyrs be respected".